PSEG (PEG) to Sell Coal Stake: Lower Gas Price to Blame?
Public Service Enterprise Group Inc.'s PEG subsidiary, PSEG Power, recently announced its decision to sell off its stake in two coal-powered plants of western Pennsylvania. Notably, this latest move is in line with the company's strategy to offer cleaner energy by gradually shutting down its coal-fired power plants.
Public Service Enterprise's stake in the Keystone and Conemaugh facilities represents 776 megawatts (MWs) of power generation, which is expected to get divested by the second half of 2019.
Lowering Gas Price — A Key Catalyst
While increasing adoption of cleaner energy to reduce carbon emissions has been a primary catalyst behind Public Service Enterprise's strategy to exit its coal business, rising cost of coal-generated electricity has also played a vital role. Moreover, the company witnessed a persistent fall in natural gas price over the past several years compared to coal.
According to cost estimates from investment bank Lazard, the lower-end of the average price range for coal-fired power is now almost $20 higher per megawatt hour than that for natural gas. This must have prompted PSEG to move away from coal to natural gas. Though this divestment will result in a pre-tax charge of $375-$415 million, PSEG has agreed to carry on with the deal as it expects the move to eventually benefit the company.
PSEG's Clean Energy Initiatives
With the sale of its stake in the Keystone and Conemaugh facilities, the company will be left with its 383 MW coal unit in Bridgeport, CT, which is up for early retirement in 2021. Along with exiting its coal business, Public Service Enterprise is also focused on modernizing its gas distribution system as part of its Gas System Modernization Program (GSMP).
In May 2018, the company received approval for the GSMP II, an expanded five-year program, to invest $1.9 billion over five years (beginning 2019) for replacing approximately 875 miles of cast iron and unprotected steel mains besides other improvements to the gas system.
Furthermore, in June 2018, Public Service Enterprise filed for its Energy Strong Program II (ESP II) — a proposed five-year $2.5-billion program — to modernize, and make electric and gas distribution systems more resilient, subject to approval.
Backed by such strategic investment programs, PSEG is expected to offer a more reliable, resilient, cleaner and affordable energy to customers as well as contribute more earnings to the company's results over the long term.
Other Utilities Following Suit
Despite Trump's repeated attempts to revive the U.S. coal industry, utility majors are steadily exiting their coal business and focusing on acquiring more renewable generation capacity. In May 2019, Xcel Energy XEL announced that it will submit a proposal to the Minnesota Public Utilities Commission in July for shutting down two coal plants in the Upper Midwest region.
In January 2018, NextEra Energy's NEE Florida Power & Light (FPL) unit had shut down its two-remaining coal-fired plants in the Sunshine state. By 2022, DTE Energy DTE is set to shut down its River Rouge, Trenton and St. Clair coal-fired plants. Such shutdowns should accelerate the Utility sector's initiative toward creating a cleaner energy environment for the United States.
Price Movement
In a year's time, shares of Public Service Enterprise have gained 17.4%, underperforming the industry's 15.6% growth.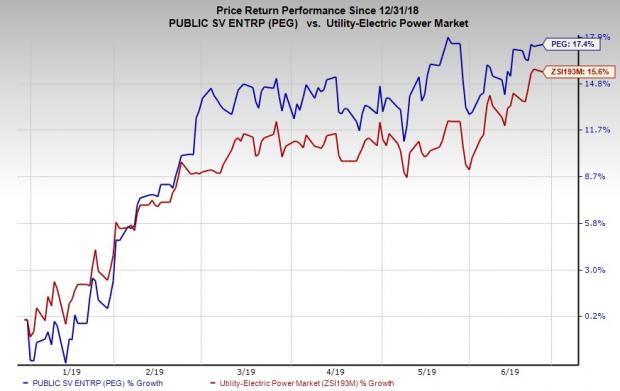 Zacks Rank
Public Service Enterprise currently has a Zacks Rank #3 (Hold). You can see the complete list of today's Zacks #1 Rank (Strong Buy) stocks here.
Looking for Stocks with Skyrocketing Upside?

Zacks has just released a Special Report on the booming investment opportunities of legal marijuana.

Ignited by new referendums and legislation, this industry is expected to blast from an already robust $6.7 billion to $20.2 billion in 2021. Early investors stand to make a killing, but you have to be ready to act and know just where to look.

See the pot trades we're targeting>>
Want the latest recommendations from Zacks Investment Research? Today, you can download 7 Best Stocks for the Next 30 Days.
Click to get this free report
NextEra Energy, Inc. (NEE): Free Stock Analysis Report
Xcel Energy Inc. (XEL): Free Stock Analysis Report
Public Service Enterprise Group Incorporated (PEG): Free Stock Analysis Report
DTE Energy Company (DTE): Free Stock Analysis Report
To read this article on Zacks.com click here.