Baidu Ups Ante in Self Driving With New Developments at CES
Baidu, Inc. BIDU is leaving no stone unturned to bolster its presence in the autonomous driving space.
The ever-growing Chinese internet company's latest product launches and solutions at CES 2019 are testament to its efforts to boost footprint in space. These recent introductions are aimed at speeding up the deployment of connected and autonomous vehicle technology for automotive OEMs and suppliers across the world.
Notably, Baidu has outperformed the industry it belongs to on a 12-month basis. The company's shares have gained 33.1% compared with its industry's growth of 25.4% in the said period.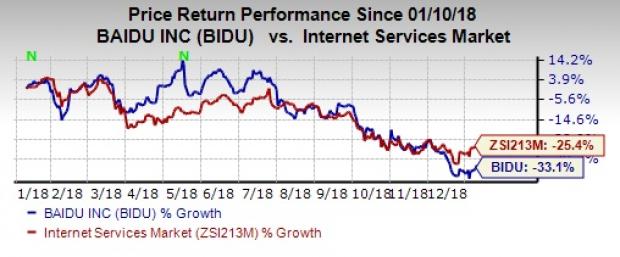 Details of New Products & Solutions
The new introductions include Apollo Enterprise, which is a suite of customizable autonomous driving solutions for vehicle fleets. Under this platform, carmakers can choose the products and customize them based on their specific needs. The new solutions support vehicle and information safety. Additionally, it can be upgraded via Over-the-Air Programing (OTA).
Further, the company unveiled Apollo 3.5, the latest version of Apollo open source driverless car platform. The Apollo program was launched as an open-source platform for other automakers to develop their self-driving systems and help accelerate the development self-driving technologies. This platform can now perform in complex urban and suburban driving scenarios. Its updates include new driving capabilities such as the ability to manage unprotected turns, speed bumps, clear zones, side passes, narrow lanes and autonomous parking. It is also compatible with sensors such as Velodyne VLS-128 LiDAR. Apollo has already attracted more than 130 global partners worldwide.
In addition, the company plans to launch a self-driving taxi service in Changsha, China later this year.
These developments are likely to aid the company in rapidly penetrating the self-driving market, wherein safety and the prevention of accidents are most important.
Wrapping Up
Baidu has been making continuous efforts to accelerate the development of autonomous driving since the launch of its Apollo platform. This platform was launched to help it create a massive, overarching, safe and dependable group dedicated to effectively bring self-driving vehicle technology to the world. As of now, Apollo is already used by Intel INTC, Nvidia NVDA, NXP, along with 12,000 other developers and partners worldwide.
Undoubtedly, the autonomous driving space will witness more innovation over the next few years, both by technology companies and automakers, including smaller startups. According to Research & Markets data, the global software market for autonomous cars is anticipated to witness a CAGR of 76.1% between 2017 and 2021.
It's not surprising that Baidu wants to make a bigger splash in the self-driving space and turn Apollo into a global initiative. The latest developments will surely speed up its efforts in this space.
Baidu, Inc. Price and Consensus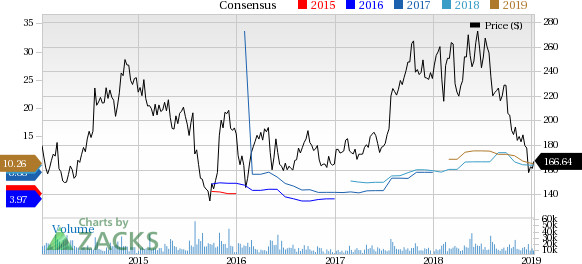 Zacks Rank and A Key Pick
Baidu currently carries a Zacks Rank #3 (Hold). A better-ranked stock in the broader technology sector is TripAdvisor, Inc. TRIP, which carries a Zacks Rank #2 (Buy). You can see the complete list of today's Zacks #1 Rank (Strong Buy) stocks here.
Long-term earnings growth rate for TripAdvisor is currently pegged at 14.05%.
Looking for Stocks with Skyrocketing Upside?
Zacks has just released a Special Report on the booming investment opportunities of legal marijuana.
Ignited by new referendums and legislation, this industry is expected to blast from an already robust $6.7 billion to $20.2 billion in 2021. Early investors stand to make a killing, but you have to be ready to act and know just where to look.
See the pot trades we're targeting>>
Want the latest recommendations from Zacks Investment Research? Today, you can download 7 Best Stocks for the Next 30 Days.
Click to get this free report
TripAdvisor, Inc. (TRIP): Free Stock Analysis Report
Baidu, Inc. (BIDU): Free Stock Analysis Report
Intel Corporation (INTC): Free Stock Analysis Report
NVIDIA Corporation (NVDA): Free Stock Analysis Report
To read this article on Zacks.com click here.
Zacks Investment Research