BNP Paribas (BNPQY) Interested in Buying State-Owned ABN Amro
BNP Paribas SA BNPQY has shown interest in a potential acquisition of state-owned ABN Amro Bank NV. The news was first reported by Bloomberg, citing people with knowledge of the matter who asked not to be identified as the information is private. Notably, the Dutch consumer lender, ABN Amro, has been owned by the government since the 2008 financial crisis.

People with knowledge of the matter said that BNP Paribas recently reached out to the Dutch government for a meeting to discuss its interest in a deal. ABN Amro's retail and corporate franchise is drawing BNP Paribas' interest. Moreover, BNPQY sees the transaction as an opportunity to expand in northern Europe.

BNP Paribas' preliminary contact has not yet progressed to any detailed negotiations and the Dutch government is not seriously examining the interest for the time being. One of the people said that the state might prefer to sell down further shares on the market, allowing it to raise money, while retaining some control.

Even though some other banks have approached the Dutch government to express interest in ABN Amro, there is no certainty that any of them will result in a formal bid as deliberations are ongoing. Representatives for BNPQY and ABN Amro have declined to comment on the matter.

Nevertheless, after agreeing to sell its Bank of the West unit to Bank of Montreal for $16 billion in cash, BNP Paribas is set to have additional capital for any potential deal. The sale of its U.S. retail business is expected to close this year.

Notably, under the ownership of the government, ABN Amro has transformed itself from one of the world's largest banks to a consumer lender focused on the Netherlands.

Earlier this year, the Dutch government asked NLFI (which holds the ABN Amro stake on behalf of the state) to advise on the potential sale of shares in the bank. But a spokesperson said, "For as long as the ministry has been holding a stake in ABN Amro, it has talks with various stakeholders on a regular basis about a broad arrange of topics. The decision on possible further sell-down transactions is determined based on several factors."

In the last decade, cross-border mergers within banks in Europe have not been very popular because negative interest rates weighed on the results. However, a recent push to resuscitate negotiations over a single market for banks, along with increasing interest rates, have increased prospects for deal-making despite the possibility of a recession in Europe.

Over the past year, shares of BNPQY have lost 22% compared with a decline of 14.2% recorded by the industry.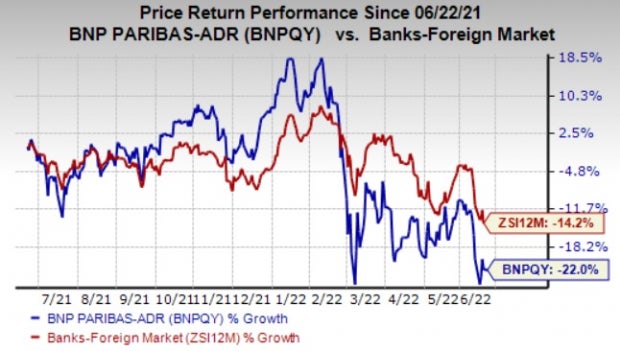 Image Source: Zacks Investment Research
Currently, BNP Paribas carries a Zacks Rank #2 (Buy). You can see the complete list of today's Zacks #1 Rank (Strong Buy) stocks here.
Inorganic Growth Efforts by U.S. Banks
Earlier this month, in order to bolster its presence in North Carolina, F.N.B. Corp FNB signed an agreement to acquire Greenville-based UB Bancorp. The all-stock deal is valued at $19.56 per share or nearly $117 million.

Following the deal's completion, which is expected in the last quarter of 2022, F.N.B. Corp will likely move to the eighth position in North Carolina in terms of deposit market share. Also, the cost of deposits of 11 basis points will be accretive to the company's financials in a rising rate environment.

Huntington Bancshares Incorporated HBAN recently completed the acquisition of Capstone Partners, a preeminent investment banking and advisory firm. The acquisition was announced in March and helped HBAN create a full-service banking experience for clients in its growing capital markets and commercial banking franchise.

Capstone and Huntington Bancshares are poised to offer a comprehensive set of banking solutions across traditional commercial banking, investment banking and capital markets. The deal also enhances HBAN's expertise across 12 primary industry sectors and expands its geographic reach.
Zacks Names "Single Best Pick to Double"
From thousands of stocks, 5 Zacks experts each have chosen their favorite to skyrocket +100% or more in months to come. From those 5, Director of Research Sheraz Mian hand-picks one to have the most explosive upside of all.
It's a little-known chemical company that's up 65% over last year, yet still dirt cheap. With unrelenting demand, soaring 2022 earnings estimates, and $1.5 billion for repurchasing shares, retail investors could jump in at any time.
This company could rival or surpass other recent Zacks' Stocks Set to Double like Boston Beer Company which shot up +143.0% in little more than 9 months and NVIDIA which boomed +175.9% in one year.
Free: See Our Top Stock and 4 Runners Up >>
Want the latest recommendations from Zacks Investment Research? Today, you can download 7 Best Stocks for the Next 30 Days.
Click to get this free report
Huntington Bancshares Incorporated (HBAN): Free Stock Analysis Report
BNP Paribas SA (BNPQY): Free Stock Analysis Report
F.N.B. Corporation (FNB): Free Stock Analysis Report
To read this article on Zacks.com click here.