Comstock Resources (CRK) Q2 Earnings Miss, Output Ramps Up
Comstock Resources, Inc. CRK reported second-quarter 2019 adjusted net income per share of 12 cents, missing the Zacks Consensus Estimate of 22 cents. Lower-than-expected gas and oil price realizations caused this underperformance. Precisely, gas price realizations came in at $2.25 per thousand cubic feet, falling short of the Zacks Consensus Estimate of $2.31. While oil price realization of $52.10 per barrel lagged the Zacks Consensus Estimate of $55.

However, the bottom line rebounded from the year-ago period's loss of 78 cents. This can be primarily attributed to the production gains from Haynesville properties and addition of the Jerry Jones assets.

Although the company's total revenues of $128.1 million were in line with the Zacks Consensus Estimate, the same skyrocketed 108.5% year over year.

Production & Realized Prices

Production of oil and natural gas averaged 45.1 billion cubic feet equivalent (Bcfe), up 102.6% from the year-ago level as the company's successful Haynesville shale drilling program continues to yield returns. Natural gas output accounted for approximately 91% of the company's total production compared with almost 98% in the year-earlier quarter.

Comstock's second-quarter natural gas volume jumped 88% from the same period in 2018 as Haynesville Shale production soared 83%. Meanwhile, oil production came in at 695 thousand barrels (Mbbl) compared with just 90 Mbbl in the prior-year quarter. This upside is attributed to contribution from the Bakken Shale properties acquired from Jerry Jones.

The average realized crude oil price in the quarter under review was $52.10 per barrel, representing a drop of 9.5% from the year-ago realization of $57.56. The average realized natural gas price during the quarter was $2.25 per thousand cubic feet compared with $2.59 in the same period last year.
Comstock Resources, Inc. Price, Consensus and EPS Surprise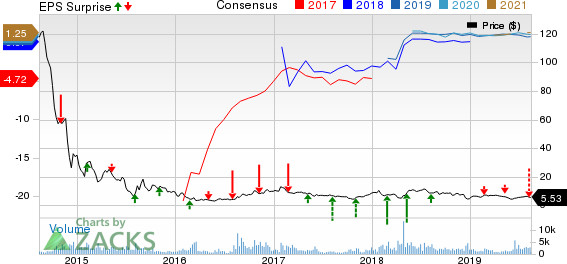 Comstock Resources, Inc. price-consensus-eps-surprise-chart | Comstock Resources, Inc. Quote
Expenses

Total operating expenses in the second quarter summed $84.5 million, higher than the year-ago figure of $53.7 million, primarily due to the loss from the sale of oil and gas properties. Notably, the company's lease operating costs per Mcfe decreased to 32 cents from 35 cents a year ago. However, Comstock's production taxes more than doubled to 13 cents per Mcfe in the quarter under consideration. Gathering and transportation expenses also inched up to 23 cents per Mcfe.

Cash Flow, EBITDAX & Balance Sheet

Comstock's operating cash flow was $98.3 million, surging 50.2% from the year-ago number of $65.4 million. Earnings before interest, taxes, depreciation, amortization and exploration (or EBITDAX) also increased handsomely. The metric augmented 110.5% y/y to $93.2 million from $44.3 million a year ago.

As of Jun 30, the company had $46.7 million as cash and cash equivalents. Its long-term debt of $1,267.4 million translated to a debt-to-capitalization ratio of 67.6%.

Guidance

For 2019, Comstock now forecasts capex of $538 million (up from $318 million previously) on account of drilling activity at Covey Park properties. The company intends to spend an additional $21.2 million on its Eagle Ford shale and Bakken shale oil assets. Its natural gas and oil production outlook for the second half is expected to be 1.1-1.2 Billion cubic feet per day (Bcf) and 7,500-8,500 barrels per day, respectively.

Zacks Rank & Key Picks

Comstock carries a Zacks Rank #3 (Hold). Better-ranked players in the energy space include Cone Midstream Partners L.P. CNXM, Dril-Quip, Inc. DRQ and World Fuel Services Corporation INT. While Cone Midstream sports a Zacks Rank #1 (Strong Buy), Dril-Quip and World Fuel Services hold a Zacks Rank #2 (Buy). You can see the complete list of today's Zacks #1 Rank stocks here.
Cone Midstream earnings beat the Zacks Consensus Estimate in three of the last four quarters.

Dril-Quip earnings beat the Zacks Consensus Estimate in three of the previous four quarters.

World Fuel Services earnings beat the Zacks Consensus Estimate in all the trailing four quarters.

Looking for Stocks with Skyrocketing Upside?

Zacks has just released a Special Report on the booming investment opportunities of legal marijuana.
Ignited by new referendums and legislation, this industry is expected to blast from an already robust $6.7 billion to $20.2 billion in 2021. Early investors stand to make a killing, but you have to be ready to act and know just where to look.
See the pot trades we're targeting>>

Want the latest recommendations from Zacks Investment Research? Today, you can download 7 Best Stocks for the Next 30 Days.
Click to get this free report
Dril-Quip, Inc. (DRQ): Free Stock Analysis Report
World Fuel Services Corporation (INT): Free Stock Analysis Report
Comstock Resources, Inc. (CRK): Free Stock Analysis Report
Cone Midstream Partners LP (CNXM): Free Stock Analysis Report
To read this article on Zacks.com click here.
Zacks Investment Research