Netflix Expands International Presence, Opens Toronto Hub
Netflix NFLX is expanding its international production facility. The company recently announced that it is leasing two studios, Cinespace and Pinewood, in Toronto, which will provide space of almost 250,000 square feet, including eight stages.

Per Reuters, the studios will work on production of horror anthology series, Guillermo del Toro Presents Ten After Midnight and movie, Let It Snow.

Notably, the company opened its first international production hub to develop Spanish language content in Madrid last year. The company also opened office in Paris, its third in Europe after Amsterdam and London.

Expanding Local Content Aids Netflix

Netflix's unwavering focus on augmenting local content strengthens its competitive position. The investments in local content have been a key catalyst behind the surge in international revenues that soared 35.8% year over year to $2.11 billion in the last reported quarter.

Although China remains elusive to Netflix, the company is expected to benefit from increasing presence in international markets. The company has big plans for India, with the country's upcoming slate for 2019 including 12 local language original series and 20 local language films.

Netflix has plans to order original shows from Africa in 2019. The streaming giant has already forayed into Nigeria, the world's second-biggest movie industry by volume, after purchasing worldwide rights to Lionheart.

Netflix, Inc. Revenue (TTM)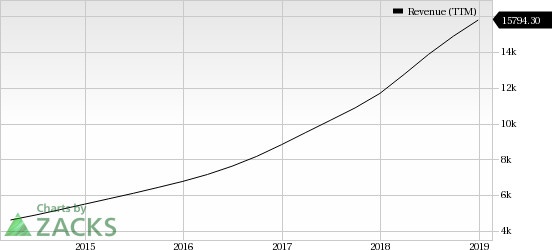 Netflix is also working on projects across Mexico, Spain, Italy, Germany, Brazil, France, Turkey and the entire Middle East. Notably, OTT markets in Germany, Spain, France and India have ample room for growth compared with the maturing U.S. and U.K. markets.

Content Strength to Aid Subscriber Growth

Rising popularity of Netflix's streaming platform is evident from the expanding subscriber base. The company added 7.31 million international paid members, much better than management's expectation of 6.10 million, in the last reported quarter. Notably, per Reuters, the company now has more than 5 million subscribers, higher than Canal Plus, in France.

Moreover, its Spanish original, Elite gained a viewership of 20 million member households globally in the first four weeks of the show's release on the platform, indicating growing appeal of the platform.

Netflix plans to add more regional languages to make the service more appealing. Per Variety, the company expects to launch 100 non-English language originals in two years' time.

Netflix expects to add 7.3 million paid subscribers in the international segment for the current quarter.

Zacks Rank & Stocks to Consider

Netflix currently has a Zacks Rank #3 (Hold). You can see the complete list of today's Zacks #1 Rank (Strong Buy) stocks here.

NTN Buzztime NTN, TEGNA TGNA and Take Two Interactive TTWO are better-ranked stocks in the broader consumer discretionary sector. All three has a Zacks Rank #2 (Buy).

Long-term earnings growth rate for NTN Buzztime, TEGNA and Take Two Interactive is 20%, 10% and 17.5%, respectively.

Zacks' Top 10 Stocks for 2019
In addition to the stocks discussed above, would you like to know about our 10 finest buy-and-holds for the year?
Who wouldn't? Our annual Top 10s have beaten the market with amazing regularity. In 2018, while the market dropped -5.2%, the portfolio scored well into double-digits overall with individual stocks rising as high as +61.5%. And from 2012-2017, while the market boomed +126.3, Zacks' Top 10s reached an even more sensational +181.9%.
Want the latest recommendations from Zacks Investment Research? Today, you can download 7 Best Stocks for the Next 30 Days.
Click to get this free report
Netflix, Inc. (NFLX): Free Stock Analysis Report
NTN Buzztime, Inc. (NTN): Free Stock Analysis Report
TEGNA Inc. (TGNA): Free Stock Analysis Report
Take-Two Interactive Software, Inc. (TTWO): Free Stock Analysis Report
To read this article on Zacks.com click here.