American Financial to Share More Profits, Hikes Dividend
In its concerted efforts to enhance shareholders value, the board of directors of American Financial Group Inc. AFG approved a 12.5% hike in its annual dividend. This marks the 14th straight year of dividend hikes. With this, the payout now stands at $1.80 per share compared with the earlier payout of $1.60 per share. Based on yesterday's closing price of $99.75, the new dividend will yield 1.8%, better than the industry average of 0.4%.

The dividend will be paid in four installments of 45 cents per share each, with the first one to be paid in October 2019.

American Financial has been consistently raising its dividend payout. The property and casualty insurer has increased its dividend by a whopping 350% from 40 cents a share paid out in 2007.

The company even pays out special dividend each year. In May 2019, it paid out a special dividend of $1.50 per share.

American Financial has traditionally maintained moderate adjusted financial leverage of around low 20%, with good cash flow and interest coverage ratio. The dividend hike reflects the insurer's strong financial position. The company exited the second quarter of 2019 with a sturdy cash balance of $2.4 billion.

The company is well positioned with excess capital balance of $1 billion at quarter end, which positions it well for such shareholder friendly moves. The company intends to hold back about $200–$300 million of the excess capital to maintain flexibility for any opportunity that may arise in the future.

The Zacks Rank #3 (Hold) insurer's commendable efforts to share more profits with its investors and boost bottom-line growth make it an attractive pick for yield-seeking investors.

Shares of American Financial have rallied 10.2% year to date, outperforming the industry's increase of 1.8%. Its niche position in the P&C and annuity markets, strategic acquisitions, better pricing and improving industry fundamentals should help the stock maintain the bull run.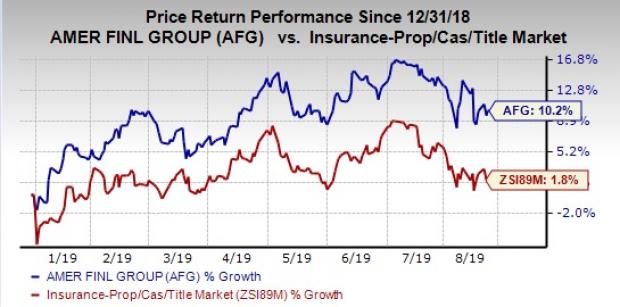 Stocks to Consider

Some better-ranked stocks from the insurance industry include James River Group Holdings, JRVR, Assurant AIZ and W.R. Berkley Corporation WRB.

James River Group provides specialty insurance and reinsurance services in the United States. The company delivered a positive surprise of 3.13% in the last reported quarter. The stock sports a Zacks Rank #1 (Strong Buy) currently. You can see https://www.zacks.com/stocks/buy-list/?ADID=zp_1link&ICI... _1link">the complete list of today's Zacks #1 Rank stocks here.

Assurant provides risk management solutions for housing and lifestyle markets in North America, Latin America, Europe, and the Asia Pacific. The company delivered a 9.86% positive surprise in the last reported quarter. The stock carries a Zacks Rank #2 (Buy) at present.

W. R. Berkley operates as a commercial lines writer in the United States and internationally. The company delivered a positive surprise of 28.13% in the last reported quarter. The stock currently carries a Zacks Rank #2.

It's Illegal in 42 States, But Investors Will Make Billions Legally

In addition to the companies you read about above, today you get details on the newly-legalized industry that's tapping into a "habit" that Americans spend an estimated $150 billion on every year.

That's twice as much as they spend on marijuana, legally or otherwise.

Zacks special report revealing how investors can profit from this new opportunity. As more states legalize this activity, the industry could expand by as much as 15X. Zacks' has just released a Special Report revealing 5 top stocks to watch in this space.
See these 5 "sin stocks" now>>
Want the latest recommendations from Zacks Investment Research? Today, you can download 7 Best Stocks for the Next 30 Days.
Click to get this free report
Assurant, Inc. (AIZ): Free Stock Analysis Report
James River Group Holdings, Ltd. (JRVR): Free Stock Analysis Report
W.R. Berkley Corporation (WRB): Free Stock Analysis Report
American Financial Group, Inc. (AFG): Free Stock Analysis Report
To read this article on Zacks.com click here.
Zacks Investment Research