International Flavors-Neptune Team to Co-Develop CBD Products
International Flavors & Fragrances Inc. IFF has entered into a collaborative agreement with Neptune Wellness Solutions Inc. NEPT, per which both companies will develop hemp-derived cannabidiol ("CBD'') products for the retail and health & wellness markets. Per the agreement, App Connect Service, Inc. (''App Connect'') will provide promotional activities and related branding strategies.

Under the terms of agreement, Neptune will issue 2 million warrants to International Flavors, each allowing the purchase of one common share of Neptune, at an exercise price of $12.00 per share, with a five-year expiration date.

Notably, International Flavors will provide essential oils and product-development resources by leveraging its intellectual property ("IP") for taste, scent and nutrition. Further Neptune will deliver high-quality spectrum extracts to develop, manufacture and commercialize hemp-derived products, filled with essential oils, for personal care and home-care markets, through exclusive cold ethanol-extraction processes and formulation IP.

The initial products will likely be launched under Neptune's Forest Remedies brand at U.S. retailers in the first half of calendar-year 2020, including various topical products across the aromatherapy category. Neptune will be responsible for the marketing and sale of these products, besides recording revenues from product sales. Consequently, Neptune will pay royalty to each of International Flavors and App Connect related to the sales of co-developed products.

This partnership will aid International Flavors to drive innovation by meeting customers' demands for quality, sustainability and traceability. The company is focused on developing the hemp-derived CBD products to serve customers in natural health & wellness products.

Neptune Wellness Solutions is specialized in the extraction, purification and formulation of health and wellness products. The company's wholly-owned subsidiary, 9354-7537 Québec Inc., is licensed by Health Canada to process cannabis at its facility in Sherbooke, Quebec.

During the September-end quarter's earnings call, International Flavors issued 2019 revenues projection in the range of $5.15-$5.25 billion, suggesting year-over-year growth of 3-5%. Adjusted earnings per share are anticipated in the band of $4.85-$5.05, reflecting year-over-year growth of 8-11%. Adjusted earnings per share, excluding amortization, are projected in the band of $6.15-$6.35. The company has reaffirmed long-term financial targets for 2019-2021. On a currency neutral sales basis, it projects sales growth between 5% and 7% over the next three years and earnings per share (EPS) growth of 10%, excluding amortization.
The global market for flavors and fragrances continues to grow, spurred by increasing demand for a variety of consumer products containing flavors and fragrances. The market is projected to grow approximately 2-3% by 2021, primarily backed by anticipated growth in emerging markets.

The company has made potential acquisitions over the past several years, which helped expand its offerings and in turn, profitability. Last October, it completed the acquisition of Frutarom, the largest buyout deal in the industry to date. Together, International Flavors & Fragrances and Frutarom, have created a global leader in natural taste, scent and nutrition with a broader customer base, diversified product offerings and more exposure to end markets, including those with a focus on naturals and health and wellness.

Share Price Performance

Over the past three months, International Flavors' shares have gained 10.5%, as against the industry's decline of 5.4%.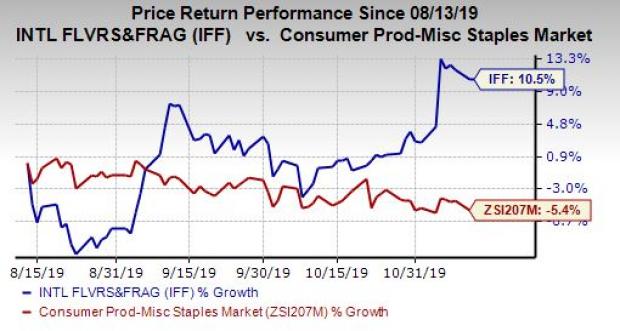 Zacks Rank & Key Picks

International Flavors currently carries a Zacks Rank #3 (Hold).

Some better-ranked stocks in the Consumer Staples space are e.l.f. Beauty, Inc. ELF and The Procter & Gamble Company PG, each carrying a Zacks Rank #2 (Buy) at present. You can see the complete list of today's Zacks #1 Rank (Strong Buy) stocks here.

e.l.f. Beauty has a projected long-term EPS growth rate of 3.8%. The company has appreciated 29.4% in the past year.

Procter & Gamble has an estimated long-term earnings growth rate of 7.2%. Shares of the company have rallied 27.7% in a year's time.

Looking for Stocks with Skyrocketing Upside?

Zacks has just released a Special Report on the booming investment opportunities of legal marijuana.

Ignited by new referendums and legislation, this industry is expected to blast from an already robust $6.7 billion to $20.2 billion in 2021. Early investors stand to make a killing, but you have to be ready to act and know just where to look.

See the pot trades we're targeting>>
Want the latest recommendations from Zacks Investment Research? Today, you can download 7 Best Stocks for the Next 30 Days.
Click to get this free report
International Flavors & Fragrances Inc. (IFF): Free Stock Analysis Report
e.l.f. Beauty Inc. (ELF): Free Stock Analysis Report
Procter & Gamble Company (The) (PG): Free Stock Analysis Report
Neptune Technologies & Bioresources Inc (NEPT): Free Stock Analysis Report
To read this article on Zacks.com click here.
Zacks Investment Research