Continental (CLR) Q4 Earnings Top Estimates on Oil Production
Continental Resources, Inc. CLR reported fourth-quarter 2019 adjusted earnings of 55 cents per share, which beat the Zacks Consensus Estimate of 52 cents. Moreover, the bottom line rose from the year-ago earnings of 54 cents per share.
Revenues of $1,195.1 million beat the Zacks Consensus Estimate of $1,131 million. Also, the figure increased from $1,149.3 million in the year-ago quarter.
The strong quarterly results can be attributed to rising year-over-year oil and gas production, and higher realized crude price.
Continental Resources, Inc. Price, Consensus and EPS Surprise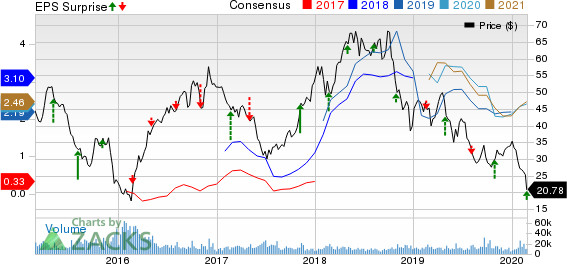 Continental Resources, Inc. price-consensus-eps-surprise-chart | Continental Resources, Inc. Quote
Proved Reserves
As of Dec 31, 2019, Continental's estimated proved reserves were 1,619 MMBoe, reflecting 6% year-over-year growth. The reserve replacement ratio was 178% in 2019.
Production Rises
Production from continuing operations averaged 365,341 barrels of oil equivalent per day (BOE/D) in the quarter, higher than 324,001 BOE/D in the year-ago period. This was supported by output growth at the company's South and Bakken assets.
Oil production in the quarter came in at 206,249 barrels per day (Bbls/d), up from 186,934 Bbls/d a year ago. Natural gas production jumped from 822,402 thousand cubic feet per day (Mcf/d) in fourth-quarter 2018 to 954,556 Mcf/d.
Oil Equivalent Price Realization Declines
Crude oil equivalent price in the quarter fell to $33.49 per barrel from $37.13 in the prior-year period. Natural gas was sold at $1.73 per Mcf, down from $3.26 in the year-ago quarter. However, average realized price for oil was $51.33 a barrel, up from $50.06 in the prior-year quarter.
Total Expenses Jump
Total operating expenses of $901.3 million in the fourth quarter rose from $818.9 million in the December quarter of 2018. Total production cost rose to $111.2 million from $104.3 million in the year-ago quarter. Exploration costs in the quarter were $7.3 million compared with $3.3 million in the year-ago period. Transportation costs rose to $61.1 million from the year-ago level of $49 million.
However, production expense per barrel of oil equivalent in fourth-quarter 2019 was $3.31, marginally lower than the year-ago figure of $3.50.
Increasing Value for Investors
The company returned a total of $406 million to its shareholders in full-year 2019. It made $190 million of share buybacks and $18 million dividend payouts.
Capital Expenditure
In fourth-quarter 2019, total capital expenditure (excluding acquisitions) was $541.3 million, of which nearly 86.4% was used in exploration and development drilling.
Balance Sheet
As of Dec 31, 2019, the company had total cash and cash equivalents of $39.4 million, as well as debt of $5,324.1 million (excluding current maturities), with a debt-to-capitalization ratio of 42.8%. Notably, it reduced net debt by $198 million in 2019.
Guidance
Continental's 2020 capital spending is expected to be $2.65 billion, flat year over year. It intends to allocate $2.2 billion for drilling and completion activities, of which 60% will be directed toward Bakken while the rest will be devoted to Oklahoma. Notably, $700 million of 2020 capital expenditure is not expected to realize first production until 2021.
For 2020, production of oil is expected in the range of 198,000-201,000 Bbls/d, indicating an increase from the 2019 level of 197,991 Bbls/d. Production of natural gas is projected in the band of 935,000-960,000 Mcf/d, suggesting a significant improvement from the 2019 level of 854,424 Mcf/d. The company expects production expense for 2020 in the range of $3.50-$4.00 per BOE.
In 2020, the company expects to generate free cash flow within $350-$400 million, assuming WTI crude price at $55 per barrel and Henry Hub gas price at $2.50 per Mcf. The metric implies significant fall from the 2019 level of $608.4 million.
Zacks Rank & Stocks to Consider
Continental currently carries a Zacks Rank #3 (Hold). Some better-ranked stocks in the energy sector include Marathon Oil Corporation MRO, Chevron Corporation CVX and Hess Corporation HES, each carrying a Zacks Rank #2 (Buy). You can see the complete list of today's Zacks #1 Rank (Strong Buy) stocks here.
Marathon Oil's earnings per share estimates of 46 cents for 2020 have witnessed seven upward revisions and one downward movement in the past 60 days.
Chevron's bottom line for 2020 is expected to rise 12.8% year over year.
Hess' bottom line for 2020 is expected to rise 93.7% year over year.
Today's Best Stocks from Zacks
Would you like to see the updated picks from our best market-beating strategies? From 2017 through 2019, while the S&P 500 gained and impressive +53.6%, five of our strategies returned +65.8%, +97.1%, +118.0%, +175.7% and even +186.7%.
This outperformance has not just been a recent phenomenon. From 2000 – 2019, while the S&P averaged +6.0% per year, our top strategies averaged up to +54.7% per year.
See their latest picks free >>
Want the latest recommendations from Zacks Investment Research? Today, you can download 7 Best Stocks for the Next 30 Days.
Click to get this free report
Marathon Oil Corporation (MRO): Free Stock Analysis Report
Chevron Corporation (CVX): Free Stock Analysis Report
Hess Corporation (HES): Free Stock Analysis Report
Continental Resources, Inc. (CLR): Free Stock Analysis Report
To read this article on Zacks.com click here.
Zacks Investment Research