Lockheed Martin (LMT) Wins $79M Deal to Support LCS Program
Lockheed Martin Corp.'s LMT Rotary and Mission Systems (RMS) business division recently secured a $72.2-MILLION modification contract to support sustainment of the Littoral Combat Ship Component Based Total Ship System (COMBATSS-21) and associated combat system elements. The contract was awarded by the Naval Sea Systems Command, Washington, D.C.

Majority of the work related to the deal will be conducted in Jarfalla, Sweden. The work is expected to be completed by May 2022.
COMBATSS-21 Specifics
Littoral Combat Ship Component Based Total Ship System – 21st Century, also known as COMBATSS-21, is a combat management system developed for the U.S. Navy's Freedom variant of the Littoral Combat Ship (LCS) based on the Aegis combat management system. The COMBATSS-21 includes the Aegis Common Source Library (CSL) and features open architecture. COMBATSS-21 includes the radar, gun weapon system, missile launcher, decoy launcher, and electronic warfare system. In addition to the U.S. Navy's 16 Freedom-class LCSs, the combat management system has been selected for the FFG(X) class frigate.
What Favors Lockheed Martin?
The current U.S. administration recently presented the President's FY 2022 discretionary funding request for the Department of Defense to the Congress. The administration has asked for $753 billion in national security funding, reflecting an increase of 1.6% that includes $715 billion for the Defense Department. The request includes an increased focus on shipbuilding, which involves the recapitalization of the nation's strategic ballistic missile submarine fleet. We expect such spending provisions to benefit shipbuilding significantly. Such solid budgetary allocations should enable Lockheed Martin in the future to procure more significant contracts related to combat ships, like the latest one.

Looking ahead, per Technavio, the global naval shipbuilding market is expected to witness a CAGR of 3% over the 2020-2024 period to reach $14.36 billion. This, in turn, should potentially boost the demand for various assault ships, including the LCS combat ships and the COMBATSS-21. Such projections are expected to benefit Lockheed Martin, going forward.
Other Major Shipbuilders to Benefit
In line with the aforementioned favorable market projections, major U.S. defense players, especially those which manufacture warships, like Huntington Ingalls HII and General Dynamics GD, should also benefit, going ahead.

Huntington Ingalls is already known to specialize in the manufacturing of amphibious assault and expeditionary ships and provide more than 70% of ships to the U.S. Navy. Likewise, General Dynamics' National Steel and Shipbuilding Company (NASSCO) has an extensive history of designing, building and repairing ships for the U.S. government and commercial customers.
Zacks Rank, a Key Pick & Price Performance
Lockheed Martin currently carries a Zacks Rank #3 (Hold). You can see the complete list of today's Zacks #1 Rank (Strong Buy) stocks here.

A better-ranked stock from the same sector is Raytheon Technologies Corporation RTX, carrying a Zacks Rank #2 (Buy). Raytheon Technologies delivered a four-quarter earnings beat of 96.36%, on average. It currently has a solid long-term earnings growth rate of 12.9%.

In the past year, Lockheed Martin's shares have gained 4.4% compared with the industry's 24.8% growth.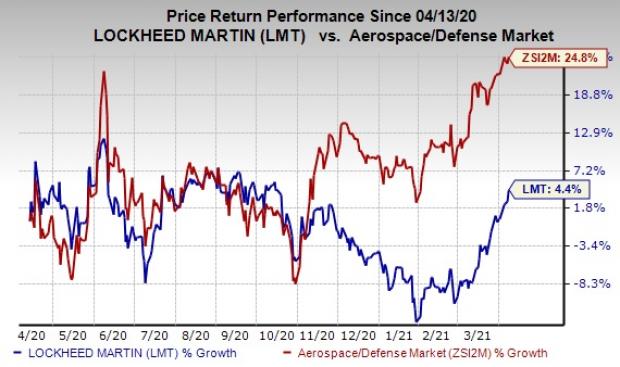 These Stocks Are Poised to Soar Past the Pandemic
The COVID-19 outbreak has shifted consumer behavior dramatically, and a handful of high-tech companies have stepped up to keep America running. Right now, investors in these companies have a shot at serious profits. For example, Zoom jumped 108.5% in less than 4 months while most other stocks were sinking.

Our research shows that 5 cutting-edge stocks could skyrocket from the exponential increase in demand for "stay at home" technologies. This could be one of the biggest buying opportunities of this decade, especially for those who get in early.

See the 5 high-tech stocks now>>
Want the latest recommendations from Zacks Investment Research? Today, you can download 7 Best Stocks for the Next 30 Days.
Click to get this free report
General Dynamics Corporation (GD): Free Stock Analysis Report
Lockheed Martin Corporation (LMT): Free Stock Analysis Report
Huntington Ingalls Industries, Inc. (HII): Free Stock Analysis Report
Raytheon Technologies Corporation (RTX): Free Stock Analysis Report
To read this article on Zacks.com click here.
Zacks Investment Research