5 Winning Construction Stocks to Tap the Continued Demand Strength
The construction sector is looking good at the moment, mainly because of the continued strength in residential housing.
And residential housing is made of two parts, existing homes and new homes. Existing homes is by far the larger of the two segments, so the numbers should ideally be read together, at least as a gauge of demand.
So we see that in the month of May, existing home sales (estimated by National Association of Realtors) totaled 5.80 million, while new home sales (estimated by the Census Bureau) totaled just 769K. Of course, new homes cost more (median sales price of $374,400 in May) than existing homes (median sales price of $350,300), which is the likely an important reason for the disparity.
Prices have run up over the past year because of rising input costs and low inventories, when in turn is a result of favorable demographics and pandemic-induced buying. But the last couple of weeks has seen some easing in wood prices as more inventory becomes available, which should be a positive for both the construction (new home) and repair/renovation (existing home) markets.
So currently, we are in the position of the cycle where rising prices are pushing some entry-level buyers out of the market. If inventories of both new and existing homes don't increase, prices will continue to rise and more people will postpone their home ownership plans. And that's despite the reprieve they're getting from low mortgage rates.
According to the NAR, anything below six months of supply leads to price appreciation at an accelerated rate. It's only at six months of supply that price appreciation moderates. So the fact that new home inventory at May-end represents 5.1 months of supply at the current level of sales indicates that prices will appreciate more before they moderate.
So for a home construction company, this is the period during which demand is very strong, prices are rising and some costs are declining, which of course means that margins (and profits) should also be rising. And for suppliers to these construction companies, this is a great time for business.
With this in mind, I've picked 5 buy-ranked stocks that are either home builders themselves or suppliers into this red-hot market. It does look like they will generate outsized returns for investors over the next year or so. So here they are-
Lennar Corp. LEN
Lennar is engaged in the construction and sale of single-family attached and detached homes as well as the purchase, development and sale of residential land directly and through unconsolidated entities in the United States.
Zacks #1 (Strong Buy) ranked Lennar belongs to the Building Products - Home Builders industry, which is ranked 21 out of 250+ industries, or the top 8%. Naturally, the industry rank represents the solid prospects discussed above that companies in this industry are benefiting from.
The company is expected to grow earnings 73.3% this year. Over the past month, the Zacks Consensus Estimates for the current and following years' earnings are up 16.1% and 26.6%, respectively.
Louisiana-Pacific Corp. LPX
Louisiana-Pacific is a leading manufacturer of sustainable, quality engineered wood building materials, structural framing products and exterior siding for use in new home construction, repair/ remodeling and outdoor structures. It caters to the residential, industrial and light commercial construction markets.
Zacks #1 ranked LPX is part of the Building Products – Wood industries, which is at the top 3% of Zacks-ranked industries. Wood prices had been escalating over the last few months because of depleting inventories, as fresh supplies were up against supply constraints. But the situation is normalizing now with prices also declining as a result. This is positive for sustained revenue growth.
The Zacks Consensus Estimate for the company's current year earnings represents growth of 194.7%. The estimates for the current and following years have risen a respective 22.8% and 18.5% in the past four weeks.
Quanex Building Products Corp. NX
Quanex designs and produces fenestration components like energy-efficient flexible insulating glass spacers, extruded vinyl profiles, window and door screens, and precision-formed metal and wood products, as well as kitchen and bathroom cabinet components. It also offers non-fenestration building construction components and products like solar panel sealants, wood flooring, trim moldings, vinyl decking, fencing, water retention barriers, and conservatory roof components.
The Zacks Rank #2 (Buy) stock is part of the Building Products – Miscellaneous industry, which is in the top 33% of Zacks-classified industries.
Its current-year (ending October) earnings are expected to grow 39.5%. Over the past month, the estimate for the current year earnings increased 18.5% while the estimate for next year increased 18.9%.
Potlach Corp. PCH
#1 ranked Potlach is another member of the Building Products – Wood industry. The Real Estate Investment Trust (REIT) owns acres of timberland in Alabama, Arkansas, Idaho, Minnesota and Mississippi, and operates wood product manufacturing facilities. It also has a land development and sales business.
Its earnings are expected to grow 169.8% this year. Estimates for 2021 and 2022 are up 30.8% and 96.3%, respectively.
Weyerhaeuser Co. WY
#1 ranked Weyerhaeuser also belongs to the Building Products – Wood industry.
It is one of the leading U.S. forest product companies with operations primarily concentrated in Southern California, Nevada, Washington, Texas, Maryland and Virginia although it caters to a diverse clientele across the United States, Canada, Japan, Europe and other regions.
The company grows and harvests trees, builds homes and manufactures forest products worldwide, primarily to be used as lumber, pulp and paper, and other wood and building products. It offers logs, hardwood lumber, timber, poles and plywood, as well as minerals, oil, gas, seeds and seedlings.
The company is expected to grow 186.8% this year. The current year earnings estimate is up 26.8%. The 2022 estimate is up 33.5%.
Conclusion
There may be some concern about the fact that new home sales in May declined 5.9% from April while existing home sales declined 0.9%. Importantly, this should not be read as softness in demand. At the most, it could mean that some of the home builders won't meet revenue expectations in the current quarter. But they should still beat earnings estimates by a mile for the reasons outlined above.
It's also important to keep in mind the year-over-year growth rate, which was 9% for new homes and 45% for existing homes. So we're talking about a much higher level of sales this year.
The main thing to keep an eye on is new home inventory. Because when inventory normalizes, prices will come down, also pulling down prices of existing homes. That's when we'll see another surge in demand. And if it happens while mortgage rates continue to hug bottom, growth rates will accelerate all the more.
Year-to-Date Price Movement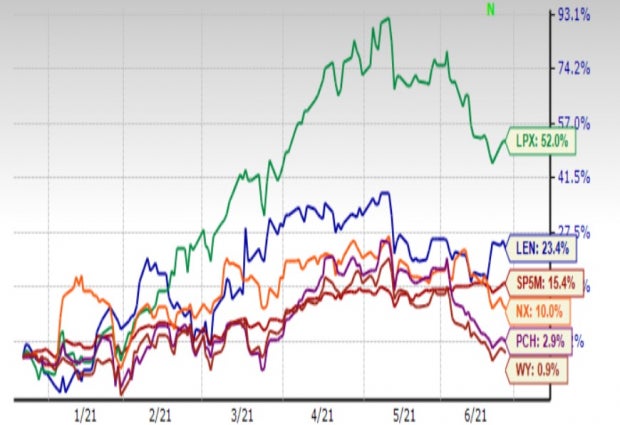 Image Source: Zacks Investment Research
Infrastructure Stock Boom to Sweep America
A massive push to rebuild the crumbling U.S. infrastructure will soon be underway. It's bipartisan, urgent, and inevitable. Trillions will be spent. Fortunes will be made.
The only question is "Will you get into the right stocks early when their growth potential is greatest?"
Zacks has released a Special Report to help you do just that, and today it's free. Discover 7 special companies that look to gain the most from construction and repair to roads, bridges, and buildings, plus cargo hauling and energy transformation on an almost unimaginable scale.
Download FREE: How to Profit from Trillions on Spending for Infrastructure >>
Want the latest recommendations from Zacks Investment Research? Today, you can download 7 Best Stocks for the Next 30 Days.
Click to get this free report
Weyerhaeuser Company (WY): Free Stock Analysis Report
LouisianaPacific Corporation (LPX): Free Stock Analysis Report
Lennar Corporation (LEN): Free Stock Analysis Report
Potlatch Corporation (PCH): Free Stock Analysis Report
Quanex Building Products Corporation (NX): Free Stock Analysis Report
To read this article on Zacks.com click here.
Zacks Investment Research