Air Lease (AL) Provides Activity Update for Second Quarter
Air Lease Corporation AL provided an update on its aircraft investments, sales and financing activities that took place in the second quarter of 2021.

As of Jun 30, 2021, the company's fleet consisted of 354 owned (indicating a rise from 342 owned as of Mar 31, 2021) and 89 managed aircraft. At the end of the period, the company also had 339 new aircraft on orders from Boeing and Airbus, which are expected to be delivered through 2026. Growth in Air Lease's fleet is expected to have aided the company's top line in the second quarter. Results will be available on Aug 5.

During the June quarter, Air Lease delivered 12 new aircraft, including two Airbus A320neos, three Airbus A321neos, one Airbus A330-900neo, one Airbus A350-900, two Boeing 737-8s, one Boeing 737-9 and two Boeing 787-9s. The company's aircraft investments in the quarter totaled approximately $1 billion. Majority of the investments occurred in the latter half of the quarter. The company did not sell any aircraft during the second quarter.
Air Lease Corporation Price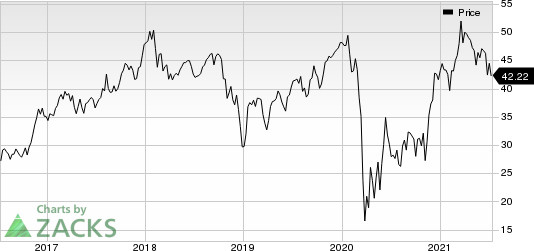 Under its financing activity, the company issued $1.2 billion of 1.875% senior unsecured medium-term notes due 2026 as well as $600 million of floating rate senior unsecured medium-term notes due 2022 at LIBOR +0.35%. Additionally, senior unsecured revolving credit facility has been upsized to $6.4 billion from $6.2 billion.

On Jul 1, 2021, Fitch affirmed Air Lease's long-term rating at BBB and revised its outlook to Stable from Negative.
Zacks Rank & Key Picks
Air Lease carries a Zacks Rank #5 (Strong Sell).

Some better-ranked stocks in the Transportation - Equipment and Leasing industry are Textainer Group Holdings Limited TGH, Freightcar America, Inc. RAIL and Herc Holdings Inc. HRI. While Textainer Group sports a Zacks Rank #1 (Strong Buy), Freightcar America and Herc Holdings carry a Zacks Rank #2 (Buy) each. You can see the complete list of today's Zacks #1 Rank stocks here.

Shares of Textainer Group and Herc Holdings have rallied more than 200% each in a year's time, while the Freightcar America stock has surged more than 300%.
Breakout Biotech Stocks with Triple-Digit Profit Potential
The biotech sector is projected to surge beyond $775 billion by 2024 as scientists develop treatments for thousands of diseases. They're also finding ways to edit the human genome to literally erase our vulnerability to these diseases.
Zacks has just released Century of Biology: 7 Biotech Stocks to Buy Right Now to help investors profit from 7 stocks poised for outperformance. Our recent biotech recommendations have produced gains of +50%, +83% and +164% in as little as 2 months. The stocks in this report could perform even better.
See these 7 breakthrough stocks now>>
Want the latest recommendations from Zacks Investment Research? Today, you can download 7 Best Stocks for the Next 30 Days.
Click to get this free report
Air Lease Corporation (AL): Free Stock Analysis Report
Freightcar America, Inc. (RAIL): Free Stock Analysis Report
Textainer Group Holdings Limited (TGH): Free Stock Analysis Report
Herc Holdings Inc. (HRI): Free Stock Analysis Report
To read this article on Zacks.com click here.
Zacks Investment Research