Keysight (KEYS) Collaborates With Jiyun for EV Transition
Keysight Technologies, Inc. KEYS recently announced that it has collaborated with Jiyun Technologies as part of its concerted efforts to shift to e-mobility for commercial vehicles. The collaboration will likely help accelerate the development and improvement of battery cells for electric vehicles (EVs) for customized battery life optimization and key actionable insights.

Beijing, China-based Jiyun focuses on smart electric vehicle technology and aims to leverage Keysight's tailored battery test system to accelerate the development and launch of EVs. The company has delivered its regenerative power supplies (RPS7900 Series), Data Acquisition System (DAQ973A), Controller Area Network Interface (CAN) Bus communication interfaces and other hardware products to Jiyun.

The solutions will enable the firm to collect basic information such as battery voltage, current and thermal data, while the battery management system will help gather data and provide access to all parameters through a single software instance. These are likely to facilitate the development of effective battery solutions for wide-scale usage of EVs across the globe.

Electronic devices form the very fulcrum of Internet of Things (IoT) services, wireless devices, data centers and 5G technologies. The rapid adoption of these devices is increasing the demand for electronic testing equipment. Further, technological advancements in mobile communications, semiconductors and automotive markets are likely to drive growth. Moreover, the rising demand for power management applications is a key catalyst for Keysight. Sturdy efforts toward modifying the Internet infrastructure and evolution of smart cars & autonomous-driving vehicles bode well for its future growth potential.

Keysight's efforts in emerging growth markets like IoT and high-speed data centers bode well for the top line. Particularly, management's focus on Automotive and Energy, and Aerospace and Defense domains augurs well in the long haul. The company is expected to benefit from the growing proliferation of electronic content in vehicles, momentum in space and satellite applications and rising adoption of driver-assistance systems globally.

It has lost 9.9% over the past year compared with the industry's decline of 13.2%.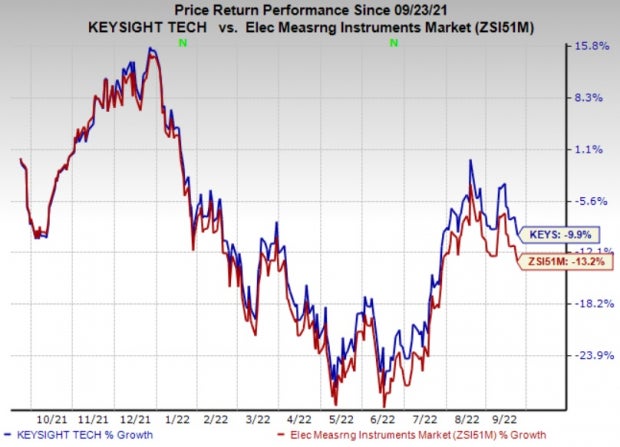 Image Source: Zacks Investment Research
Keysight sports a Zacks Rank #1 (Strong Buy). You can see the complete list of today's Zacks #1 Rank stocks here.

TESSCO Technologies Incorporated TESS, carrying a Zacks Rank #2 (Buy), delivered an earnings surprise of 61.9%, on average, in the trailing four quarters. Earnings estimates for TESSCO for the current year have moved up 31% since September 2021.

TESSCO offers products to the industry's top manufacturers in mobile communications, Wi-Fi, wireless backhaul and related products. With more than three decades of experience, it delivers complete end-to-end solutions to the wireless industry.

Spirent Communications plc SPMYY carries a Zacks Rank #2. Earnings estimates for the current year for the stock have moved up 10.8% since September 2021, while that for the next year is up 11.8%.

Founded in 1936 and headquartered in Crawley, the United Kingdom, Spirent offers a comprehensive, end-to-end solution that validates forwarding performance, latency and functional capabilities in an integrated approach that reduces the cost of ownership. It is a leading provider of Ethernet validation solutions in the market.

Harmonic Inc. HLIT, carrying a Zacks Rank #2, delivered an earnings surprise of 79.3%, on average, in the trailing four quarters. Earnings estimates for Harmonic for the current year have moved up 12.9% since February 2022.

Harmonic provides video delivery software, products, system solutions and services worldwide. With more than three decades of experience, it has revolutionized cable access networking via the industry's first virtualized cable access solution, enabling cable operators to more flexibly deploy gigabit Internet service to consumers' homes and mobile devices.
Just Released: Free Report Reveals Little-Known Strategies to Help Profit from the $30 Trillion Metaverse Boom
It's undeniable. The metaverse is gaining steam every day. Just follow the money. Google. Microsoft. Adobe. Nike. Facebook even rebranded itself as Meta because Mark Zuckerberg believes the metaverse is the next iteration of the internet. The inevitable result? Many investors will get rich as the metaverse evolves. What do they know that you don't? They're aware of the companies best poised to grow as the metaverse does. And in a new FREE report, Zacks is revealing those stocks to you. This week, you can download, The Metaverse - What is it? And How to Profit with These 5 Pioneering Stocks. It reveals specific stocks set to skyrocket as this emerging technology develops and expands. Don't miss your chance to access it for free with no obligation.
>>Show me how I could profit from the metaverse!
Want the latest recommendations from Zacks Investment Research? Today, you can download 7 Best Stocks for the Next 30 Days.
Click to get this free report
Harmonic Inc. (HLIT): Free Stock Analysis Report
TESSCO Technologies Incorporated (TESS): Free Stock Analysis Report
Spirent Communications PLC (SPMYY): Free Stock Analysis Report
Keysight Technologies Inc. (KEYS): Free Stock Analysis Report
To read this article on Zacks.com click here.
Zacks Investment Research