Ultragenyx (RARE) Surges on Product Approvals, Pipeline Progress
Ultragenyx Pharmaceutical Inc.'s (RARE) shares have surged 214.1% in the past year compared with the industry's growth of 7.1%.

The company has three approved therapies in its portfolio. Mepsevii (vestronidase alfa) is approved in the United States for the treatment of children and adults with Mucopolysaccharidosis VII (MPS VII), also known as Sly syndrome. Mepsevi is under review in the EU for the same indication. Crysvita (burosumab), an antibody targeting fibroblast growth factor 23 (FGF23), is approved in the United States for the treatment of X-linked hypophosphatemia (XLH) in adult and pediatric patients.
In June 2020, the FDA approved the UX007 (triheptanoin) for the treatment of pediatric and adult patients for all forms of long-chain fatty acid oxidation disorders (LC-FAOD) with a molecularly-confirmed diagnosis. The drug is marketed under the brand name Dojolvi. Dojolvi is the first FDA-approved therapy for these lifelong and life-threatening genetic disorders, and is now available to patients in the United States. The approval of the drug generated incremental sales for the company.
It is also looking to expand the label of Crysvita. Label expansion will further boost sales. In June 2020, the FDA approved Crysvita for the treatment of FGF23-related hypophosphatemia in tumor-induced osteomalacia associated with phosphaturic mesenchymal tumors that cannot be curatively resected or localized in adults and pediatric patients of two or more years.

The company is also developing the drug for treating children with XLH. During third-quarter 2020, the European Commission approved Crysvita for the treatment of XLH in older adolescents and adults. This could lead to an expansion of the current market authorization beyond the current approval for children of 1 year of age and older, as well as adolescents with growing skeletons.
The company also has some gene therapy candidates in its pipeline. These include DTX301, which is an adeno-associated virus 8 (AAV8) being evaluated for the treatment of patients with Ornithine transcarbamylase deficiency. Ultragenyx intends to hold an end-of-phase II meeting with the FDA based on the first three cohorts, with phase III study initiation currently expected in 2021.

DTX401 is also an AAV8 gene-therapy candidate, currently being evaluated for the treatment of patients with glycogen storage disease type Ia (GSDIa). A fourth cohort of three patients is ongoing at the same dose as cohorts two and three, with a prophylactic steroid regimen. Data from this cohort are not expected to impact the timing of a potential phase III study. The company expects to initiate a phase III study in first-half 2021. The FDA also granted DTX401a Fast Track status for the treatment of GSDIa.
In October 2020, Ultragenyx and Solid Biosciences SLDB announced a strategic collaboration and license agreement to focus on the development and commercialization of new gene therapies for Duchenne muscular dystrophy. The collaboration also brought together Solid's expertise in muscle biology and Ultragenyx's expertise in bringing novel therapies to patients with rare diseases.
Ultragenyx made a $40-MILLION investment in Solid and has agreed to pay up to $255 million in cumulative milestone payments per product upon achievement of specified milestone events, and tiered royalties on worldwide net sales at low-double-digit to mid-teens percentages. Upon achievement of proof-of-concept, Solid has the right to opt-in to co-fund collaboration programs in return for participation in a profit share or increased royalty payments.
Zacks Rank & Stocks to Consider
Ultragenyx currently carries a Zacks Rank #3 (Hold).
Some better-ranked stocks in the healthcare sector include Aerpio Pharmaceuticals Ltd. ARPO and ASLAN Pharmaceuticals Ltd. ASLN, each carrying a Zacks Rank #2 (Buy). You can see the complete list of today's Zacks #1 Rank (Strong Buy) stocks here.
Aerpio's loss per share estimates have narrowed from 15 cents to 14 cents for 2020 and from 63 cents to 57 cents for 2021 over the past 60 days. Shares of the company have increased 54% year to date.
ASLAN's loss per share estimates have narrowed from 42 cents to 40 cents for 2020 over the past 60 days.
Ultragenyx Pharmaceutical Inc. Price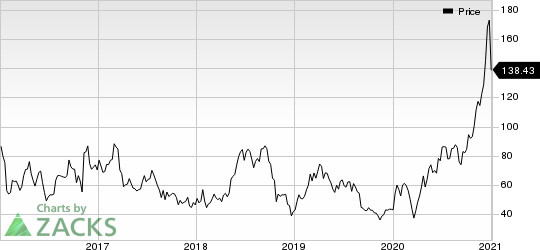 Ultragenyx Pharmaceutical Inc. price | Ultragenyx Pharmaceutical Inc. Quote
These Stocks Are Poised to Soar Past the Pandemic
The COVID-19 outbreak has shifted consumer behavior dramatically, and a handful of high-tech companies have stepped up to keep America running. Right now, investors in these companies have a shot at serious profits. For example, Zoom jumped 108.5% in less than 4 months while most other stocks were sinking. Our research shows that 5 cutting-edge stocks could skyrocket from the exponential increase in demand for "stay at home" technologies. This could be one of the biggest buying opportunities of this decade, especially for those who get in early.
See the 5 high-tech stocks now>>
Want the latest recommendations from Zacks Investment Research? Today, you can download 7 Best Stocks for the Next 30 Days.
Click to get this free report
Ultragenyx Pharmaceutical Inc. (RARE): Free Stock Analysis Report
Solid Biosciences Inc. (SLDB): Free Stock Analysis Report
Aerpio Pharmaceuticals, Inc. (ARPO): Free Stock Analysis Report
ASLAN Pharmaceuticals Ltd. (ASLN): Free Stock Analysis Report
To read this article on Zacks.com click here.