Home Depot, Lowes, and Housing Development: What To Expect
Home Depot HD, the world's largest home improvement retailer, released an earnings beat this morning with EPS outperforming estimates by 4.6% and illustrating year-over-year growth surpassing 9%. Revenues marginally beat estimates and showed 5.7% growth from the same quarter last year.
HD has displayed consistently strong top and bottom line growth since the recession, showing 63.5% sales growth and tripling its income in 9 years. The stock has boomed in the last decade, exhibiting 966% returns for investors.
The Home Depot, Inc. Price and Consensus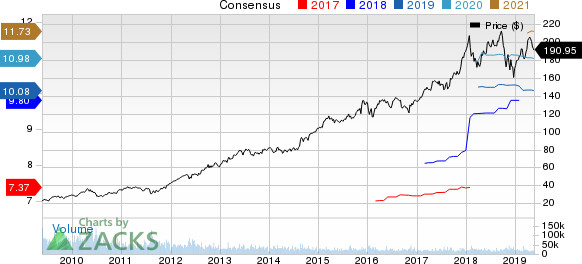 The Home Depot, Inc. price-consensus-chart | The Home Depot, Inc. Quote
Home Depot and its biggest competitor Lowes LOW are both considered building production & home improvement retailers. This allows one to conclude that these two firms have a correlation with the housing market and new house developments. Below is a chart illustrating the number of new privately owned housing units since the 2008 recession. As you can see the increasing amount of housing units has the same strong positive growth that you see in HD above.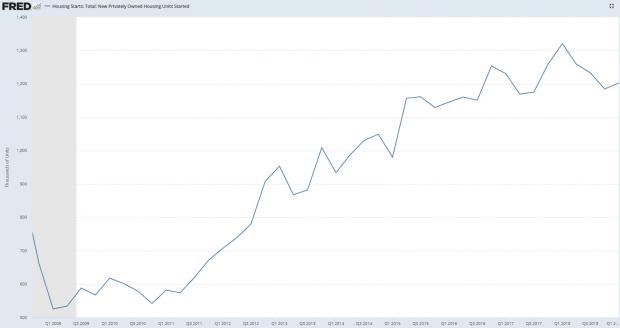 The weather has been an issue in housing and renovation projects over the past few months as conditions around the US have been wetter than usual. This April ranked in the top 10% wettest Aprils in the US taken from 125 years of data collected by the NOAA. This apparently didn't have a substantially adverse effect on Home Depot's earns, and we will see, when Lowes reports earnings tomorrow, if it had a material effect on its performance.
Housing Outlook
Unemployment rates 50-year low, land shortages and bad weather have all inhibited construction this past quarter. Lumber futures have fallen 26% since their high in early February because of this surplus in lumber due to the limited construction.
Housing and construction are very cyclical and sensitive to economic activity. Homebuilders as a whole have been performing quite well in 2019 thus far though. With the Federal Reserve's dovish verbiage, interest rates have trailed down quite a bit in the past 6 months. This has led to an uptick in the housing market as potential homeowners want to ensure they lock in a low interest rate.
DR Horton DHI is one of America's large home developers. DHI is up 27.3% for 2019, more than doubling the S&P 500s return YTD.
KB Home KBH was the first publicly traded home builder on the NYSE. It has seen even higher returns for investors, driving gains north of 41% YTD.
Home Depot Outlook
The company is doubling down on its investment in tool rentals. "We know that 90% of pros rent tools, but several years ago, only about one out of 10 pros rented from us," said Home Depot's CEO Craig Minear during today's earnings call. This investment is expected to continue to show substantial returns. The logic behind this is that the more professionals that rent tools from Home Depot the more they will purchase other needs their because why not, they are already there.
Professionals would make great reoccurring customers because they always need new construction supplies and building a more consistent customer base is going to drive profits much quicker, than relying on one time purchases from Dads attempting to fix the hinges on their cabinets or grabbing light bulbs.
Home Depot warned investors of a new impending lumber tariff on Chinese imports that could have up to a $1 billion effect.
Lowes Earnings Preview for Tomorrow
Lowes is expected to report a Q1 EPS of 1.33, representing 11.7% year-over-year growth. It is expected to have sales growth of 1.5% from the same quarter last year. Bear in mind, all of the uphill battles that Home Depot faced this past quarter, such as limited construction and a 26% drop in lumber prices since February, could hit LOW much harder than it hit HD.
Take Away
Be cautious when investing in any of the firms I have mentioned above because of the sensitive and cyclical nature of them. The housing market is correlated with interest rates and economic conditions. With less land and labor available for housing development, stocks like DHI and KBH may take a hit if they don't efficiently use their resources.
Home Depot and Lowes have a bit more of a hedge than the housing development companies when it comes to interest rate changes and adverse economic conditions because people still need to fix broken sinks, change light bulbs, repaint chipped walls, etc. no matter how the economy is doing. They will still feel the economic pressures none the less though.
Will you retire a millionaire?

One out of every six people retires a multimillionaire. Get smart tips you can do today to become one of them in a new Special Report, "7 Things You Can Do Now to Retire a Multimillionaire."

Click to get it free >>
Want the latest recommendations from Zacks Investment Research? Today, you can download 7 Best Stocks for the Next 30 Days.
Click to get this free report
Lowe's Companies, Inc. (LOW): Free Stock Analysis Report
The Home Depot, Inc. (HD): Free Stock Analysis Report
D.R. Horton, Inc. (DHI): Free Stock Analysis Report
KB Home (KBH): Free Stock Analysis Report
To read this article on Zacks.com click here.
Zacks Investment Research