Amazon's (AMZN) AWS Gets Selected by NXP Semiconductors
Amazon AMZN continues to ride on its robust cloud computing arm — Amazon Web Services ("AWS"). The solid customer momentum of AWS is driving the company's top line.

NXP Semiconductors NXPI has selected AWS as its preferred cloud provider. This highlights the efficiency and reliability of AWS's innovative cloud products and services.

Notably, NXP Semiconductors is shifting its electronic design automation workloads to AWS to bolster its throughput across its design centers.

NXP Semiconductors is leveraging AWS's analytics, Machine Learning (ML), storage, analytics, and capabilities in high-performance computing.

To be precise, it is utilizing Amazon QuickSight for generating robust engineering and operational insights, and Amazon SageMaker for structuring application licenses. Further, Amazon FSx for Lustre is being used to store petabytes of design simulation data.

Additionally, NXP Semiconductors is using Amazon Simple Storage Service and AWS Glue to build a data lake.
Amazon.com, Inc. Price and Consensus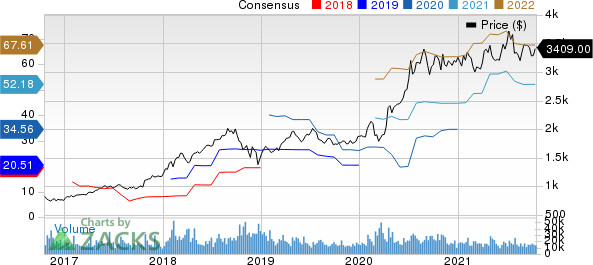 Amazon.com, Inc. price-consensus-chart | Amazon.com, Inc. Quote
Expanding Customer Base
The latest selection by NXP Semiconductors adds strength to its expanding clientele.

Recently, AWS got selected by Arctic Wolf Networks as the primary cloud provider. Arctic Wolf will leverage AWS's containers, serverless, analytics, database, compute, and storage to bolster its cloud-native security operations platform.

Sun Life SLF picked AWS as its long-term cloud technology provider. Sun Life will leverage analytics, ML, storage, security, and databases to deliver an enhanced digital experience to customers.

AWS collaborated with Wyndham Hotels & Resorts. AWS's cloud technologies will be used by Wyndham for developing digital services and providing better experiences to customers across 21 hotel brands. Notably, Wyndham has selected AWS as its preferred cloud provider.

We believe that the expanding customer base will continue to drive AWS's top line. In second-quarter 2021, AWS generated revenues of $14.8 billion (13% of Amazon's net sales), which rose 37% year over year.

Strengthening clientele will continue to aid its competitive edge against peers like Microsoft, Alibaba, IBM and Alphabet's GOOGL Google, which are also leaving no stone unturned to strengthen their cloud market position.

Currently, Amazon carries a Zacks Rank #3 (Hold). You can see the complete list of today's Zacks #1 Rank (Strong Buy) stocks here.
Portfolio Strength
We believe that AWS will continue to witness growth in its clientele on the back of its efforts toward expanding its service offerings.

The company made its new capability in QuickSight called Amazon QuickSight Q generally available. Amazon made its new storage service called Amazon FSx for NetApp ONTAP generally available as well.

The company made its fully managed data visualization service called Amazon Managed Grafana generally available. The service allows customers to track operational and IoT data from various sources by creating Grafana dashboards seamlessly.

The company made its fully managed in-memory database — Amazon MemoryDB for Redis —generally available. Amazon MemoryDB is Redis-compatible, which helps in the storage of the entire datasets in memory.

The company announced the general availability of Amazon EBS io2 Block Express volumes, which bolstered AWS's storage area network capabilities. EBS io2 Block Express volumes are equipped with SAN features like multi-attach and elastic volumes.

The company announced the general availability of Amazon Healthlake, which extracts and analyzes important health-related information, and securely stores them on the cloud.

We believe that the expanding AWS portfolio will continue to aid Amazon's dominance in the booming cloud market.
Time to Invest in Legal Marijuana
If you're looking for big gains, there couldn't be a better time to get in on a young industry primed to skyrocket from $17.7 billion back in 2019 to an expected $73.6 billion by 2027.
After a clean sweep of 6 election referendums in 5 states, pot is now legal in 36 states plus D.C. Federal legalization is expected soon and that could be a still greater bonanza for investors. Even before the latest wave of legalization, Zacks Investment Research has recommended pot stocks that have shot up as high as +285.9%.
You're invited to check out Zacks' Marijuana Moneymakers: An Investor's Guide. It features a timely Watch List of pot stocks and ETFs with exceptional growth potential.
Today, Download Marijuana Moneymakers FREE >>
Want the latest recommendations from Zacks Investment Research? Today, you can download 7 Best Stocks for the Next 30 Days.
Click to get this free report
Amazon.com, Inc. (AMZN): Free Stock Analysis Report
NXP Semiconductors N.V. (NXPI): Free Stock Analysis Report
Sun Life Financial Inc. (SLF): Free Stock Analysis Report
Alphabet Inc. (GOOGL): Free Stock Analysis Report
To read this article on Zacks.com click here.
Zacks Investment Research