Here's Why NETGEAR (NTGR) is an Enticing Investment Bet Now
Shares of NETGEAR Inc. NTGR have surged 52% over the past year driven by accretive customer base and healthy revenues on the back of a flexible business model. Earnings estimates for the current and next fiscal year have increased 28.8% and 21.7%, respectively, over the past year, implying robust growth potential. With healthy fundamentals, this Zacks Rank #1 (Strong Buy) networking solutions provider appears to be a solid investment option at the moment. You can see the complete list of today's Zacks #1 Rank stocks here.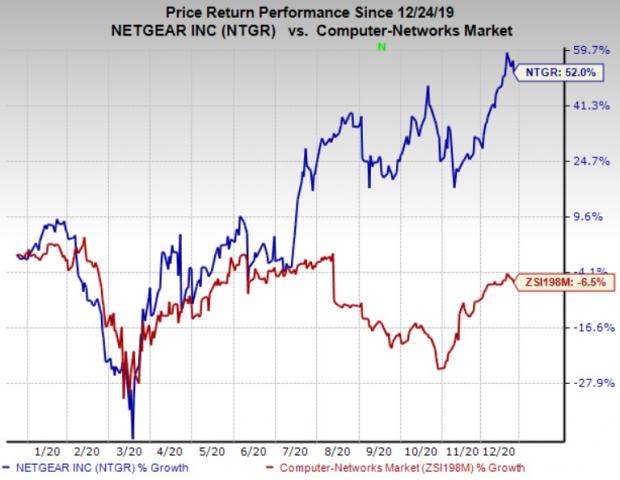 Growth Drivers
NETGEAR continues to capitalize on technology inflections, create new categories and build recurring service revenues to maintain its market leadership position and drive future growth. The company's revenues have been driven by the rapid increase in Internet connected devices such as smart phones, laptops, tablets and the advent of Smart Home and Internet of Things devices, which have boosted the need for robust networking solutions. An increased market demand for Smart Home and Internet-connected products such as Smart TVs, game consoles, High Definition streaming players, security cameras, thermostats and smoke detectors continues to drive innovations in networking. NETGEAR continues to focus on introducing products into growth areas which form the basis of Smart Homes as it strives to be the provider of industry-leading networking and smart connected products for consumers, business and service provider markets.

With an exponential growth in data traffic, consumers, businesses and service providers need a complete set of wired and wireless networking and broadband products that are tailored to their specific needs and budgets. The company's products are designed with an industrial appearance, including metal cases, the ability to mount the product within standard data networking racks as well as unique mounting solutions for other uses and targeting the business market. These products typically include higher port counts, higher data transfer rates and other performance characteristics designed to meet the needs of a business user, providing a competitive edge to outsmart its rivals. Notably, the number of registered app users recorded in third-quarter 2020 was 7.7 million, up from 6.4 million on a sequential basis. The company ended the quarter with 369,000 paid subscribers.

The company continues to introduce new products and services that hinge on affordability, reliability and ease of use. In order to capitalize on the increasing demand for cloud-based applications for small and medium-sized enterprises, NETGEAR is introducing next generation commercial products. These include Power over Ethernet switches, Multi-gigabit Ethernet switches, high capacity local and remote unified storage, small to medium capacity campus wireless local area network, and security appliances. These products are likely to augment the effectiveness and efficiency of its hybrid cloud access network and strengthen its position in the market. In the last reported quarter, NETGEAR shipped nearly 4.7 million units, including 3.5 million nodes of wireless products. This holistic growth strategy offers a competitive advantage to NETGEAR against other firms.

Despite supply chain disruptions, NETGEAR is poised to witness top-line growth. It remains confident of maintaining its leadership in new product introduction, based on the Wi-Fi 6 standards. This, in turn, is likely to drive positive cash flow amid competitive macro environment. NETGEAR aims to emerge as a pioneer of best-in-class networking technologies like Wi-Fi 6 and Pro AV, thereby benefiting from advanced technological innovations.

The stock delivered a positive earnings surprise of 60%, on average, in the trailing four quarters, beating estimates on each occasion. NETGEAR is housed within the Computer Networking industry, which carries a Zacks Industry Rank #88, which places it among the top 35% of more than 250 Zacks industries. The stock's Zacks Industry Rank, which is basically the average of the Zacks Rank of all the member stocks, indicates encouraging prospects. Our research shows that the top 50% of the Zacks-ranked industries outperforms the bottom 50% by a factor of more than 2 to 1. Consequently, the stock appears to be an enticing investment option in the volatile market.
Other Key Picks
Some other top-ranked stocks in the broader industry are Digi International Inc. DGII, Lantronix, Inc. LTRX, and Radcom Ltd. RDCM, each carrying a Zacks Rank #2 (Buy).

Digi International has a long-term earnings growth expectation of 14.5%. It delivered a positive earnings surprise of 546.9%, on average, in the trailing four quarters.

Lantronix delivered a positive earnings surprise of 50%, on average, in the trailing four quarters.

Radcom delivered a positive earnings surprise of 63.6%, on average, in the trailing four quarters.
Just Released: Zacks' 7 Best Stocks for Today
Experts extracted 7 stocks from the list of 220 Zacks Rank #1 Strong Buys that has beaten the market more than 2X over with a stunning average gain of +24.4% per year.

These 7 were selected because of their superior potential for immediate breakout.

See these time-sensitive tickers now >>
Want the latest recommendations from Zacks Investment Research? Today, you can download 7 Best Stocks for the Next 30 Days.
Click to get this free report
Digi International Inc. (DGII): Free Stock Analysis Report
Lantronix, Inc. (LTRX): Free Stock Analysis Report
NETGEAR, Inc. (NTGR): Free Stock Analysis Report
Radcom Ltd. (RDCM): Free Stock Analysis Report
To read this article on Zacks.com click here.
Zacks Investment Research