Here's Why You Should Retain Merit Medical (MMSI) Stock Now
Merit Medical Systems, Inc. MMSI is well-poised for growth, backed by a robust product portfolio and solid international exposure. However, intense competition remains concerning.

The stock has gained 83% compared with the industry's growth of 46.4% in a year's time. Also, the S&P 500 Index has rallied 55.6% in the same time frame.

Merit Medical — with a market capitalization of $3.18 billion — offers various peripheral and cardiac intervention products to cure cardiac conditions specific to interventional cardiology and electrophysiology. It anticipates an earnings improvement of 12.4% over the next five years. Moreover, the company has a trailing four-quarter earnings surprise of 280.2%, on average.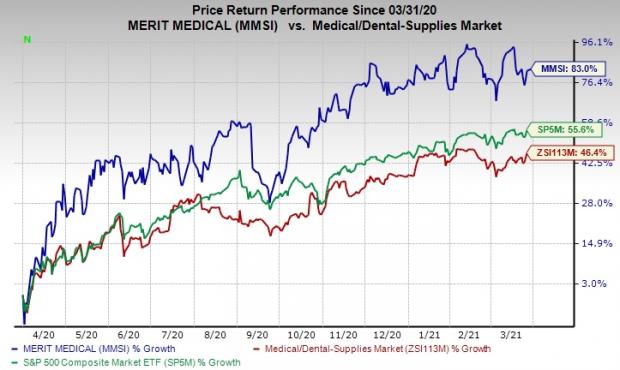 Let's take a closer look at the factors that substantiate the company's Zacks Rank #3 (Hold).
Factor Hurting the Stock
Given the stiff competition in the medical products industry, Merit Medical competes globally in several market areas, including diagnostic and interventional cardiology, and interventional radiology. In these markets, the company faces intense competition from bigwigs like Stryker Corporation and Cardinal Health. Hence, intense competition continues to plague the stock.
Key Catalysts
Merit Medical has continued to gain significant momentum on the back of new products and is optimistic about the product pipeline, including radio and electrophysiology products, going forward.

The company eyes a global pipeline for Europe, Asia and South-East Asia. It is important to note here that around 50% of Merit's business comes from international markets.

In the fourth quarter of 2020, international revenues grew 1.2% on a reported basis. The company's two largest markets outside the United States are APAC and EMEA, representing approximately 49% and 44% of its total international sales, respectively, in the fourth quarter.
Estimates Trend
For 2021, the Zacks Consensus Estimate for revenues is pegged at $996.9 million, indicating growth of 3.4% from the year-ago period's reported figure. The same for adjusted earnings per share stands at $1.88, suggesting an improvement of 13.9% from the prior-year reported figure.
Stocks to Consider
Some better-ranked stocks from the broader medical space are Hologic, Inc. HOLX, IDEXX Laboratories, Inc. IDXX and Cantel Medical Corp. CMD, each currently carrying a Zacks Rank #2 (Buy). You can see the complete list of today's Zacks #1 Rank (Strong Buy) stocks here.

Hologic's long-term earnings growth rate is estimated at 15.4%.

IDEXX's long-term earnings growth rate is projected at 15.8%.

Cantel Medical's long-term earnings growth rate is estimated at 19%.
Breakout Biotech Stocks with Triple-Digit Profit Potential
The biotech sector is projected to surge beyond $775 billion by 2024 as scientists develop treatments for thousands of diseases. They're also finding ways to edit the human genome to literally erase our vulnerability to these diseases.

Zacks has just released Century of Biology: 7 Biotech Stocks to Buy Right Now to help investors profit from 7 stocks poised for outperformance. Our recent biotech recommendations have produced gains of +50%, +83% and +164% in as little as 2 months. The stocks in this report could perform even better.

See these 7 breakthrough stocks now>>
Want the latest recommendations from Zacks Investment Research? Today, you can download 7 Best Stocks for the Next 30 Days.
Click to get this free report
Hologic, Inc. (HOLX): Get Free Report
Merit Medical Systems, Inc. (MMSI): Free Stock Analysis Report
IDEXX Laboratories, Inc. (IDXX): Get Free Report
Cantel Medical Corp. (CMD): Free Stock Analysis Report
To read this article on Zacks.com click here.
Zacks Investment Research