Kraft Heinz Ups Organic Sales View on Coronavirus-Led Demand
A renowned food and beverage company, The Kraft Heinz Company KHC informed that it has been witnessing higher consumer demand for its products. This can be attributed to panic-induced stockpiling amid the coronavirus outbreak. Impressively, for first-quarter 2020 management now expects net sales to increase nearly 3% year over year. Organic net sales are anticipated to increase nearly 6% in the same time period.

The company had earlier envisioned a low single-digit decline in organic net sales for the first quarter. However, the company has been seeing weakness in Foodservice-related revenues globally. Further, Karft Heinz does not expect benefits from increased sales to flow through to net income/(loss) from continuing operations, adjusted EBITDA as well as earnings per share in the first quarter. This can be attributed to higher expenses incurred to support increased growth along with certain other headwinds.

Apart from these factors, the company postponed its in-person Investor Day that was scheduled in early May due to the pandemic.

The coronavirus outbreak, which is spreading at an alarming rate, has infected more than 1 million people worldwide and the death toll has crossed 60,000. As complete physical isolation is an important measure to contain the spread of the pandemic, governments across several countries are imposing lockdowns and curfews. With community transmission gaining scale, people are hoarding essentials so that they do not have to venture out for daily supplies. As a result, demand for grocery, medicines, cleaning supplies and related food staples are skyrocketing.

As people are stocking up on essential commodities, companies are leaving no stone unturned to fill the shelves faster. The companies are teaming up with suppliers to replenish essential products, raising employees' pay and benefits as well as curbing non-essential goods' production while adopting cleanliness and sanitizing measures.

Certainly, surging demand for essential items like food works well for consumer staple players like Karft Heinz. Also, this is leading to heavy demand at departmental store retailers, discount store retail chains and supermarkets. In fact, many retailers like Dollar Tree, Inc. DLTR, Dollar General Corporation DG and Walmart Inc. WMT are hiring associates to efficiently cater to high consumer demand for essential goods and delivery needs.

Meanwhile, Kraft Heinz had earlier pledged $12 million to various organizations like Feeding America with a view to support them in their fight against the consequences of the novel coronavirus outbreak.

We note that shares of this Zacks Rank #4 (Sell) company have dropped 3% in the past six months compared with the industry's decline of 11.9%. You can see the complete list of today's Zacks #1 Rank (Strong Buy) stocks here.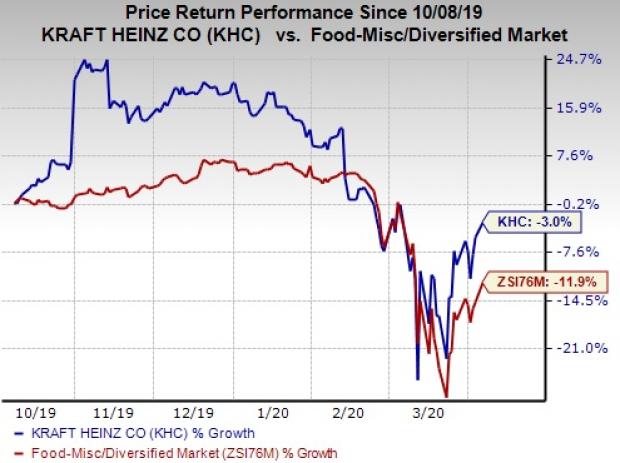 Today's Best Stocks from Zacks

Would you like to see the updated picks from our best market-beating strategies? From 2017 through 2019, while the S&P 500 gained and impressive +53.6%, five of our strategies returned +65.8%, +97.1%, +118.0%, +175.7% and even +186.7%.

This outperformance has not just been a recent phenomenon. From 2000 – 2019, while the S&P averaged +6.0% per year, our top strategies averaged up to +54.7% per year.

See their latest picks free >>
Want the latest recommendations from Zacks Investment Research? Today, you can download 7 Best Stocks for the Next 30 Days.
Click to get this free report
Walmart Inc. (WMT): Free Stock Analysis Report
Dollar Tree, Inc. (DLTR): Free Stock Analysis Report
Dollar General Corporation (DG): Free Stock Analysis Report
The Kraft Heinz Company (KHC): Free Stock Analysis Report
To read this article on Zacks.com click here.
Zacks Investment Research