Essential Utilities (WTRG) to Gain From Investment, Buyouts
The water and natural gas utility — Essential Utilities WTRG — with its steady capital investment, strategic acquisitions, customer additions and organic growth, is expected to be a stable performer over the long run.

This Zacks Rank #3 (Hold) company's long-term (three to five year) earnings growth is currently pegged at 6.14%. Moreover, its current dividend yield of 2.69% is better than its industry average of 1.98%.
Tailwinds
Massive infrastructural investments are required to upgrade and maintain water utilities, as old and soiled water pipelines are quickly approaching their effective service life. Essential Utilities has plans to make the necessary investments to strengthen its natural gas infrastructure. In 2022, the company aims to invest $1 billion in the water and natural gas segments. The company plans to invest $3 billion from 2022 through 2024 to fortify operations and serve the expanding customer base efficiently.

In the six years ended Dec 31, 2021, Essential Utilities expanded utility operations by completing many water and wastewater acquisitions, which in turn added 94,000 customers. Essential Utilities currently has seven signed purchase agreements to acquire additional water and wastewater systems that are expected to serve approximately 224,000 equivalent retail customers.

The company's rate-hike application and approval from the commission will help it to recoup expenditure and fund future capital projects. The water rate cases, completed in 2021, increased annual revenues by $28.8 million. Water rate cases completed till Aug 3, 2022 will increase annual revenues by $77.8 million. The pending water rates, on completion, are expected to further increase annual revenues by $44.4 million.
Headwinds
The risk of water contamination, hike in interest rates, compliance with stricter regulations and fluctuating weather conditions impacting the demand for water are challenges.
Price Performance
In the past one year, shares of Essential Utilities have lost 6.5% compared with the industry's decline of 10.9%.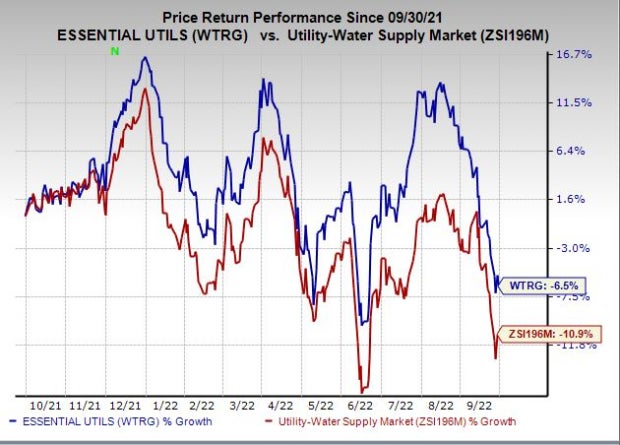 Image Source: Zacks Investment Research
Zacks Rank and Key Picks
Essential Utilities currently has a Zacks Rank #3 (Hold). Some better-ranked stocks in the same industry are — SJW Group SJW, Primo Water PRMW and Consolidated Water CWCO — which currently carry a Zacks Rank #2 (Buy). You can see the complete list of today's Zacks #1 Rank (Strong Buy) stocks here.

The dividend yield of SJW, PRMW and CWCO is projected at 2.4%, 2.2% and 2.1%, respectively.

The Zacks Consensus Estimate for 2022 EPS of SJW, PRMW and CWCO has moved up by 15.3%, 23.2% and 217.4%, respectively, year over year.
FREE Report: The Metaverse is Exploding! Don't You Want to Cash In?
Rising gas prices. The war in Ukraine. America's recession. Inflation. It's no wonder why the metaverse is so popular and growing every day. Becoming Spider Man and fighting Darth Vader is infinitely more appealing than spending over $5 per gallon at the pump. And that appeal is why the metaverse can provide such massive gains for investors. But do you know where to look? Do you know which metaverse stocks to buy and which to avoid? In a new FREE report from Zacks' leading stock specialist, we reveal how you could profit from the internet's next evolution. Even though the popularity of the metaverse is spreading like wildfire, investors like you can still get in on the ground floor and cash in. Don't miss your chance to get your piece of this innovative $30 trillion opportunity - FREE.
>>Yes, I want to know the top metaverse stocks for 2022>>
Want the latest recommendations from Zacks Investment Research? Today, you can download 7 Best Stocks for the Next 30 Days.
Click to get this free report
Consolidated Water Co. Ltd. (CWCO): Free Stock Analysis Report
SJW Group (SJW): Free Stock Analysis Report
Primo Water Corporation (PRMW): Free Stock Analysis Report
Essential Utilities Inc. (WTRG): Free Stock Analysis Report
To read this article on Zacks.com click here.
Zacks Investment Research