IQVIA (IQV) Announces Collaboration With NRx Pharmaceuticals
IQVIA Holdings Inc. IQV today announced that it has collaborated with NRx Pharmaceuticals NRXP for pharmacovigilance services and medical information.
NRx Pharmaceuticals is a clinical-stage small-molecule pharmaceutical company involved in the development of therapeutics for the treatment of pulmonary diseases and central nervous system disorders. The company's product, ZYESAMI, is an investigational pre-commercial drug for COVID-19-associated respiratory failure and is currently under phase III trials.
As part of the tie-up, IQVIA and NRx will work closely to support activities essential for emergency use authorization of ZYESAMI, including pharmacovigilance and medical information programs. To do so, IQVIA will give NRx access to its domain experience with Covid-19, required data assets and analytics.
"We are honored by the opportunity to join with NRx on the EUA activation and compliance for ZYESAMI in treating some of the sickest patients suffering from COVID-19," said Susan Kitlas, vice president, Precommercial Business Unit, IQVIA.
IQVIA's shares have gained 55.1% over the past year against 26.5% decline of the industry it belongs to. The Zacks S&P 500 composite rose 32.6% in the said time frame.
IQVIA Holdings Inc. Price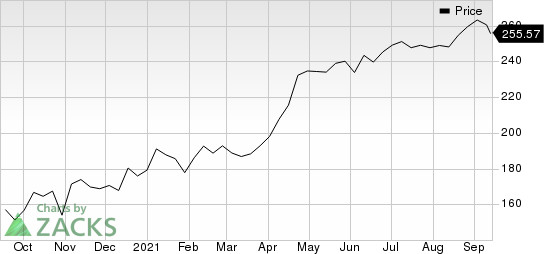 Zacks Rank and Stocks to Consider
IQVIA currently carries a Zacks Rank #3 (Hold).
Some other top-ranked stocks in the broader Zacks Business Services sector are Equifax EFX and Genpact G, each carrying a Zacks Rank #2 (Buy). You can see the complete list of today's Zacks #1 Rank stocks here.
The long-term expected earnings per share (three to five years) growth rate for Equifax and Genpact is pegged at 15.2% and 14.7%, respectively.
Tech IPOs With Massive Profit Potential
In the past few years, many popular platforms and like Uber and Airbnb finally made their way to the public markets. But the biggest paydays came from lesser-known names.
For example, electric carmaker X Peng shot up +299.4% in just 2 months. Think of it this way…
If you had put $5,000 into XPEV at its IPO in September 2020, you could have cashed out with $19,970 in November.
With record amounts of cash flooding into IPOs and a record-setting stock market, this year's lineup could be even more lucrative.
See Zacks Hottest Tech IPOs Now >>
Want the latest recommendations from Zacks Investment Research? Today, you can download 7 Best Stocks for the Next 30 Days.
Click to get this free report
Equifax, Inc. (EFX): Free Stock Analysis Report
Genpact Limited (G): Free Stock Analysis Report
IQVIA Holdings Inc. (IQV): Free Stock Analysis Report
NRx Pharmaceuticals, Inc. (NRXP): Get Free Report
To read this article on Zacks.com click here.
Zacks Investment Research