UPS Rewards Shareholders With Dividend Increase of 5.2%
In a shareholder-friendly measure, United Parcel Service UPS announced a 5.2% raise in its dividend payout. This move is indicative of the company's commitment to create value for its shareholders and also underlines its confidence in business growth.
UPS increased its quarterly dividend to $1.01 per share ($4.04 annually) on all outstanding Class A and Class B shares from 96 cents. The first quarterly installment of the hiked dividend will be paid out on Mar 10, 2020 to its shareholders of record as of Feb 6. The dividend yield based on the new payout and Feb 14's closing price is 3.8%.
United Parcel Service, Inc. Price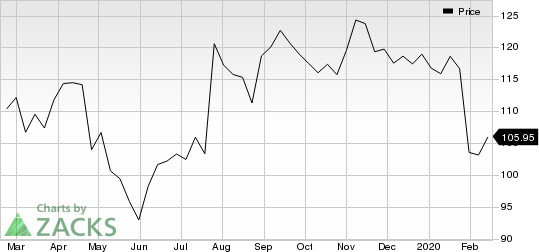 United Parcel Service, Inc. price | United Parcel Service, Inc. Quote
Notably, this Zacks Rank #3 (Hold) stock has an impressive track record with respect to dividend payouts. It either upped or kept its dividend intact for nearly half a decade. In fact, the dividend payout of this package delivery company has more than quadrupled since 2000.
You can see the complete list of today's Zacks #1 Rank (Strong Buy) stocks here.
Transportation Stocks on a Dividend Hike Spree
Even though the current year is only in its second month, many players in the broader Transportation sector already hiked their respective quarterly dividend payouts, showing their shareholder-friendly stance.
For instance, the likes of Alaska Air Group ALK, J.B. Hunt Transport JBHT and GATX Corporation GATX raised their dividend payouts. While Alaska Air Group announced a 7.1% hike in quarterly dividend to 37.5 cents per share, J.B. Hunt increased the same by 3.8% to 27 cents. Additionally, GATX declared a 4.3% rise in its quarterly dividend to 48 cents per share.
Investors always prefer an income-generating stock. Hence, a high dividend-yielding one is obviously much coveted. It goes without saying that stockholders are always on the lookout for companies with a history of consistent and incremental dividend payments to invest in.
Breakout Biotech Stocks with Triple-Digit Profit Potential

The biotech sector is projected to surge beyond $775 billion by 2024 as scientists develop treatments for thousands of diseases. They're also finding ways to edit the human genome to literally erase our vulnerability to these diseases.

Zacks has just released Century of Biology: 7 Biotech Stocks to Buy Right Now to help investors profit from 7 stocks poised for outperformance. Our recent biotech recommendations have produced gains of +50%, +83% and +164% in as little as 2 months. The stocks in this report could perform even better.

See these 7 breakthrough stocks now>>
Want the latest recommendations from Zacks Investment Research? Today, you can download 7 Best Stocks for the Next 30 Days.
Click to get this free report
United Parcel Service, Inc. (UPS): Free Stock Analysis Report
J.B. Hunt Transport Services, Inc. (JBHT): Free Stock Analysis Report
Alaska Air Group, Inc. (ALK): Free Stock Analysis Report
GATX Corporation (GATX): Free Stock Analysis Report
To read this article on Zacks.com click here.
Zacks Investment Research