Citi (C), BNY Mellon & Verizon Join Forces for Real-Time Bill Pay
Citigroup Inc. C has been constantly making efforts to improve its digital offerings and introduce fresh products to boost profitability. The New York-based bank has now forayed into real-time bill payment service. The Bank of New York Mellon Corporation BK, commonly known as BNY Mellon, and Citi have joined forces with Verizon Communications Inc. VZ to provide request-for-payment messages to Citi banking consumers.
By tapping on BNY Mellon's new Real-Time E-Bills and Payments service, Verizon consumers having Citi accounts can pay their bills promptly, at any time of day throughout the year, and thereby, enjoy greater oversight over their finances to abstain overdraft fees.
Through this partnership, the transactions will be dealt in real time over The Clearing House RTP network that all federally-insured U.S. depository institutions are qualified to use, bridging BNY Mellon as the biller's bank, Verizon as the biller and Citi as the customer's bank.
Apart from this, Verizon customers, who bank at Citi, can avail Citibank Online to schedule the payment at a pre-specified date and time. These payments also include the on-demand payouts from platforms backing a supplementary income stream, such as the ride-hailing or food delivery applications.
Since automated payments can result in insufficient customer account balances, thereby, leading to overdraft fees and other costs, Verizon's use of BNY Mellon's Real-Time E-Bills and Payments functionality garners a significant improvement over scheduling standing pay instructions across the ACH network.
Unlike an ACH transaction or a paper check, the Real-Time E-Bills and Payments are instantaneous and fully governed by the consumer, who can give the go-ahead and set up each payment to who they want to pay, and when. Additionally, the safe tool provides the consumer with full transparence, including the facility to get an up-to-date acknowledgment confirming about the fulfillment of obligations. This removes ambiguities regarding the timing of fund debited from the consumer's account, and steers clear of any interchange fees charged for credit and debit card payments.
In May 2021, BNY Mellon announced the roll-out of its Real-Time E-Bills and Payments capability, with the potential to revolutionize the inefficient and outmoded procedures hinging the estimated $15-BILLION bills paid in the United States yearly.
Kate Luft, head of Retail U.S. Segments and Products at Citi, said, "While setting up automatic bill payments is convenient for many customers, living with weekly budgets or irregular income streams can be a challenge. Real-Time Bill Pay gives people greater control to pay the bills they want to pay precisely when they want to pay them. We look forward to expanding this program."
Robin Vince, vice chair of BNY Mellon and CEO of Global Market Infrastructure, remarked, "Retail customers have grown accustomed to using instant payment apps for small value purchases but have not had access to the same functionality or the enhanced security benefits Real-Time Payments provides for paying their phone, internet and other bills. Today's announcement fills in this gap in the marketplace, and we look forward to rolling out Real-Time E-Bills and Payments to customers across the U.S."
Our Take
Citi's retail bank is the headmost bank to offer full competencies via RTP to aid U.S. billers such as Verizon, providing far-reaching and end-to-end suite of the Request-for-Pay capabilities. Currently, Citi offers instant payments across 27 countries and processes two million real-time-payments transactions daily. Marshalling in a new era of information-rich and intelligent transaction banking, real-time payments bolster the perks of instant payments for billers as well as retail customers.
Citi continues to execute its growth strategies, such as bolstering the bank's position in the booming digital industry and expanding the global market presence, thus, aiming to diversify revenue sources. Additionally, the company's prudent expense management and streamlining operations internationally keep us encouraged.
The company has lost 5.2% in the past six months as against the 2.4% rally of the industry.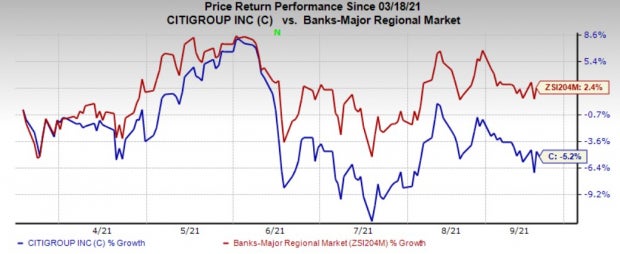 Image Source: Zacks Investment Research
The stock carries a Zacks Rank #3 (Hold), at present. You can see the complete list of today's Zacks #1 Rank (Strong Buy) stocks here.
A growing number of financial services organizations, including banks, are resorting to convenient, frictionless digital services for their customers and clients.
Recently, Northern Trust NTRS launched an artificial intelligence-powered tool to derive unstructured investment information from alternative asset documents, in a bid to further digitize its alternative asset servicing business. This underpins the company's efforts to enhance its asset owner clients' experience as well as abate operational risks in the alternative asset servicing business.
5 Stocks Set to Double
Each was handpicked by a Zacks expert as the #1 favorite stock to gain +100% or more in 2021. Previous recommendations have soared +143.0%, +175.9%, +498.3% and +673.0%.
Most of the stocks in this report are flying under Wall Street radar, which provides a great opportunity to get in on the ground floor.
Today, See These 5 Potential Home Runs >>
Want the latest recommendations from Zacks Investment Research? Today, you can download 7 Best Stocks for the Next 30 Days.
Click to get this free report
Citigroup Inc. (C): Free Stock Analysis Report
The Bank of New York Mellon Corporation (BK): Free Stock Analysis Report
Verizon Communications Inc. (VZ): Free Stock Analysis Report
Northern Trust Corporation (NTRS): Free Stock Analysis Report
To read this article on Zacks.com click here.
Zacks Investment Research