H&R Block (HRB) Announces Three Major Leadership Promotions
H&R Block, Inc. HRB yesterday made three major announcements, making key changes to leadership roles. These changes are aimed at driving growth and providing better service options for more clients.
So far this year, shares of H&R Block have gained 62.3% compared with 8.4% rise of the industry it belongs to.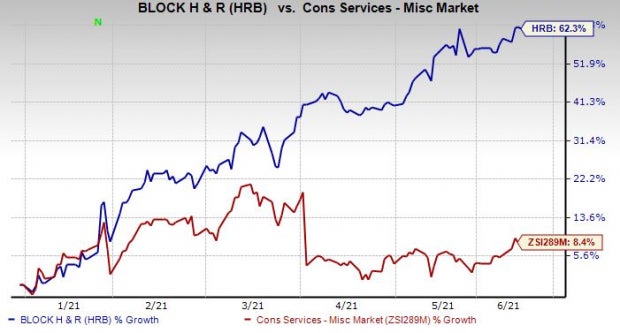 Image Source: Zacks Investment Research
Karen Orosco– Her New Role & Prior Experiences
Karen Orosco has been appointed to the position of president, global consumer tax and service delivery. In her new role, she will focus on driving the growth of Global Consumer Tax. This includes leadership of more than 12,000 company- and franchise-owned tax offices in the United States, Canada and Australia, the organization's do-it-yourself or DIY tax solutions, end-to-end tax pro experience management, tax transformation, and a consumer tax products and support team.
Orosco had joined H&R Block in 1999. Most recently, she has served as senior vice president, U.S. retail. Under her leadership, the company's retail business launched new virtual channels and achieved its highest performance in client growth and market share in over a decade.
Bob Moretti – His New Role & Prior Experiences
Bob Moretti has been promoted to the position of senior vice president of U.S. retail operations. In his new role, Moretti will lead the company's retail tax services offered in company- and franchise-owned offices across the United States, which include more than 300 Block Advisor locations that serve small business owners.
Moretti has served the company for more than 40 years. He had joined the company as a tax pro when in college, and after graduating, became a district manager in Boston. He has served in multiple significant roles over the years. Most recently, he was monitoring Block's franchise network of nearly 1,200 franchisees as vice president of franchise and acquisition & development.
Roxane Harris– Her New Role & Prior Experiences
Roxane Harris has been promoted to the position of vice president of U.S. franchise operations. She will supervise more than 2,800 H&R Block franchise locations, which include monitoring of the company's national Franchise Leadership Council.
Previously, Harris was director of franchise operations, where she assisted franchise operators and supervised the teams offering franchise support. She had also served for 12 years as a franchise regional director, supervising a 14-state region with 330 franchise owners and 785 franchise tax offices.
Bottom Line
Considering Orosco, Moretti and Harris' work experience so far, the latest promotions are expected to strengthen H&R Block's competitive position in the tax industry.
Notably, Jeff Jones, H&R Block's president and CEO, stated, "Karen's leadership is a key reason why our assisted tax results were the best in years." He further added, "I know both Bob and Roxane will provide leadership that brings forward new ideas and ultimately delivers more convenience and better service to our clients."
Zacks Rank and Other Stocks to Consider
H&R Block currently carries a Zacks Rank #2 (Buy). You can see the complete list of today's Zacks #1 (Strong Buy) Rank stocks here.
Some other top-ranked stocks in the broader Zacks Business Services sector include Equifax EFX, Charles River CRAI and TransUnion TRU, each carrying a Zacks Rank #2.
Long-term (three to five years) expected earnings per share growth rate for Equifax, Charles River and TransUnion is projected at 14%, 15.5%, and 20.9%, respectively.
+1,500% Growth: One of 2021's Most Exciting Investment Opportunities
In addition to the stocks you read about above, would you like to see Zacks' top picks to capitalize on the Internet of Things (IoT)? It is one of the fastest-growing technologies in history, with an estimated 77 billion devices to be connected by 2025. That works out to 127 new devices per second.

Zacks has released a special report to help you capitalize on the Internet of Things's exponential growth. It reveals 4 under-the-radar stocks that could be some of the most profitable holdings in your portfolio in 2021 and beyond.

Click here to download this report FREE >>
Want the latest recommendations from Zacks Investment Research? Today, you can download 7 Best Stocks for the Next 30 Days.
Click to get this free report
Charles River Associates (CRAI): Free Stock Analysis Report
Equifax, Inc. (EFX): Free Stock Analysis Report
H&R Block, Inc. (HRB): Free Stock Analysis Report
TransUnion (TRU): Free Stock Analysis Report
To read this article on Zacks.com click here.
Zacks Investment Research