3 Big Biotechs Hold Growth Potential in Second Half of 2019
The biotech sector has had a pleasant bull run in the first half of 2019 and so far after a dismal period of two years. The NASDAQ Biotechnology has seen growth of 11.5% year to date.
The biotech sector has always persisted to be riskier than the more stable large cap pharmaceuticals industry or the overall medical sector as investors are mostly banking on the product pipelines with a very few companies having approved drugs in their portfolio. An unfavorable outcome from a key trial on a promising candidate can spell doomsday for that particular biotech player. Nevertheless, things are now looking up for the sector, which in the past reaped solid returns for the risk-taking investor. Notably, the sector has performed better than the large cap pharmaceuticals industry so far.
Medical - Biomedical and Genetics Industry 5YR % Return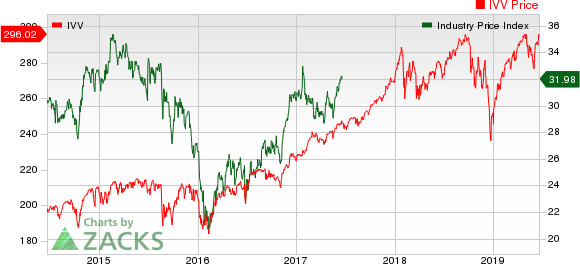 Attractively modest valuations on account of a disappointing run in 2018 sparked renewed interest in the ever-volatile biotech sector from the onset of this year. Evidently, the spotlight is back on mergers & acquisitions. A slowdown in mature products due to increasing competition and rise of biosimilars forced most pharma behemoths to target lucrative buyouts in the biotech space to bolster their pipelines. While oncology and immuno-oncology are the key areas of focus, treatments for non-alcoholic steatohepatitis (NASH) and rare diseases also promise great potential, thereby making them profitable areas of investment. Bristol-Myers Squibb Company BMY, one of the largest pharma giants, announced that it will acquire the leading biotech company Celgene CELG for a whopping $74 billion in what could be one of the major acquisitions in recent times.
Further, a flurry of deals has been struck with most companies eyeing smaller entities with impressive pipelines. This, in turn, drove the share price value of small biotech stocks, which are well-equipped with path-breaking technology. Eli Lilly purchased Loxo Oncology. Most recently, Pfizer announced that it will acquire Array BioPharma ARRY for $11.4 billion.
Another important trend worth mentioning in this dynamic sector has been an effort by leading biotech companies to diversify their revenue bases. Bigwigs like Gilead Sciences, Vertex Pharma and Regeneron Pharma are looking to solidify their product portfolio as well as invest in the promising areas of gene-therapy and oncology. Consequently, we expect a spurt in the collaborations and in-licensing deals as these biotechs look to reinforce the respective revenue streams. Meanwhile, new drug approvals and label expansions of blockbuster drugs boosted investor sentiment and should drive growth in the second half of 2019 as well. Key nods include Evenity, Ruzurgi, Zulresso, Cablivi et al.
Keeping in mind the above-mentioned positive factors, we expect the sector to gather steam further as the year progresses. In such a scenario, adding stocks from this sector will likely aid portfolio returns. Moreover, the Zacks Biomedical and Genetics industry is placed within the top 30% of the 256 Zacks-ranked industries.
Stocks to Buy
While putting investors' money on the biotech sector emanates its own share of risks, we here zero in on the three big biotech companies, which have outperformed the sector so far in 2019 and still hold an upside, backed by a broad and strong product portfolio. Moreover, investing in biotech biggies provides a cushion against volatility in the sector.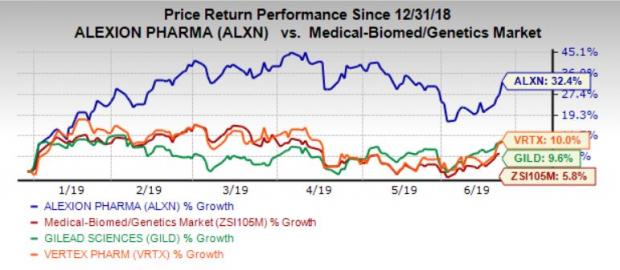 Gilead Sciences, Inc. GILD primarily focuses on developing drugs for the treatment of human immunodeficiency virus (HIV), liver diseases, hematology/oncology diseases and inflammation/respiratory diseases. The company has been a dominant market leader in the virology space. With its legacy HCV business facing a decline, the company shifted its focus to HIV business and newer avenues like NASH, oncology and CAR- T space. Gilead is a principal player in the HIV market with an encouraging portfolio of the same. Gilead is looking to transition the HIV market to drugs with improved long-term safety profiles. The TAF-based products like Genvoya, Odefsey and Descovy are performing well with a strong adoption in both the United States and Europe. The recent approval of Bikatarvy further boosted the company's portfolio. Gilead has a robust pipeline with several development programs currently underway, ranging from phase I to phase III. It has quite a few programs targeting inflammation, NASH and oncology. Gilead is looking to brace its portfolio and pipeline through deals and acquisitions. The company is also looking to expand beyond antivirals into other therapeutic areas. Gilead acquired Kite Pharma to foray into the emerging field of cell therapy. The company has also collaborated with Novo Nordisk to strengthen its NASH pipeline.
Gilead currently carries a Zacks Rank #2 (Buy). You can see the complete list of today's Zacks #1 Rank (Strong Buy) stocks here.
Vertex Pharmaceuticals Incorporated VRTX is focused on the discovery, development and commercialization of small molecule drugs targeting serious diseases. Vertex' key area of focus is cystic fibrosis (CF) and has a market leading portfolio of the same. The company's lead marketed products are Symdeko/Symkevi (tezacaftor in combination with ivacaftor), Orkambi (lumacaftor in combination with ivacaftor) and Kalydeco (ivacaftor). Consistent positive regulatory approvals led to an increase in the eligible patient population for these drugs. The CF market represents a huge commercial potential and Vertex has been striving hard to further cement its pipeline. The company's CF pipeline is quite strong. It evaluated two next-generation CFTR correctors (VX-659 and VX-445) in phase III studies as part of a triple combination with tezacaftor and ivacaftor. It chose VX-445 triple combination regimen for regulatory submissions in 2019. If the triple-combo regimen is approved, Vertex can address a significantly wider CF patient population, accounting for almost 90% of subjects with CF in the future.
Meanwhile, the company is also developing treatments for sickle cell disease, thalassemia and pain management.
Vertex currently carries a Zacks Rank of 2.
Alexion Pharmaceuticals, Inc. ALXN is a biopharmaceutical company, focused on the development and commercialization of life-transforming drugs, for the treatment of patients with ultra-rare disorders. Alexion's blockbuster drug, Soliris (approved for paroxysmal nocturnal hemoglobinuria (PNH) and atypical hemolytic uremic syndrome (aHUS), continues to perform well. The drug's label expansion for the generalized myasthenia gravis indication boosted sales significantly. The FDA recently approved Alexion's long-acting C5 complement inhibitor, Ultomiris, for the treatment of adults with PNH, which consolidated its PNH franchise. The initial uptake of the drug raises optimism. The company is working to expand Ultomiris' label. It submitted an application in the United States for the approval of the same to treat patients with aHUS. The company also initiated a phase III study on the drug for generalized myasthenia gravis (gMG) and plans to initiate another phase III program on the same for the neuromyelitis optica spectrum disorder (NMOSD).
In addition, Alexion has been quite active on the acquisition front in a bid to widen its portfolio and reduce dependence on Soliris. The company acquired Wilson Therapeutics and Syntimmune in 2018 to fortify and diversify its pipeline.
Alexion currently carries a Zacks Rank #3 (Hold).
Today's Best Stocks from Zacks
Would you like to see the updated picks from our best market-beating strategies? From 2017 through 2018, while the S&P 500 gained +15.8%, five of our screens returned +38.0%, +61.3%, +61.6%, +68.1%, and +98.3%.
This outperformance has not just been a recent phenomenon. From 2000 – 2018, while the S&P averaged +4.8% per year, our top strategies averaged up to +56.2% per year.
See their latest picks free >>
Want the latest recommendations from Zacks Investment Research? Today, you can download 7 Best Stocks for the Next 30 Days.
Click to get this free report
Bristol-Myers Squibb Company (BMY): Free Stock Analysis Report
Array BioPharma Inc. (ARRY): Free Stock Analysis Report
Gilead Sciences, Inc. (GILD): Free Stock Analysis Report
Alexion Pharmaceuticals, Inc. (ALXN): Free Stock Analysis Report
Vertex Pharmaceuticals Incorporated (VRTX): Free Stock Analysis Report
Celgene Corporation (CELG): Free Stock Analysis Report
To read this article on Zacks.com click here.
Zacks Investment Research