Tesla (TSLA) Cars Restricted From Military Premises in China
Tesla TSLA cars have been recently banned from China's military complexes and housing compounds over security concerns of sensitive data being collected by cameras installed in the vehicles.

The circular was issuedby China's military on Mar 19, 2021, and was posted at a military hospital. The ban was stimulated by concerns that the electric vehicle (EV) maker is gathering confidential data through the cars' in-built cameras, which cannot be controlled by China's government.

The directive states that Tesla-branded vehicles are equipped with devices (such as camera, radar and GPS) that could capture the surroundings of their location. In order to safeguard the secrets of the military and prevent any defamatory practice by people who can access such data, Tesla vehicles have been barred from entering military premises in China.
Tesla's Relations With China
Currently, China is the world's biggest EV market and has been head strong in its transition toward a green future. Importantly, the country aims electric cars to account for 25% of new car sales by 2025 and kick start an era of green transportation. Amid this transforming scenario, automakers in China are fast changing gears to electric.

In fact, Tesla had won strong backing from Shanghai when it had built its first overseas factory there in 2019. China market is the key to Tesla's global growth ambitions. In fact, Tesla's Model 3 sedan is one of the best-selling EVs in the country. The company has a dominant market share in the mainland with sale of 147,445 vehicles last year. The company's flagship model in China — Model Y — also secured green signal for sale in the country last December.

However, the picture seems to have changed recently. Tesla was called in by regulators in China over quality and safety concerns with its cars, including battery fires and abnormal acceleration. The auto biggie was also forced into issuing a public apology to China's state grid in February after a video apparently showed a staff blaming an overload in the national electricity network for damage to a customer's vehicle.
The latest news about the ban underscores China's increasing perusal of Tesla amid the heightening friction with Washington and is somewhat parallel to the U.S. government's hostility against China-based telecom firm Huawei on the grounds that Beijing could have access to the United States' telecom infrastructure.

The California-based EV behemoth has never shied away from the fact that its vehicles use several small cameras, mainly located on the outside of the vehicle, to guide parking, autopilot and self-driving functions. Most Tesla models also have an interior camera mounted above the rear view mirror.

The news of the ban came in as a shock to Tesla's CEO, Elon Musk. His first comment on this news was that his company will be shut down if its cars were used to spy on other nations. Moreover, he states that this ban could possibly put a dent on the company's future in the nation.

Still, the military's alleged concerns about Tesla represent a broader issue for automakers as they equip more vehicles with cameras and sensors that capture images of a car's surroundings. In fact, it will not be a surprise if other governments follow China's footsteps after this incident, resulting in a ripple effect. The features of connected car technology are meant to collect data about the car and its surroundings in order to make transportation safer with radar-based features and camera helping to avoid accidents. But this does raise red flags about the safety of the data being collected and measures taken by car manufacturers to ensure that such sensitive information is not being used for malicious purposes.

Tesla, peers of which include General Motors GM, Ford F and Honda Motor Company HMC, currently carries a Zacks Rank of 4 (Sell). You can see the complete list of today's Zacks #1 Rank (Strong Buy) stocks here.

Notably, shares of the company have skyrocketed 654% in the past year compared with the industry's rally of 427%.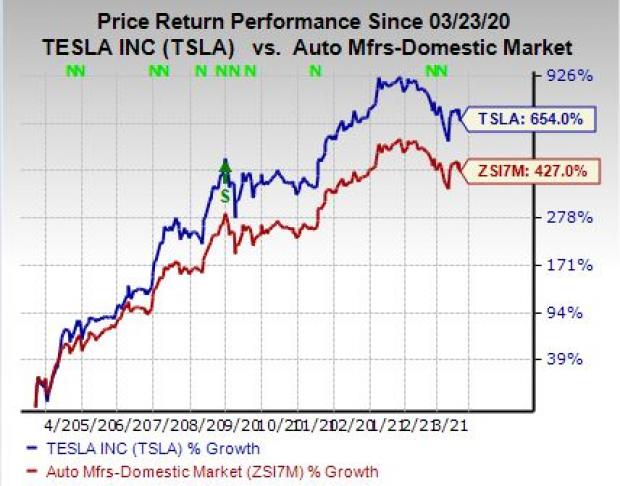 Zacks Top 10 Stocks for 2021
In addition to the stocks discussed above, would you like to know about our 10 best buy-and-hold tickers for the entirety of 2021?

Last year's 2020 Zacks Top 10 Stocks portfolio returned gains as high as +386.8%. Now a brand-new portfolio has been handpicked from over 4,000 companies covered by the Zacks Rank. Don't miss your chance to get in on these long-term buys.

Access Zacks Top 10 Stocks for 2021 today >>
Want the latest recommendations from Zacks Investment Research? Today, you can download 7 Best Stocks for the Next 30 Days.
Click to get this free report
Ford Motor Company (F): Free Stock Analysis Report
Honda Motor Co., Ltd. (HMC): Free Stock Analysis Report
General Motors Company (GM): Free Stock Analysis Report
Tesla, Inc. (TSLA): Get Free Report
To read this article on Zacks.com click here.
Zacks Investment Research