Tyler (TYL) Continues Takeover Spree, Acquires ReadySub
Tyler Technologies, Inc. TYL recently acquired cloud-based school scheduling platform, ReadySub, to expand and strengthen its school portfolio. The acquisition will help the company bring more comprehensive schooling solutions to its school district clients, by helping them implement all-in-one workflows.

ReadySub provides solutions like tracking student and staff absence, substitute management and automating essential payroll processes. The platform serves nearly 1,000 school districts across the United States. Incidentally, 20 of Tyler's 2,000 school district clients are also among ReadySub's customers. Thus, the acquisition will also expand Tyler's reach to 980 more school districts.

Notably, the coronavirus pandemic has led to an increase in unplanned and planned teacher absences and substitute teacher shortages. ReadySub alleviates these pressures by helping school districts retain a number of qualified substitute staff and automate the searching and filling in processes of vacant substitute positions.

The need for new and advanced technologies is becoming increasingly crucial in the K-12 space to keep up with the evolving e-learning environment. Per a report by Valuates, the global K-12 Education Technology market size, which was $9.28 billion in 2019, is expected to reach $45.52 billion in 2026, at a CAGR of 25%.

The integration of ReadySub with Tyler's technologies will ensure a stronger foothold for the latter in the K-12 education technology space.
Tyler Technologies, Inc. Price and Consensus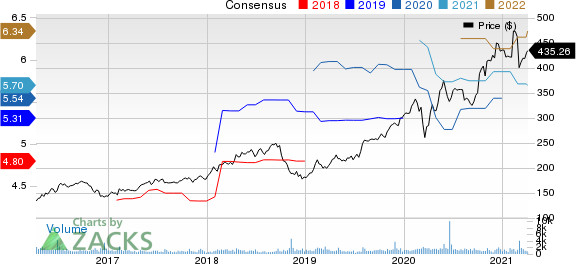 Tyler Technologies, Inc. price-consensus-chart | Tyler Technologies, Inc. Quote
Acquisitions Drive Growth

Tyler's growth trajectory in recent years has been driven by acquisitions. Earlier this month, the company announced the acquisition of DataSpec, a veterans' claim management software firm, for an undisclosed amount. The acquisition will help Tyler enhance its capabilities and strengthen the firm's position in the veterans' benefits management solutions market.

Moreover, in February this year, Tyler announced plans to acquire payments company, NIC Inc., to bank on the pandemic-induced shift to online services and electronic payments by governments. The acquisition is anticipated to be accretive to Tyler's non-GAAP earnings, EBITDA, recurring revenue mix and free cash flow per share in 2021.

Tyler has a solid balance sheet with ample liquidity position and fewer debt obligations that provide it with the flexibility to pursue growth initiatives, including acquisitions. As of Dec 31, 2020, cash and cash equivalents were $603.7 million compared with $519 million as of Sep 30, 2020. Further, cash flow from operations was $88.8 million. Markedly, the company has been able to regularly increase its cash flow from operations in the last five years.

It is expected to pursue more acquisitions that will be strategically fit to its current offerings. Along with investments in research & development (R&D), acquisitions are likely to strengthen its product offerings and clientele over the long run.

In 2019, the company acquired certain assets of Courthouse Technologies, MicroPact and Civic. The buyouts expanded the company's footprint in the SaaS-based jury-management system, case management and business process management. MicroPact contributed $63 million to revenues in 2019.

Zacks Rank & Stocks to Consider

Tyler currently carries a Zacks Rank #5 (Strong Sell).

A few better-ranked stocks in the broader technology sector are Ubiquiti Inc. UI, Vishay Intertechnology VSH and Etsy, Inc. ETSY, each sporting a Zacks Rank #1 (Strong Buy), at present. You can see the complete list of today's Zacks #1 Rank stocks here.

The long-term earnings growth rate for Ubiquiti, Vishay Intertechnology and Etsy is currently pegged at 32.94%, 20.26% and 25.25%, respectively.

The Hottest Tech Mega-Trend of All

Last year, it generated $24 billion in global revenues. By 2020, it's predicted to blast through the roof to $77.6 billion. Famed investor Mark Cuban says it will produce ""the world's first trillionaires,"" but that should still leave plenty of money for regular investors who make the right trades early.

See Zacks' 3 Best Stocks to Play This Trend >>
Want the latest recommendations from Zacks Investment Research? Today, you can download 7 Best Stocks for the Next 30 Days.
Click to get this free report
Vishay Intertechnology, Inc. (VSH): Free Stock Analysis Report
Etsy, Inc. (ETSY): Free Stock Analysis Report
Tyler Technologies, Inc. (TYL): Get Free Report
Ubiquiti Inc. (UI): Free Stock Analysis Report
To read this article on Zacks.com click here.
Zacks Investment Research