Lindsay (LNN) Rides on Solid Irrigation, Infrastructure Demand
Lindsay Corporation LNN is well-poised to gain from improving farm dynamics in the United States on the back of higher commodity prices. Its Infrastructure segment is benefiting from higher sales of road-safety products and Road Zipper System project sales. A strong balance sheet, focus on introducing technologically-advanced products, and investment in organic growth and acquisitions will drive growth.
Irrigation Demand to Remain Robust
Lindsay is witnessing robust demand for its irrigation equipment in North America, driven by strong agricultural commodity prices. The USDA (U.S Department of Agriculture) projects a net farm income of $147.7 billion for 2022, the highest since 2013 and up 5.2% year over year. Cash receipts for agricultural commodities are expected at record levels.
Receipts for soybeans are expected to be up 30.6%, corn 16.7% and wheat 33.7% from the respective prior-year levels, all led by higher prices. Combined receipts for corn, soybeans and wheat are forecast to increase $30.7 billion, accounting for most of the rise in crop cash receipts. The upbeat outlook for corn and soybeans, the most important grains for cash-crop farming, bodes well for farmer sentiment and will likely translate into improved order levels for Lindsay.
Increased food-security concerns due to the pandemic and the Russia-Ukraine conflict are driving growth in LNN's international markets. Lindsay is benefiting from a combination of increased selling prices and higher unit sales volumes in most international irrigation markets, including Australia, New Zealand, Western Europe and Brazil. Brazil remains a very competitive market, with strong prospects in terms of volume and price realization.
Infrastructure Business Shows Solid Prospects
The Infrastructure segment is benefiting from higher sales of road-safety products and Road Zipper System project sales. LNN began delivering a $9-MILLION Road Zipper project in Australia in the third quarter of fiscal 2022. Another $24-MILLION barrier replacement project in Massachusetts is already approved and expected to be awarded in the fiscal fourth quarter.
The Road Zipper System is expected to be a key catalyst for the segment. It is a highly differentiated product that positively addresses key infrastructure needs, such as reducing congestion, lowering carbon emission and increasing driver safety, which led to its global popularity.
Demand for Lindsay's transportation-safety products is highly dependent on government spending on road construction. The signing of the Infrastructure Investment and Jobs Act (IIJA) into law on Nov 15, 2021, will act as a tailwind for the infrastructure business. This legislation introduced $110 billion in incremental federal funding to repair roads and bridges and support other transformational projects, which will fuel higher demand for LNN's transportation-safety products. The IIJA includes a five-year $370-BILLION reauthorization of Fixing America's Surface Transportation (Fast Act).
Investment in Technology to Boost Competitive Edge
Focus on bringing technologically-advanced products to the market will bolster Lindsay's top line. In April 2020, LNN completed the buyout of Net Irrigate, LLC, which expanded the number of irrigated acres managed under LNN's FieldNET platform. This acquisition strengthened LNN's market position in remote-monitoring capabilities. LNN is witnessing strong growth in technology penetration, which will drive performance in the days ahead.
Solid Balance Sheet
Backed by balance sheet strength, Lindsay continues to invest in organic growth, makes synergistic acquisitions and enhances shareholder returns. At the end of the fiscal third quarter, LNN has available liquidity of $146 million, with $96 million in cash, cash equivalents and marketable securities, and another $50 million available under the revolving credit facility.
Lindsay's total-debt-to-total-capital ratio was 0.23 as of May 31, 2022, lower than the industry's total-debt-to-total-capital ratio of 0.71. The times interest earned ratio is 17, much better than the industry's 9.8.
Price Performance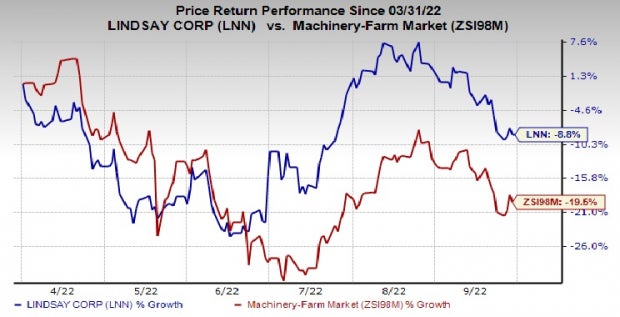 Image Source: Zacks Investment Research
Lindsay's shares have decreased 7% in the past year compared with the industry's decline of 3.1%.
Zacks Rank & Other Stocks to Consider
At present, Lindsay carries a Zacks Rank #2 (Buy). Some other top-ranked stocks in the Industrial Products sector are Tenaris TS, CECO Environmental CECE and W.W. Grainger Inc. GWW. While TS flaunts a Zacks Rank #1 (Strong Buy), CECE and GWW carry a Zacks Rank of 2 at present. You can see the complete list of today's Zacks #1 Rank stocks here.

Tenaris delivered a trailing four-quarter earnings surprise of 34%, on average. Earnings estimates have increased 8% for fiscal 2022 in the past 60 days. The TS stock has risen 18% in the past year.

CECO Environmental delivered a trailing four-quarter earnings surprise of 29.1%, on average. Earnings estimates have increased 17% for fiscal 2022 in the past 60 days. The CECE stock has gained 23% in the past year.

Grainger's earnings surprise in the last four quarters was 7.9%, on average. In the past 60 days, its earnings estimates have increased 4% for 2022. The GWW stock has gained 22% in the past year.
This Little-Known Semiconductor Stock Could Be Your Portfolio's Hedge Against Inflation
Everyone uses semiconductors. But only a small number of people know what they are and what they do. If you use a smartphone, computer, microwave, digital camera or refrigerator (and that's just the tip of the iceberg), you have a need for semiconductors. That's why their importance can't be overstated and their disruption in the supply chain has such a global effect. But every cloud has a silver lining. Shockwaves to the international supply chain from the global pandemic have unearthed a tremendous opportunity for investors. And today, Zacks' leading stock strategist is revealing the one semiconductor stock that stands to gain the most in a new FREE report. It's yours at no cost and with no obligation.
>>Yes, I Want to Help Protect My Portfolio During the Recession
Want the latest recommendations from Zacks Investment Research? Today, you can download 7 Best Stocks for the Next 30 Days.
Click to get this free report
Lindsay Corporation (LNN): Free Stock Analysis Report
W.W. Grainger, Inc. (GWW): Free Stock Analysis Report
CECO Environmental Corp. (CECE): Free Stock Analysis Report
Tenaris S.A. (TS): Free Stock Analysis Report
To read this article on Zacks.com click here.
Zacks Investment Research