New Residential (NRZ) to Report Q4 Earnings: What to Expect?
New Residential Investment Corp. NRZ is scheduled to report fourth-quarter and 2021 results on Feb 8, before market open. The company's fourth-quarter earnings and net interest income (NII) are likely to reflect growth from the year-ago reported figures.
The New York-based mortgage real estate investment trust ("mREIT"), primarily focused on residential real estate investments, posted core earnings of 44 cents per share in the last reported quarter, surpassing the Zacks Consensus Estimate of 35 cents.
Over the preceding four quarters, the company met the Zacks Consensus Estimate on three occasions and surpassed in the other, the average surprise being 6.4%. The graph below depicts this surprise history:
New Residential Investment Corp. Price and EPS Surprise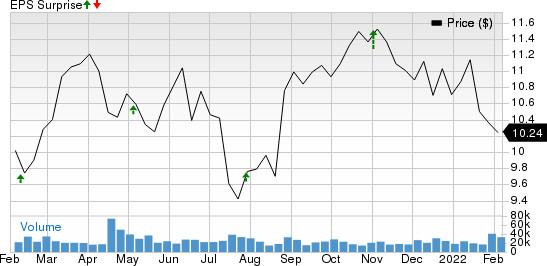 New Residential Investment Corp. price-eps-surprise | New Residential Investment Corp. Quote
Factors at Play
Mortgage originations, both purchase and refinancing, continued to normalize in the fourth quarter. The origination boom in 2020, propelled by the ultra-low rates, is also making comparison difficult for the quarter. Further, mortgage rates rose in the quarter under review. This resulted in a drastic fall in mortgage origination activities, with steadily rising rates hurting refinancing.
Despite the uninspiring backdrop, NRZ is likely to have reaped benefits from its efforts to grow and scale its mortgage platform. Specifically, the acquisition of Caliber is expected to have added $150 billion unpaid principal balance of mortgage servicing rights (MSRs).
The increase in mortgage rates in the December-end quarter is expected to have reduced prepayment speed. Hence, premium amortization on agency mortgage-backed securities is likely to have been lower in the fourth quarter. This is anticipated to have alleviated pressure on NII. Overall, the Zacks Consensus Estimate for fourth-quarter NII of $211.4 million suggests year-over-year growth of 86.4%.
Also, the decline in mortgage prepayments and refinancing, and an increase in mortgage rates are expected to have driven markups and valuations for MSRs in the fourth quarter. Further, due to an increase in the fair value of such MSRs, the company is expected to have recorded lower MSR amortization expenses.
We expect spread widening to hurt the mREIT's book value for the December-end quarter.
New Residential's servicing portfolio is expected to have been resilient, with favorable mark-to-market adjustment, driven by a continued decline in forbearance requests and pay downs. The company's net servicing revenues are expected to be $245 million for the fourth quarter, suggesting a significant rise from the prior-year quarter's reported figure.
Primary-secondary spreads remained stable in the quarter. Refinancing volumes continued to normalize, while the pace in new originations is expected to have been hindered by an uptick in mortgage rates. We expect a contraction in gain on sale margins for New Residential relative to the fourth quarter primarily due to stiff competition. Nonetheless, the Zacks Consensus Estimate for the company's fourth-quarter net gain on originated mortgage loans held for sale is pegged at $656 million, suggesting a 12.9% fall from the prior-year quarter's reported figure.
However, the company is likely to have seen an increase in non-operating expenses from the integration of Genesis and Caliber buyouts.
Lastly, New Residential has been witnessing upward estimate revisions for its earnings prior to the fourth-quarter results, reflecting bullish analyst sentiment. Notably, the Zacks Consensus Estimate for fourth-quarter earnings has been revised marginally upward to 38 cents over the past month. Further, it indicates a year-over-year rise of 18.8%.
Key Developments in Q4
In December,New Residentialcompleted the previously announced acquisition of Genesis Capital LLC, a leading business purpose lender. With this, the company is leveraging Genesis's ability to originate high-quality loans in the real estate industry, enabling New Residential to generate higher earnings.
Management noted that the buyout is "value-additive for New Residential and will create synergies for our growing single-family rental platform."
Earnings Whispers
Here is what our quantitative model predicts:
New Residential has the right combination of the two key ingredients — a positive Earnings ESP and Zacks Rank #3 (Hold) or higher — for increasing the odds of an earnings beat this quarter.
You can uncover the best stocks to buy or sell before they're reported with our Earnings ESP Filter.
Earnings ESP: The Earnings ESP for New Residential is +2.63%
Zacks Rank: It currently carries a Zacks Rank #3.
Other Stocks Worth a Look
A few other REIT stocks that you may want to consider, as our model shows that these too have the right combination of elements to post an earnings beat this time around, are Redwood Trust, Inc. RWT, Annaly Capital Management, Inc. NLY and Life Storage, Inc. LSI.
Redwood Trust is slated to release fourth-quarter and 2021 earnings on Feb 9. RWT has an Earnings ESP of +5.88% and it carries a Zacks Rank of 2 (Buy) at present. You can see the complete list of today's Zacks #1 Rank (Strong Buy) stocks here.
Annaly Capital is slated to release earnings numbers on Feb 9. NLY has an Earnings ESP of +2.53% and a Zacks Rank of 2 at present.

Life Storage is set to report quarterly numbers on Feb 24. LSI has an Earnings ESP of +0.66% and a Zacks Rank of 3 at present.
Stay on top of upcoming earnings announcements with the Zacks Earnings Calendar.
Just Released: Zacks Top 10 Stocks for 2022
In addition to the investment ideas discussed above, would you like to know about our 10 top buy-and-hold tickers for the entirety of 2022?
Last year's 2021 Zacks Top 10 Stocks portfolio returned gains as high as +147.7%. Now a brand-new portfolio has been handpicked from over 4,000 companies covered by the Zacks Rank. Don't miss your chance to get in on these long-term buys
Access Zacks Top 10 Stocks for 2022 today >>
Want the latest recommendations from Zacks Investment Research? Today, you can download 7 Best Stocks for the Next 30 Days.
Click to get this free report
Life Storage, Inc. (LSI): Free Stock Analysis Report
Redwood Trust, Inc. (RWT): Free Stock Analysis Report
Annaly Capital Management Inc (NLY): Free Stock Analysis Report
New Residential Investment Corp. (NRZ): Free Stock Analysis Report
To read this article on Zacks.com click here.
Zacks Investment Research