Here's Why You Should Add Travelers (TRV) to Your Portfolio
The Travelers Companies, Inc. TRV is poised for long-term growth on the back of dominant market presence, compelling portfolio, high retention rate, pricing gains, positive renewal rate changes and prudent capital deployment. The expected long-term earnings growth rate is pegged at 12.7%, better than the industry average of 9.7%. Operational excellence across all its segments should help the company deliver sustained growth.

The company has seen its 2019 and 2020 estimates move up 0.2% and 0.7%, respectively in the past 60 days, reflecting analyst confidence in the company.

Travelers' return on equity was 10.7%, higher than the industry average of 7.2%. Return on equity is a profitability measure that identifies the company's efficiency in utilizing its shareholders' funds.

Being a property and casualty insurer, Travelers' performance is reflected through its underwriting profitability. For Business Insurance and Personal Insurance, underlying underwriting margins in 2019 are estimated to be higher than 2018. However, at Bond & Specialty Insurance segment, the same is projected to remain broadly consistent with 2018.

Higher average level of fixed maturity investments and improved interest rates are helping the company to record higher investment income. For 2019, Travelers anticipates $20-$25 million of higher after-tax net investment income on a quarterly basis.

The company's inorganic growth story remains impressive, adding capabilities to its compelling product portfolio.

Also, Travelers has inked a deal with Amazon to introduce an industry-first digital storefront. This will help create new opportunities for the company and its agents to attract and serve customers while assisting them to opt for a more proactive approach in terms of home safety in an increasingly digital world.

Travelers has a disciplined capital management policy in place, which enables it to return excess capital to shareholders via dividend increases and share buybacks. While the company has increased its dividend at a 14-year CAGR of 10%, its dividend yield of 2.3% betters the industry average of 0.5%. It also has $3.3 billion left under its existing share repurchase authorization as of 2018 end. These make the stock an attractive pick for yield seeking investors.

This premier provider of property and casualty insurance and surety products and services carries an impressive Value Score of B. Value Score helps to find undervalued stocks. Back-tested results show that stocks with a favorable Value Score of A or B coupled with a solid Zacks Rank #1 (Strong Buy) and 2 (Buy) offer the best investment opportunity.

Shares of this Zacks Rank #2 insurer have rallied 14.5% year to date, outperforming the industry's increase of 0.9% and the Zacks S&P 500 composite's rise of 13.1%.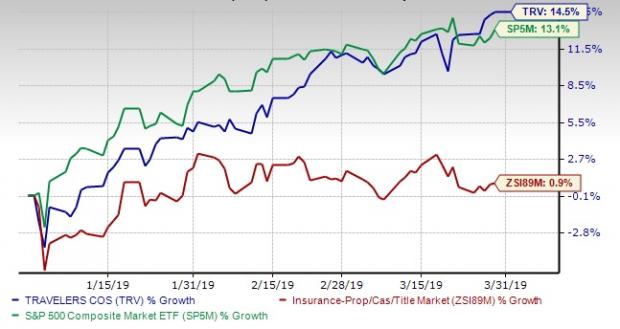 The Zacks Consensus Estimate for 2019 earnings is pegged at $11.18, indicating 25.1% year-over-year increase on 3.5% revenue growth. The consensus estimate for 2020 earnings is pegged at $11.89 per share, up 6.4% on 4.4% higher revenues.

Other Stocks to Consider

Investors interested in property and casualty insurers can look at Cincinnati Financial Corporation CINF, Hallmark Financial Services HALL and Berkshire Hathaway Inc. BRK.B.

Cincinnati Financial provides property casualty insurance products in the United States. The company delivered a 22.50% positive surprise in the last reported quarter. The stock sports a Zacks Rank #1. You can see the complete list of today's Zacks #1 Rank stocks here.

Hallmark Financial underwrites, markets, distributes, and services property/casualty insurance products to businesses and individuals in the United States. The company delivered a 300% positive surprise in the last reported quarter. The stock sports a Zacks Rank #1.

Berkshire Hathaway engages in insurance, freight rail transportation, and utility businesses. It came up with 4.04% positive surprise in the last reported quarter. The stock carries a Zacks Rank #2.

Zacks' Top 10 Stocks for 2019

In addition to the stocks discussed above, wouldn't you like to know about our 10 finest buy-and-holds for the year?

From more than 4,000 companies covered by the Zacks Rank, these 10 were picked by a process that consistently beats the market. Even during 2018 while the market dropped -5.2%, our Top 10s were up well into double-digits. And during bullish 2012 – 2017, they soared far above the market's +126.3%, reaching +181.9%.

This year, the portfolio features a player that thrives on volatility, an AI comer, and a dynamic tech company that helps doctors deliver better patient outcomes at lower costs.
Want the latest recommendations from Zacks Investment Research? Today, you can download 7 Best Stocks for the Next 30 Days.
Click to get this free report
The Travelers Companies, Inc. (TRV): Free Stock Analysis Report
Cincinnati Financial Corporation (CINF): Free Stock Analysis Report
Berkshire Hathaway Inc. (BRK.B): Free Stock Analysis Report
Hallmark Financial Services, Inc. (HALL): Free Stock Analysis Report
To read this article on Zacks.com click here.
Zacks Investment Research