TriMas (TRS) Augments Aerospace Offering With RSA Buyout
TriMas Corporation TRS has closed its previously announced acquisition of RSA Engineered Products (RSA), a manufacturer of complex, highly-engineered products utilized in aerospace and defense applications. The buyout adds to TriMas' Aerospace segment, which contributed around 23% to the company's sales in 2019.
The company had signed an agreement to acquire RSA on Jan 30, 2020, in sync with its strategy of growing aerospace business and augmenting the segment's product offerings. In addition to strengthening TriMas' position in the defense and business jet markets, it will also enhance share in the aftermarket business.
RSA designs, engineers and manufactures highly-engineered components, including air ducting products, connectors and flexible joints, which are used in aerospace and defense engine bleed air, anti-icing and environmental control system applications.
Active on the Acquisition Front
TriMas' strong balance sheet and track record of strong cash flow provides both ample capacity and flexibility to fund capital allocation priorities. In February, TriMas signed an agreement to acquire the Rapak brand, including certain bag-in-box product lines and assets, from Liqui-Box. Last year in January, TriMas acquired Plastic Srl, a privately-owned manufacturer of polymeric caps and closures for home-care product applications. The buyout expands the company's geographic presence and capacity in Europe. It will also added new products and bolster production capability.
In April 2019, TriMas acquired Taplast S.p.A., a designer and manufacturer of dispensers, closures and containers for the beauty and personal care, household and food packaging end markets, serving customers predominantly in Europe and the Americas. The buyout added to TriMas' product offering and expanded geographic presence. Notably, these acquisitions, along with the announcement of the Rapak acquisition, are in sync with the company's strategy to invest and accelerate growth of its packaging business, which contributed around 54% of 2019 revenues.
TriMas recently reported mixed fourth-quarter 2019 results owing to weakness in the North American industrial end markets, which was somewhat offset by strength in the aerospace segment. Adjusted earnings of 31 cents per share missed the Zacks Consensus Estimate of 39 cents and declined 9% from the prior-year quarter. This can be attributed to weaker-than-expected sales, less favorable mix and increased expedited freight costs.
Revenues of $171 million lagged the Zacks Consensus Estimate of $227 million However, the top line improved 0.5% year over year, driven by continued strength of the aerospace fastener business and recent acquisitions.
The company's earnings per share guidance for 2020 is pegged at 1.50-$1.60. The mid-point of the guidance indicates year-over-year growth of 7%. The company anticipates sales growth of 9% to 11% compared with 2019, with organic sales growth at 1.5-2.5%.
Share Price Performance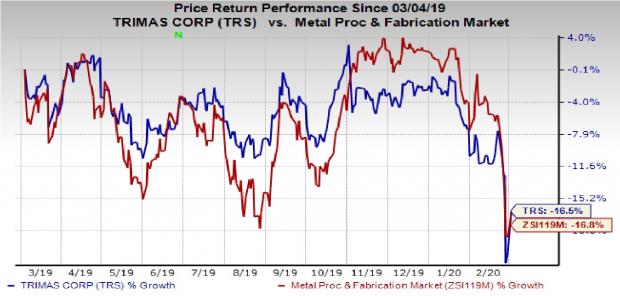 Shares of TriMas have fallen 16.5% in the past year compared with industry's decline of 16.8%.
Zacks Rank and Stocks to Consider
TriMas currently carries a Zacks Rank #5 (Sell).
Some better-ranked stocks in the Industrial Products sector include Northwest Pipe Company NWPX, Graco Inc. GGG and Sharps Compliance Corp SMED. All stocks sport a Zacks Rank #1 (Strong Buy), at present. You can see the complete list of today's Zacks #1 Rank stocks here.
Northwest Pipe has an expected earnings growth rate of 19.5% for the current year. The stock has appreciated 34% over the past year.
Graco has a projected earnings growth rate of 4.3% for 2020. The company's shares have rallied 19% over the past year.
Sharps Compliance has an estimated earnings growth rate of a whopping 767% for the ongoing year. In a year's time, the company's shares have gained 39%.
Breakout Biotech Stocks with Triple-Digit Profit Potential
The biotech sector is projected to surge beyond $775 billion by 2024 as scientists develop treatments for thousands of diseases. They're also finding ways to edit the human genome to literally erase our vulnerability to these diseases.
Zacks has just released Century of Biology: 7 Biotech Stocks to Buy Right Now to help investors profit from 7 stocks poised for outperformance. Our recent biotech recommendations have produced gains of +50%, +83% and +164% in as little as 2 months. The stocks in this report could perform even better.
See these 7 breakthrough stocks now>>
Want the latest recommendations from Zacks Investment Research? Today, you can download 7 Best Stocks for the Next 30 Days.
Click to get this free report
Graco Inc. (GGG): Free Stock Analysis Report
Sharps Compliance Corp (SMED): Free Stock Analysis Report
Northwest Pipe Company (NWPX): Free Stock Analysis Report
TriMas Corporation (TRS): Free Stock Analysis Report
To read this article on Zacks.com click here.
Zacks Investment Research