Infosys (INFY) Q1 Earnings Meet Estimates, Revenues Beat
Infosys Limited's INFY first-quarter fiscal 2020 adjusted earnings of 13 cents per share increased 3.2% year over year. Meanwhile, the metric was in line with the Zacks Consensus Estimate.
Revenues of $3.131 billion increased 10.6% year over year and also surpassed the Zacks Consensus Estimate of $3.098 billion. In terms of constant currency (CC), the same was up 12.4%.
Rise in large deal wins and fast-growing digital services remain key catalysts. Strong demand for its services in cloud, IoT, cyber security, data and analytics is a key driver. Higher investments by clients in digital transformation, artificial intelligence and automation are an upside.
Quarterly Details
Digital Revenues (35.7% of total) surged 39.3% year over year (41.9% at cc) to $1.12 billion while Core Revenues (64.3%) dipped 0.8% (up 0.6% in cc) to $2.01 billion.
Geographically, North America and Europe revenues rose 13.5% and 11.4%, respectively, at CC. Rest of the World and India increased 11% and 1.2% each.
Segment wise, Communication achieved maximum growth of 22.6%. Energy, Utilities, Resources & Services, Hi Tech, Manufacturing and Financial Services rose 17.7%, 14.6%, 12.8% and 11.3%, respectively.
Meanwhile, Retail and Life Sciences recorded single digit growth of 6.9% and 4.3%, respectively.
In the last reported quarter, the company inked 13 large deals with a total contract value (TCV) of $2.7 billion. Three of these were in Financial Services and Retail, two each in Communications, Energy, Utilities, Resources and Services and Manufacturing vertical and one in Life Sciences segment. Geographically, eight were from America, four from Europe and one from Rest of the World.
The company reported that its clientsworth more than $100 million now count to 27 compared with 24 a year ago.
Infosys Limited Price, Consensus and EPS Surprise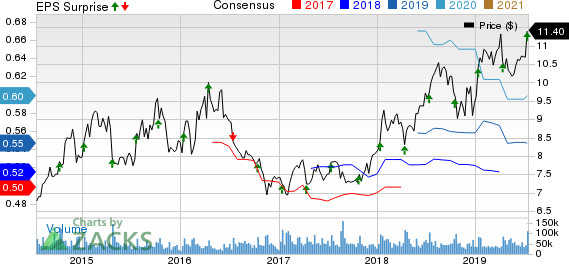 Infosys Limited price-consensus-eps-surprise-chart | Infosys Limited Quote
Margin
Gross profit dipped 0.3% year over year to $1.01 billion. Gross margin shrank nearly 350 basis points (bps) on a year-over-year basis to 32.2%.
The company's operating income fell 4.2% year over year to $642 million. Operating margin shriveled 320 bps to 20.5%.
Rupee appreciation, higher compensation to tackle the rising attrition, expenses on new visas largely for H-1B and Stater acquisition were a threat to the margins.
Increases in utilization, realization and other cost efficiencies were positive.
Liquidity
As of Jun 30, 2019, Infosys had cash and cash equivalents of $2,266 million compared with $2,829 million sequentially.
Operating cash flow in the quarter under review was $630 million and free cash flow was $485 million.
Outlook
In fiscal 2020, revenues are expected to grow in the 8.5-10% range at cc, up from 7.5-9.5% predicted earlier.
Operating margin is still anticipated between 21% and 23%.
Zacks Rank and Stocks to Consider
Currently, Infosys has a Zacks Rank #3 (Hold). A few better-ranked stocks in the broader technology sector are Rosetta Stone RST, Lattice Semiconductor Corporation LSCC and Alteryx AYX, each flaunting a Zacks Rank #1 (Strong Buy). You can see the complete list of today's Zacks #1 Rank stocks here.
Long-term earnings growth rate for Rosetta Stone, Lattice and Alteryx is currently projected at 12.5%, 12.5% and 13.7%, respectively.
Wall Street's Next Amazon
Zacks EVP Kevin Matras believes this familiar stock has only just begun its climb to become one of the greatest investments of all time. It's a once-in-a-generation opportunity to invest in pure genius.
Want the latest recommendations from Zacks Investment Research? Today, you can download 7 Best Stocks for the Next 30 Days.
Click to get this free report
Infosys Limited (INFY): Free Stock Analysis Report
Rosetta Stone (RST): Free Stock Analysis Report
Lattice Semiconductor Corporation (LSCC): Free Stock Analysis Report
Alteryx, Inc. (AYX): Free Stock Analysis Report
To read this article on Zacks.com click here.
Zacks Investment Research