DXC Technology Arm & LG Partner to Boost Automotive Efforts
DXC Technology's DXC subsidiary, Luxoft, recently announced a partnership with LG Electronics to accelerate the development of large-scale series production systems. These include digital cockpit systems, rear seat entertainment, cabin and center stack display, in-vehicle infotainment, and the like.

The joint venture will be carried out via webOS Auto, an open platform for collaboration. Luxoft's expertise in automotive software engineering will complement LG's home entertainment technological expertise to enhance next-generation in-vehicle experiences.

The webOS Auto platform is based on Qualcomm's QCOM Automotive Development Platform and supports various content companies such as iHeartRadio, Mapbox and Cerence.

Notably, this platform aims to compete with existing car infotainment platforms, such as Apple's AAPL CarPlay and Alphabet's GOOGL Google Android Auto.
DXC Technology Company. Price and Consensus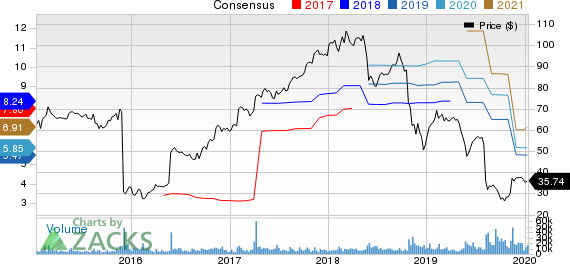 DXC Technology Company. price-consensus-chart | DXC Technology Company. Quote
DXC's Automotive Push to Boost Growth

DXC Technology is trying to take advantage of the growing market for autonomous vehicles. The acquisition of Luxoft last year strengthened its presence in the automotive industry.

Luxoft already has partners like Daimler, whose automotive platforms and IP include autonomous driving systems, human machine interface, toolchain, digital cockpit, user experience, and telematics and IoT for connected vehicles.

Notably, in the second quarter of fiscal 2020, DXC Technology's revenues from Global Business Services grew 8.2% on a year-over-year basis to $2.29 billion, reflecting strength in the Luxoft business. The acquisition of Luxoft also boosted the company's digital revenues, which soared 52% year over year to $1.51 billion in the second quarter of fiscal 2020.

Per Researchnester, the in-car infotainment market is expected to witness a CAGR of 9.3% over 2017-2024. Growing number of automobiles on road, increasing middle-class population and adoption of technologically advanced cars are expected to drive growth of the in-car infotainment market in the next few years.

Moreover, per MarketsandMarkets, the advanced driver-assistance systems (ADAS) market is projected to reach $134.9 billion by 2027, at a CAGR of 20.7% from 2019.

The prospects of next-generation automotive systems are prompting more and more tech companies to innovate and develop technologies to secure their presence in the market. For instance, at the recently held CES 2020, Samsung Electronics launched its Digital Cockpit 2020, which leverages 5G to link features inside and outside the vehicle to provide connected experiences for drivers and passengers.

However, though DXC Technology is currently battling the prevalent weakness in its traditional infrastructure business, the firm's sound technical know-how in autonomous vehicle systems positions it to benefit immensely.

DXC Technology currently carries a Zacks Rank #5 (Strong Sell).

You can see the complete list of today's Zacks #1 Rank (Strong Buy) stocks here.

Looking for Stocks with Skyrocketing Upside?

Zacks has just released a Special Report on the booming investment opportunities of legal marijuana.

Ignited by new referendums and legislation, this industry is expected to blast from an already robust $6.7 billion to $20.2 billion in 2021. Early investors stand to make a killing, but you have to be ready to act and know just where to look.

See the pot trades we're targeting>>
Want the latest recommendations from Zacks Investment Research? Today, you can download 7 Best Stocks for the Next 30 Days.
Click to get this free report
Alphabet Inc. (GOOGL): Free Stock Analysis Report
QUALCOMM Incorporated (QCOM): Free Stock Analysis Report
Apple Inc. (AAPL): Free Stock Analysis Report
DXC Technology Company. (DXC): Free Stock Analysis Report
To read this article on Zacks.com click here.