Alexion's (ALXN) Ultomiris Gets Approval in Japan for PNH
Alexion Pharmaceuticals, Inc. ALXN announced that Japan's Ministry of Health, Labour and Welfare (MHLW) has approved Ultomiris (ravulizumab), the first and only long-acting C5 complement inhibitor administered every eight weeks, for the treatment of adult patients with paroxysmal nocturnal hemoglobinuria (PNH).
The approval was based on comprehensive results from two phase III studies, which included 441 patients who had either never been treated with a complement inhibitor before or had been stable with Alexion's lead drug, Soliris.
Results showed that Ultomiris administered every eight weeks was non-inferior to the efficacy of Soliris administered every two weeks on all 11 endpoints.
Additional data showed that the drug provided immediate and complete C5 inhibition that was sustained for eight weeks. Moreover, Ultomiris eliminated breakthrough hemolysis associated with incomplete C5 inhibition.
The approval will strengthen Alexion's PNH franchise. The drug is already approved in the United States for this indication. Initial conversion rates of Soliris patients have been encouraging. The drug is under review in Europe for the same.
Alexion's share price has increased 27.1% year to date compared with the industry's growth of 5.2%.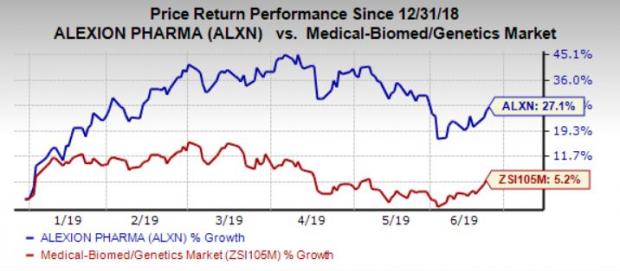 Meanwhile, the company is working to expand Ultomiris' label. In January 2019, Alexion announced positive top-line results from a phase III study on the drug in complement inhibitor naïve patients with atypical hemolytic uremic syndrome (aHUS). The company submitted an application in the United States for the approval of the same in patients with aHUS. It has also initiated a single, PK-based phase III study on Ultomiris administered subcutaneously once a week to support registration in PNH and aHUS.
The company also initiated a phase III study on the drug in gMG in the first quarter of 2019 and plans to initiate another phase III study on the same in the neuromyelitis optica spectrum disorder (NMOSD) indication by the end of 2019. Additionally, the company plans to conduct a proof-of-concept study for Ultomiris in Amyotrophic Lateral Sclerosis (ALS) and an exploratory clinical study for Primary Progressive Multiple Sclerosis (PPMS).
Zacks Rank and Stocks to Consider
Alexion currently has a Zacks Rank #3 (Hold).
Some better-ranked stocks in the biotech sector are Anika Therapeutics Inc. ANIK, Acorda Therapeutics Inc. ACOR and Celgene Corp. CELG. While the first two sport a Zacks Rank #1 (Strong Buy), Celgene carries a Zacks Rank #2 (Buy). You can see the complete list of today's Zacks #1 Rank stocks here.
Anika's earnings per share estimates have moved up from $1.21 to $1.31 for 2019 and from $1.21 to $1.33 for 2020 in the past 60 days.
Acorda's loss per share estimates have narrowed from $3.84 to $3.59 for 2019 and from $3.32 to $3.09 for 2020 in the past 60 days.
Celgene's earnings estimates have moved up by a cent to $10.72 over the past 60 days.
This Could Be the Fastest Way to Grow Wealth in 2019
Research indicates one sector is poised to deliver a crop of the best-performing stocks you'll find anywhere in the market. Breaking news in this space frequently creates quick double- and triple-digit profit opportunities.
These companies are changing the world – and owning their stocks could transform your portfolio in 2019 and beyond. Recent trades from this sector have generated +98%, +119% and +164% gains in as little as 1 month.
Click here to see these breakthrough stocks now >>
Want the latest recommendations from Zacks Investment Research? Today, you can download 7 Best Stocks for the Next 30 Days.
Click to get this free report
Acorda Therapeutics, Inc. (ACOR): Free Stock Analysis Report
Celgene Corporation (CELG): Free Stock Analysis Report
Anika Therapeutics Inc. (ANIK): Free Stock Analysis Report
Alexion Pharmaceuticals, Inc. (ALXN): Free Stock Analysis Report
To read this article on Zacks.com click here.
Zacks Investment Research