American Water's (AWK) Pennsylvania Arm to Invest in Upgrades
American Water Works AWK recently announced that its unit, Pennsylvania American Water, will invest $2.8 million to replace nearly 10,000 feet of aging water mains in the City of Scranton, PA with ductile-iron water mains. The proper maintenance of water mains will ensure adequate water supply, reduce service disruptions and increase water flows for firefighting.

The Pennsylvanian unit has been upgrading and maintaining its water and wastewater infrastructure by replacing old water mains methodically and has invested nearly $373 million in 2021 for infrastructure upgrades. Proper infrastructure maintenance allows the company to efficiently serve its 2.4 million customers.
Upgrades Essential for Water Industry
A substantial portion of the U.S. water and wastewater infrastructure has aged and is nearing the end of its effective service life. Miles of aging pipelines essentially require repair and upgrade to maintain quality water service. A delay in repair could cause frequent disruptions in the 24x7 supply of potable water and sewer services.

Per the U.S. Environmental Protection Agency, investments of $473 billion and $271 billion are necessary to maintain and expand drinking water and wastewater pipelines, respectively, to meet the demand over the next 20 years. Water infrastructure, like storage tanks and water purifying units, needs maintenance at proper intervals.
Utilities Making Systematic Investment
Given the above-mentioned scenario, it is evident that systematic investment to upgrade and maintain the old infrastructure and make provisions for adding new infrastructure will assist the operators in meeting the rising customer demand. Water utilities are making systematic investments to replace and upgrade their aging water infrastructure. The U.S. government is also providing funds for the upgrade and maintenance of the aging infrastructure.

American Water plans to invest $13-$14 billion between 2022 and 2026, and $28-$32 billion between 2022 and 2031 to upgrade and strengthen the existing water and wastewater infrastructure. Water utilities like Essential Utilities WTRG, California Water Service Group CWT and Middlesex Water MSEX have well-chalked-out capital investment plans to strengthen their infrastructure.

Essential Utilities aims to invest $3 billion through 2024 to strengthen water and natural gas operations. The Zacks Consensus Estimate for WTRG's 2022 earnings indicates year-over-year growth of 6.6%. The long-term (three to five year) earnings growth of WTRG is currently pegged at 6.1%. The current dividend yield of Essential Utilities is 2.5%.

California Water Service plans to invest more than $1 billion in capital expenditure between 2022 and 2024. The current dividend yield of the company is 1.8%. The Zacks Consensus Estimate for CWT's 2023 earnings indicates year-over-year growth of 12.4%. The current dividend yield of California Water Service is 1.8%.

Middlesex Water plans to invest $229 million during 2022-2024 to strengthen its water and wastewater infrastructure to provide services to customers in a safe, reliable and efficient manner. The Zacks Consensus Estimate for MSEX's 2022 and 2023 earnings indicates year-over-year growth of 15.5% and 10.5%, respectively. The current dividend yield of Middlesex Water is 1.4%.
Price Performance
Shares of AWK have lost 19.7% in the past six months compared with the industry's 16.8% decline.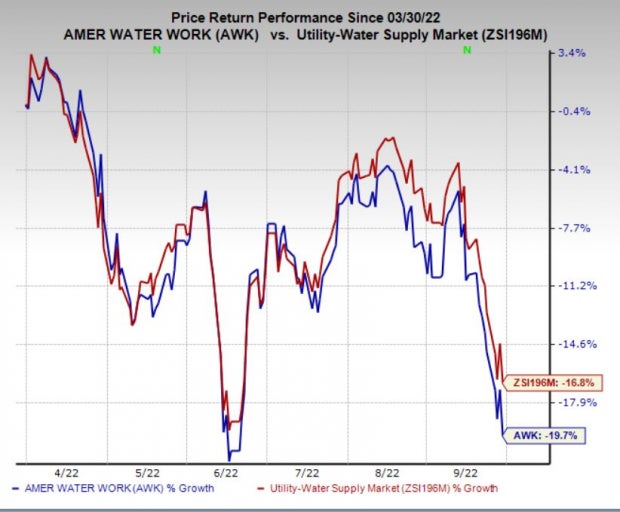 Image Source: Zacks Investment Research
Zacks Rank
American Water Works currently has a Zacks Rank #3 (Hold). You can see the complete list of today's Zacks #1 Rank (Strong Buy) stocks here.
This Little-Known Semiconductor Stock Could Be Your Portfolio's Hedge Against Inflation
Everyone uses semiconductors. But only a small number of people know what they are and what they do. If you use a smartphone, computer, microwave, digital camera or refrigerator (and that's just the tip of the iceberg), you have a need for semiconductors. That's why their importance can't be overstated and their disruption in the supply chain has such a global effect. But every cloud has a silver lining. Shockwaves to the international supply chain from the global pandemic have unearthed a tremendous opportunity for investors. And today, Zacks' leading stock strategist is revealing the one semiconductor stock that stands to gain the most in a new FREE report. It's yours at no cost and with no obligation.
>>Yes, I Want to Help Protect My Portfolio During the Recession
Want the latest recommendations from Zacks Investment Research? Today, you can download 7 Best Stocks for the Next 30 Days.
Click to get this free report
American Water Works Company, Inc. (AWK): Free Stock Analysis Report
California Water Service Group (CWT): Free Stock Analysis Report
Middlesex Water Company (MSEX): Free Stock Analysis Report
Essential Utilities Inc. (WTRG): Free Stock Analysis Report
To read this article on Zacks.com click here.
Zacks Investment Research