Neogen (NEOG) Q1 Earnings Top Estimates, Operating Margin Dips
Neogen Corporation's NEOG first-quarter fiscal 2023 earnings per share (EPS) of 15 cents surpassed the year-ago figure as well as the Zacks Consensus Estimate by 6.3%.
Revenues for the fiscal first quarter increased 3% on a year-over-year basis to $132.3 million. However, it lagged the Zacks Consensus Estimate by 2.5%. The first quarter was the 121st quarter out of the past 127 quarters for which Neogen reported a year-over-year revenue increase.
Segments in Detail
The company registered Food Safety revenues of $67.6 million in the first quarter, indicating 3% (up 9% at constant exchange rate or CER) year-over-year growth. The upside was driven by a 25% increase in aflatoxin test kits, primarily due to an aflatoxin outbreak in Brazil and new business in Mexico and Central America.
Animal Safety revenues in the fiscal first quarter were $67.7 million, up 3% (up 4% at CER) year over year. The upside can be attributed to 21% growth in sales of animal care products, including supplements, vitamin injectables, and companion animal parasiticides, enhanced by the acquisition of CAPInnoVet in September 2021.
Neogen Corporation Price, Consensus and EPS Surprise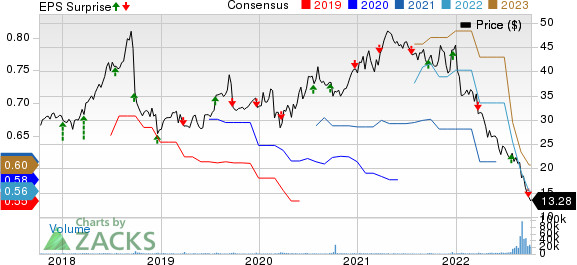 Neogen Corporation price-consensus-eps-surprise-chart | Neogen Corporation Quote
Revenues from Neogen's animal genomics business increased 7% on a year-over-year basis in the fiscal first quarter. Sales from the company's December 2021 acquisition of Genetic Veterinary Sciences were partially offset by lower sample volumes in the porcine market and a difficult prior-year comparison due to a large research project.
International revenues increased 2% year over year (up 10% at CER), representing 39.1% of overall sales of Neogen in the reported quarter.
The company's U.K. business increased 19% in pounds during the fiscal year, led by a 31% increase in sales of cleaners and disinfectants. Brazil revenues increased 14% in Brazilian reals, driven by strong sales of the company's mycotoxin test kits, including aflatoxin and deoxynivalenol (DON), as well as increases in veterinary instruments and genomics testing.Latin America revenues rose 20% in Mexican pesos, led by increases across the company's diagnostic testing portfolio and culture media, as well as higher sales of rodent control products and cleaners and disinfectants.
Neogen's revenues from China were down 14%in Chinese yuan compared to the previous fiscal year, attributable to the country's COVID-19 lockdowns in the second half of fiscal 2022. Neogen's Australasia revenues declined 2% in local currency as a large culture media order in the prior year was partially offset by bovine genomic service increases.
Margin Details
Neogen's fiscal first-quarter gross profit increased 3.8% year over year to $62.3 million. The gross margin expanded 28 basis points (bps) to 47.1%.
Sales and marketing expenses rose 13.8% to $23.4 million, whereas administrative expenses rose 108.8% from the prior-year quarter to $27.9 million. Research & development expenses were $4.9 million, up 12.9% from the year-ago quarter. Operating costs totaled $56.2 million, up 46.9% year over year.
In the reported quarter, operating income was $6.1 million, down 72.1% from the year-ago quarter's level. Operating margin contracted 1237 bps to 4.6%.
Cash Position
The company exited the fiscal first quarter with cash and investments of $374.7 million, down from $381.1 million at the end of the fiscal fourth quarter. The company had no debt on the balance sheet at quarter-end.
Our Take
Neogen exited the first quarter of fiscal 2023 on a mixed note with better-than-expected earnings but lower-than-expected revenues.
The company recorded sales growth across the Food Safety and Animal Safety segments. Barring Australia and China, solid international operations also buoy optimism.
However, the company observed that customers reduced testing volumes where they could. The company also reported prolonged pipelines, especially with regard to equipment sales. Increases in aflatoxin test kits, Soleris consumables and food quality test kits were offset by a significant decline in Soleris equipment due to a difficult comparison against strong sales in the prior year. Also, allergen and environmental sanitation product lines declined due to reduced buying patterns from customers and supply chain disruptions on certain products.
A decline in operating profit on mounting operating costs does not bode well. The ongoing supply chain disruptions and inflationary pressure continue to pose challenges for the company.
Zacks Rank & Key Picks
Neogen currently carries a Zacks Rank #4 (Sell).
Some better-ranked stocks in the broader medical space are ShockWave Medical SWAV, McKesson MCK and Abiomed ABMD. While ShockWave Medical sports a Zacks Rank #1 (Strong Buy), McKesson and Abiomed carry a Zacks Rank of 2 (Buy). You can see the complete list of today's Zacks #1 Rank stocks here.
Estimates for ShockWave Medical's earnings per share rose from $2.02 to $2.57 for 2022 and from $2.95 to $3.42 for 2023 in the past 60 days. SWAV has gained 59.9% so far this year.
ShockWave Medical delivered an earnings surprise of 180.14%, on average, in the last four quarters.
Estimates for McKesson's earnings per share increased from $23.27 to $24.42 for fiscal 2023 and $25.53 to $26.04 for fiscal 2024 in the past 60 days. MCK has gained 42.6% so far this year.
McKesson delivered an earnings surprise of 13.00%, on average, in the last four quarters.
Estimates for Abiomed have improved from earnings of $4.73 to $4.77 for fiscal 2023 and $5.59 to $5.63 for fiscal 2024 in the past 60 days. ABMD stock has declined 26.4% so far this year.
Abiomed delivered an earnings surprise of 10.89%, on average, in the last four quarters.
This Little-Known Semiconductor Stock Could Be Your Portfolio's Hedge Against Inflation
Everyone uses semiconductors. But only a small number of people know what they are and what they do. If you use a smartphone, computer, microwave, digital camera or refrigerator (and that's just the tip of the iceberg), you have a need for semiconductors. That's why their importance can't be overstated and their disruption in the supply chain has such a global effect. But every cloud has a silver lining. Shockwaves to the international supply chain from the global pandemic have unearthed a tremendous opportunity for investors. And today, Zacks' leading stock strategist is revealing the one semiconductor stock that stands to gain the most in a new FREE report. It's yours at no cost and with no obligation.
>>Yes, I Want to Help Protect My Portfolio During the Recession
Want the latest recommendations from Zacks Investment Research? Today, you can download 7 Best Stocks for the Next 30 Days.
Click to get this free report
McKesson Corporation (MCK): Free Stock Analysis Report
ABIOMED, Inc. (ABMD): Free Stock Analysis Report
Neogen Corporation (NEOG): Free Stock Analysis Report
ShockWave Medical, Inc. (SWAV): Free Stock Analysis Report
To read this article on Zacks.com click here.
Zacks Investment Research