Twitter's (TWTR) Q3 Earnings Miss Estimates, Ad Revenues Rise
Twitter TWTR reported third-quarter 2021 adjusted loss of 54 cents per share in contrast to the Zacks Consensus Estimate of earnings of 17 cents per share. The company had reported earnings of 19 cents per share in the year-ago quarter.

Revenues increased 37% year over year to $1.28 billion that missed the Zacks Consensus Estimate by 0.3%. The year-over-year top-line growth was driven by strong performance across all major products and geographies. Strength in brand advertising as well as accelerating year-over-year growth in Mobile App Promotion (MAP) revenues aided growth.

Twitter's stock price was up about 4% in extended trading on Oct 26. Per the company, the impact of Apple's AAPL iOS 14.5 privacy change was less than expected in the third quarter and will be modest in the fourth quarter.

Earlier this year, Apple introduced a major privacy feature called App Tracking Transparency (ATT) that allowed users to opt out of third-party app tracking. This means apps can no longer collect data about users from third parties and use that data to better target them with ads unless a user specifically gives the app permission to do so.

Other tech giants including Snap Inc. SNAP and Facebook FB cited Apple's new privacy features as the key factor that made ad-targeting difficult in the latest quarter.
Twitter, Inc. Price, Consensus and EPS Surprise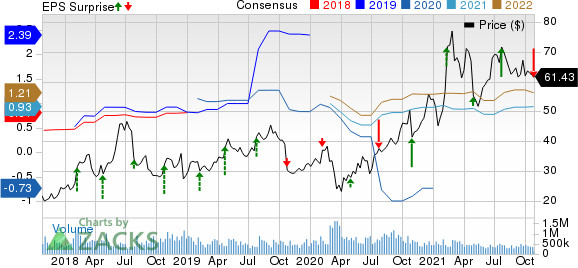 Twitter, Inc. price-consensus-eps-surprise-chart | Twitter, Inc. Quote
Advertising Revenue Details
Advertising revenues increased 41% year over year to $1.14 billion driven by strong demand in the United States and continued momentum across key markets around the world, fueled by revenue product improvements, strong sales execution, and increased demand for digital ads in general.

U.S. advertising revenues totaled $647.4 million, up 51% year over year. International ad revenues increased 30% to $493 million.

This Zacks Rank #3 (Hold) company's advertising revenues witnessed strong contributions from SMB customers, with revenues accelerating in double digits. This reflected increased investments across sales and products with higher spending per advertiser. You can see the complete list of today's Zacks #1 Rank (Strong Buy) stocks here.

Twitter benefited from strong advertiser demand as it looked to launch products and services across a number of key verticals, including technology, retail, media & entertainment, and financial services.

Total ad engagements increased 6%, driven by steady growth in ad impressions due to growing audience and increased demand for ads.

Cost per engagement (CPE) increased 33%, primarily driven by the mix shift to lower funnel ad formats and like-for-like price increases across most ad formats.

Twitter launched a new brand measurement service for third-party partners in the third quarter that provides real-time ad impressions, engagements, and viewability data to support Viewability Verification and Audience Verification for ads.

The company also more than doubled the available language targeting options, making 25 new languages available for targeting in the Twitter Ads Manager and through Ads API.

Besides, for Website Clicks, Twitter introduced Multi-Destination Carousels, enabling advertisers to market and drive traffic to multiple products inside the same ad.

For MAP advertisers, Twitter released an updated Learning Period model in the third quarter. The model delivers more consistent campaign performance, leading to a 36% increase in the number of campaigns that achieved the minimum viable threshold for campaign performance and advertiser retention.
User Details
Average monetizable daily active users (mDAU) grew 13% year over year to 211 million, driven by global conversation around current events and ongoing product improvements. Average mDAU grew 5 million sequentially.

The average U.S. mDAU was 37 million, up 4% from the year-ago quarter and 2% from the previous quarter. The average international mDAU was 174 million, rising 15% year over year and 3% from the previous quarter.

In the third quarter, Twitter launched more than 2,300 new Topics, bringing the total number of Topics that people can follow up to 11,800 across 11 languages. Markedly, 230 million accounts now follow at least one Topic.

Twitter made it easier for new customers to sign up in the third quarter, with a single sign-on, allowing people to sign up or log into Twitter with their Google Account or Apple ID.

The company launched three new monetization products for creators in the third quarter, including Tips, Super Follows, and Ticketed Spaces. Tip Jar enables people to directly support creators through tipping. Ticketed Spaces allows people to pay for access to exclusive live audio experiences and other exclusive content is available via monthly subscription through Super Follows. These features helped Twitter gain subscribers in the reported quarter.

The company also started to roll out Communities, an easy way to find and connect with people who have similar interests.

Twitter continued to enhance the global conversation on its platform with live and on-demand video content. The company extended its existing partnership with Dow Jones Corporation to include a renewal of the successful WSJ What's Now series, as well as new Barrons, Investor's Business Daily, and MarketWatch content on its platform.

The company also signed a deal with Fox Sports to bring the best of college football content to its platform with real-time highlights.

In the third quarter, Twitter also introduced Safety Mode to protect user privacy. This new feature aims to reduce disruptive interactions by temporarily blocking accounts for using potentially harmful language (such as insults or hateful remarks) or sending repetitive and uninvited replies or mentions.
Revenue Details
U.S. revenues (58% of revenues) surged 45% year over year to $741.8 million. International revenues (42% of revenues) increased 28% to $541.9 million.

Japan remained the company's second-largest market in the reported quarter. Revenues from the country (12% of total revenues) increased 20% to $159 million.

Data licensing and other revenues increased 12% from the year-ago quarter to 43 million, driven by MoPub.
Operating Details
Twitter's total costs and expenses were $2.03 billion, up 130% on a year-over-year basis, driven by a one-time litigation-related net charge of $766 million, as well as higher sales-related expenses, headcount growth, and infrastructure costs.

Research and development expenses jumped 55% year over year to $324 million, primarily due to higher personnel-related costs. Sales and marketing expenses increased 40% to $301 million, primarily due to higher sales-related expenses. General and administrative expenses rose 60% to $151 million, primarily due to higher personnel-related costs offset by a decrease in supporting overhead expenses.

Adjusted EBITDA loss was $444.8 million against the year-ago quarter's adjusted EBITDA of $294 million.

Twitter incurred operating loss of $743 million, which included a one-time litigation-related net charge of $766 million against the year-ago quarter's operating income of $56 million. Adjusted operating income, which excludes the $766 million litigation-related net charge, was $23 million, reflecting an adjusted operating margin of 2%.
Balance Sheet
As of Sep 30, 2021, Twitter had $7.41 billion in cash, cash equivalents and marketable securities, reflecting the repayment of an aggregate principal amount of $954 million in senior convertible notes due in September 2021. The company had $8.61 billion in cash, cash equivalents and marketable securities as of Jun 30, 2021.

Net cash provided by operating activities in the reported quarter was $389 million, up from $382 million in the previous quarter.

In the third quarter, adjusted free cash flow was $20 million compared with $105.8 million in the previous quarter.

The company repurchased $169 million of stock during the third quarter, bringing the total repurchase amount to $915 million to date.
Outlook
For the fourth quarter of 2021, Twitter expects total revenues between $1.5 billion and $1.6 billion. GAAP operating income is expected between $130 million and $180 million.

For 2021, Twitter expects headcount, along with total costs and expenses, to grow 30% or more with a focus on engineering and products. The company continues to expect total revenues to grow faster than expenses in 2021.
Breakout Biotech Stocks with Triple-Digit Profit Potential
The biotech sector is projected to surge beyond $2.4 trillion by 2028 as scientists develop treatments for thousands of diseases. They're also finding ways to edit the human genome to literally erase our vulnerability to these diseases.
Zacks has just released Century of Biology: 7 Biotech Stocks to Buy Right Now to help investors profit from 7 stocks poised for outperformance. Recommendations from previous editions of this report have produced gains of +205%, +258% and +477%. The stocks in this report could perform even better.
See these 7 breakthrough stocks now>>
Want the latest recommendations from Zacks Investment Research? Today, you can download 7 Best Stocks for the Next 30 Days.
Click to get this free report
Apple Inc. (AAPL): Free Stock Analysis Report
Facebook, Inc. (FB): Free Stock Analysis Report
Twitter, Inc. (TWTR): Free Stock Analysis Report
Snap Inc. (SNAP): Free Stock Analysis Report
To read this article on Zacks.com click here.
Zacks Investment Research