iRobot Buys Root Robotics, Boosts Robot Product Offerings
iRobot Corporation IRBT recently closed the buyout of Root Robotics in an effort to strengthen its educational robot product offerings. The financial details of the acquisition were kept under wraps.
Spun out of Harvard University's Wyss Institute, Root coding robot is a user friendly educational robot that helps in training children in coding and in problem solving. Notably, the two-wheeled, mobile platform robot is functional on flat surfaces such as floors, tables, and magnetic whiteboard. Also, the robot provides users with an option to pair it with a mobile application. This allows users to instruct the robot to scan colors, draw artwork, respond to touch and sound, apart from playing music.
Notably, the buyout will also support iRobot's STEM education efforts by offering a market proven educational robotic platform to people of different age groups, including students. As noted by the company, the buyout is not likely to have material impact on the company's 2019 financial results.
Our Take
Strong demand for products like Roomba i7/i7+ in the overseas end markets will drive iRobot's near-term revenues. The company anticipates that innovation investments, diverse product portfolio and increasing international businesses will boost the top line. Notably, the company expects to generate revenues in the range of $1.28-$1.31 billion (with estimated year-over-year growth rate of 17-20%) in 2019.
Also, the company is raising global household adoption rates of Roomba and Braava products through sales and marketing programs. In addition, the company has rolled out its robotic lawnmower, Terra, in January 2019. This product — equipped with wire-free beacon system, Imprint Smart Mapping technology and iRobot HOME app — is predicted to reinvent the lawn-cutting process.
Moreover, the company announced an increase in the existing revolving credit facility (in July 2018) from $75 million to $150 million, and extended its term to 2023. Notably, the new revolving line of credit facility will provide the company with greater financial flexibility for strategic acquisitions and product innovation programs.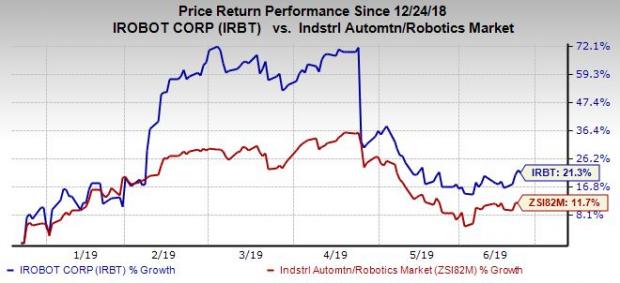 In the past six months, the Zacks Rank #2 (Buy) company has returned 21.3% compared with industry's increase of 11.7%.
Other Key Picks
Some other top-ranked stocks from the Zacks Industrial Products sector are Chart Industries, Inc. GTLS, IDEX Corp. IEX and Kaman Corp. KAMN. While Chart Industries sports a Zacks Rank #1 (Strong Buy), IDEX and Kaman carry a Zacks Rank #2. You can see the complete list of today's Zacks #1 Rank (Strong Buy) stocks here.
Chart Industries outpaced estimates thrice in the preceding four quarters, the average positive earnings surprise being 16.56%.
IDEX surpassed estimates in each of the preceding four quarters, the average positive earnings surprise being 5.69%.
Kaman beat estimates twice in the preceding four quarters, the average positive earnings surprise being 15.00%.
Today's Best Stocks from Zacks
Would you like to see the updated picks from our best market-beating strategies? From 2017 through 2018, while the S&P 500 gained +15.8%, five of our screens returned +38.0%, +61.3%, +61.6%, +68.1%, and +98.3%.
This outperformance has not just been a recent phenomenon. From 2000 – 2018, while the S&P averaged +4.8% per year, our top strategies averaged up to +56.2% per year.
See their latest picks free >>
Want the latest recommendations from Zacks Investment Research? Today, you can download 7 Best Stocks for the Next 30 Days.
Click to get this free report
iRobot Corporation (IRBT): Free Stock Analysis Report
IDEX Corporation (IEX): Free Stock Analysis Report
Kaman Corporation (KAMN): Free Stock Analysis Report
Chart Industries, Inc. (GTLS): Free Stock Analysis Report
To read this article on Zacks.com click here.
Zacks Investment Research