The Cannabis Craze

Aurora Cannabis ACB, Tilray TLRY, and Canopy Growth Company CGC are a few of the hyped up marijuana stocks we saw hit the markets in 2018. The "Cannabis Craze" had everyone and their brother buying up marijuana stocks. These cannabis stocks didn't have enough free-floating shares to cover the massive amount of buy interest leading them to skyrocket at the end of 2018 far above their fair value.
Canadian Legalization
Investors jumped into these stocks on the announcement of Canada legalizing recreational marijuana, which was official on October 17th of last year, on the hopes that the United States would follow suit promptly.
The logic behind investing in a Canadian cannabis company isn't entirely flawed. These companies have established infrastructure and economies to scale that would allow them to quickly address the needs of American pot smokers if federal legalization were to take place in the US. This would represent a considerable upside potential for any marijuana company already in operation.
Unfortunately, I believe that the optimism of US weed legalization is somewhat misplaced considering the complexity of our federal legislative system would delay this legalization for years. Even though individual states have been able to legalize marijuana, it will be many years before it is federally legalized, leaving all the growth expectations for these Canadian cannabis stocks on the back burner for an indefinite amount of time.
Since the initial rally in marijuana stocks, most of these equities have plunged. Tilray (TLRY) is down over 72% since mid-October, Canopy Growth Company (CGC) is down about 22% in the same time frame, and ACB is down about 25%. Aurora hasn't fallen as fast as Tilray because the firm has been showing accelerating topline growth, but unfortunately, the firm can't keep its profits above ground level with losses on the income statement the last two quarters.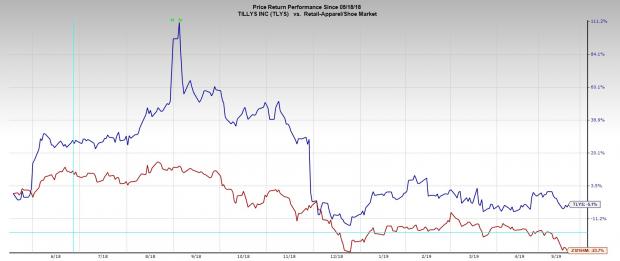 Trend Trading Downside
Cannabis stocks are a new trend, and investors aren't entirely sure how to value these firms. Usually, new and exciting stocks and securities attract a lot of interest because of the awe factor that is associated with an intriguing new industry.
We saw it in 1999 with the dotcom bubble. Everyone wanted to get into these soaring tech stocks and it pushed the valuation way beyond their fair value. As we all know, this eventually led to the entire stock market tanking and sent the US into a temporary recession.
More recently cryptocurrencies were all the talk, not just with investors but with everyone, exchanges even creating futures for this new hot commodity. The prices of these cryptos proliferated over a short period of time with Bitcoin exploding 2,273% in less than one year during 2017. Once the hype had diminished, and investors realized that these currencies weren't being utilized the value of them fell significantly.
This is what I believe is happening with these marijuana stocks. Investors are overzealous about getting into a cannabis stock, not caring about the valuation. I believe a further realization will hit and these stocks could see a larger downside.

Valuation
In my opinion, these cannabis stocks are still grossly overvalued when assessing their multiples. Too much of US legalization is hinged on these firms valuations and like I mentioned above, I don't see this happening for years to come. ACB is currently trading at 67x price/sales, TLRY at 76x P/S and CGC at 77x P/S which are all astronomical multiples considering that the overall markets P/S is below 3x and the medical products industry is just below 4x P/S. Price to sales is the only multiple I can use for these firms because every other multiple is negative (considering their inability to turn an operating profit).
Aura isn't expected to turn a profit until 2021. Even those estimates have been revised down twice in the past 30 days and could turn negative with this continued pessimism. The firm is expected to lose 250% in EPS this year compared to 2018. Sell-side analysts continue to lower expectation for this firm pushing ACB into a Zacks Rank - #4 (Sell).
Tilray is also not expected to see profits until 2021 and has had multiple downward adjusted EPS revisions over the past 90 days leading TLRY to be a Zacks Rank - #4 (Sell)
Canopy Growth is expected to report a 2019 EPS that's 238% less than last year. Canopy may not even turn a profit until 2022, according to some analysts.
Take Away
These marijuana stocks are extremely speculative and I would be hard pressed to call them anything but a gamble. The fair valuation of stocks in a new industry is somewhat ambigous making it very difficult for a value investor to justify buying. These stocks may have room in a well diversified portfolio if the individual is willing to put on some risk. I personally will be staying away from these and looking to invest in something with sustainable returns, reasonable valuations, and a longer industry track record. Once this industry is more established and these firms can show long term profitablity then I will reassess.
Breakout Biotech Stocks with Triple-Digit Profit Potential

The biotech sector is projected to surge beyond $775 billion by 2024 as scientists develop treatments for thousands of diseases. They're also finding ways to edit the human genome to literally erase our vulnerability to these diseases.

Zacks has just released Century of Biology: 7 Biotech Stocks to Buy Right Now to help investors profit from 7 stocks poised for outperformance. Our recent biotech recommendations have produced gains of +98%, +119% and +164% in as little as 1 month. The stocks in this report could perform even better.

See these 7 breakthrough stocks now>>
Want the latest recommendations from Zacks Investment Research? Today, you can download 7 Best Stocks for the Next 30 Days.
Click to get this free report
Aurora Cannabis Inc. (ACB): Free Stock Analysis Report
Tilray, Inc. (TLRY): Free Stock Analysis Report
Canopy Growth Corporation (CGC): Free Stock Analysis Report
To read this article on Zacks.com click here.
Zacks Investment Research