5 Sector ETFs Most Exposed to Trade Tensions
The trade tensions between the United States and China have hit a fever pitch. Both will now enact a 25% tariff on each other's $34 billion worth of goods from Jul 6. The remaining $16 billion worth of goods will be under public review. But the situation may take an uglier turn as White House plans to enact tariffs on an extra $200 billion worth of Chinese goods, if China keeps retaliating.
Per an article www.cnbc.com/2018/06/19/in-a-trade-war-with-china-us-chipmak...">published on CNBC, the following sectors have the highest revenue exposure to China and are thus more susceptible to the trade war.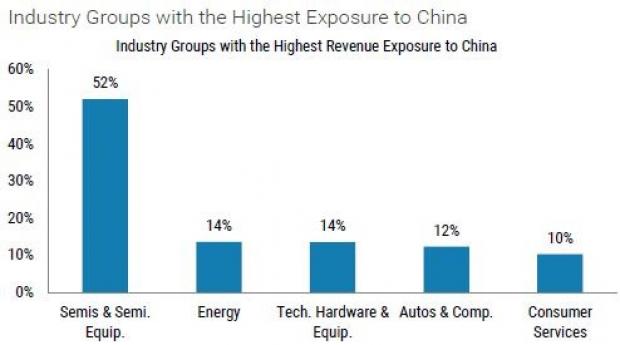 Source: Thomson Reuters, Morgan Stanley Research Estimates
On the basis of the above-mentioned chart, we dig a little deeper into these sectors amid tariff tensions.
Semiconductor
Per Morgan Stanley equity strategists, "semiconductor and semiconductor equipment companies have the highest revenue exposure to China at 52%" and are thus exposed to maximum risks on rising trade tensions (read: Apple's iPhone Order Cut Report May Hurt These ETFs).
Chipmaker Qualcomm QCOM has 65% revenue exposure to China and Nvidia's NVDA sales exposure to China is 56%, per Goldman Sachs. Apart from these, some other tech and semiconductor companies, which have sales exposure to China in the range of 22% to 55%, include the likes of Intel INTC, Micron Technology MU and Applied Materials AMAT. This clearly explains why the mood is somber in the semiconductor space. So, VanEck Vectors Semiconductor ETF SMH may face troubles.
Energy
It is a two-edged sword for energy companies. First, Donald Trump's levy of a 25% tariff on steel imports and a 10% tariff on aluminum imports from China, Canada and Mexico became a pain for U.S. oil pipeline companies. This should push up raw material prices for pipeline operators.
The article published on Reuters indicated that the U.S. pipeline industry is likely to suffer cost pressure from tariffs as the industry imports about 77% of its steel requirement, according to a 2017 study on the pipeline industry (read: Is $100-a-Barrel Oil Possible? ETFs in Focus).
Major U.S. energy companies including Plains All American Pipeline (PAA, Hess Corp HES and Kinder Morgan Inc KMI are thus on the lookout for an exemption from steel-import tariffs, per Reuters. On the other hand, China proposed "25% levies on about $1 billion a month in U.S. oil imports in retaliation for U.S. tariffs." Energy companies have about 14% exposure to China. So, Chinese energy tariff dealt another blow to the sector.
ETFs that could come under pressure are Energy Select Sector SPDR ETF XLE and Alerian MLP ETF AMLP.
Tech Hardware & Equipment
Tech companies that have extensive trade relations with China would be at high risk of falling prey to the trade war. In fact, Goldman Sachs has compiled a list of companies with considerable revenue exposure to China. These companies' revenues are 14% exposed to China, per a CNBC article. SPDR S&P Technology Hardware ETF XTH should thus be followed carefully.
Auto
Both steel and aluminum are vital to the production of cars and trucks sold in America and would push up the sale prices of those vehicles considerably. Adding fuel to the ongoing trade tensions, the Trump administration has initiated a national security investigation into auto imports that may result in fresh tariffs (read: U.S. Auto Tariff Risk Put These ETFs and Stocks in Focus).
U.S. auto companies earn about 12% revenues from China. With Beijing slamming tariffs on U.S. auto imports, First Trust NASDAQ Global Auto Index Fund CARZ would come under pressure.
Consumer Services
As tariff tensions heat up, inflation in the U.S. economy should perk up. Along with most market watchers, we too believe that companies will try to pass on some cost escalation to consumers. Moreover, higher inflation would give a boost to bond yields. This, in turn, might push up consumers' borrowing costs and hurt iShares U.S. Consumer Services ETF IYC. In any case, U.S. consumer services have about 10% sales exposure to China. That is yet another risk to consumer funds.
Want key ETF info delivered straight to your inbox?
Zacks' free Fund Newsletter will brief you on top news and analysis, as well as top-performing ETFs, each week. Get it free >>
Want the latest recommendations from Zacks Investment Research? Today, you can download 7 Best Stocks for the Next 30 Days.
Click to get this free report
QUALCOMM Incorporated (QCOM): Free Stock Analysis Report
ALERIAN-MLP (AMLP): ETF Research Reports
SPDR-EGY SELS (XLE): ETF Research Reports
VANECK-SEMICON (SMH): ETF Research Reports
FT-NDQ GL AUTO (CARZ): ETF Research Reports
SPDR-SP TEC HDW (XTH): ETF Research Reports
ISHARS-US CN CY (IYC): ETF Research Reports
Kinder Morgan, Inc. (KMI): Free Stock Analysis Report
Hess Corporation (HES): Free Stock Analysis Report
Intel Corporation (INTC): Free Stock Analysis Report
NVIDIA Corporation (NVDA): Free Stock Analysis Report
Micron Technology, Inc. (MU): Free Stock Analysis Report
Applied Materials, Inc. (AMAT): Free Stock Analysis Report
To read this article on Zacks.com click here.
Zacks Investment Research
Want the latest recommendations from Zacks Investment Research? Today, you can download 7 Best Stocks for the Next 30 Days. Click to get this free report