Stitch Fix (SFIX) Posts Q2 Loss, Trims Sales View, Stock Falls
Shares of Stitch Fix, Inc. SFIX tumbled more than 12% in after-hour trading on Mar 8, thanks to soft second-quarter results and trimmed sales outlook for fiscal 2021. The company posted loss per share in the reported quarter while revenues missed the Zacks Consensus Estimate.

For fiscal 2021, management projects net revenues in the band of $2.02-$2.05 billion, suggesting an increase of 18-20% from the year-earlier period. However, the latest revenue guidance is lower than the prior guided range of $2.05-$2.14 billion. Moreover, the revised revenue guidance for the fiscal year fell shy of the Zacks Consensus Estimate. We note that the consensus estimate for revenues is currently pegged at $2.10 billion for fiscal 2021.

We note that Stitch Fix's shares have declined 20.1% over the past month against the industry's 1.2% rise.
Q2 Details
Stitch Fix reported loss of 20 cents per share, narrower than the Zacks Consensus Estimate of a loss of 22 cents. The company reported earnings of 11 cents in the prior-year quarter.

Meanwhile, the company recorded net revenues of $504.1 million, reflecting an increase of 12% from the year-ago quarter. However, the metric lagged the Zacks Consensus Estimate of $512 million. Moreover, the top-line results fell short of management's guided range of $506-$515 million. Management believes revenues would have been within the guided range on adjusting for the impact of the increased cycle times.
Stitch Fix, Inc. Price, Consensus and EPS Surprise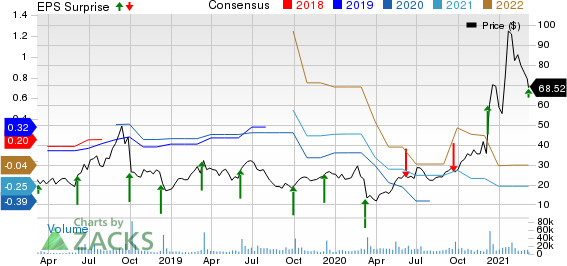 Stitch Fix, Inc. price-consensus-eps-surprise-chart | Stitch Fix, Inc. Quote
Within the company's Fix offering, first Fix shipments in the reported quarter rose to the highest level in five years. However, carriers faced uncertain volumes during the holidays owing to the pandemic. Consequently, the company saw increased cycle times and was unable to recognize revenues from Fixes shipped in the fiscal second quarter.

Nonetheless, with respect to such delays, management has made adjustments in the ship planning process to meet the promised delivery dates. Also, the company is undertaking actions to diversify its outbound carrier mix and is also partnering with its primary carrier, the United States Postal Service, to process returns effectively.

First Fix shipments grew nearly 50% year over year in the fiscal second quarter, up from more than 25% in the prior-year period. This marks the company's highest growth rate since 2016. Strength in the women's category mainly fueled the improvement.

Stitch Fix has roughly 3.9 million active clients as of Jan 30, 2021, reflecting growth of 11.8% from the prior-year quarter's level. Sequentially, the company's active clients went up by 110,000.

However, net revenue per active client declined nearly 7% year over year to $467. This was mainly due to surge in new clients, whose spending has been comparatively low.

In the fiscal second quarter, gross profit rose 7% to $216.3 million. However gross-margin contracted 190 basis points (bps) to 42.9% owing to higher shipping expenses and inventory reserves.

Meanwhile, selling, general, and administrative (SG&A) expenses increased 32.5% to $256.7 million. Excluding advertising, other SG&A, as a rate of sales, increased 760 bps to 42.6% due to increased compensation and benefits expense, including higher wages at fulfillment center. Also, elevated marketing expenses and COVID-related costs caused the rise. Moreover, this Zacks Rank #3 (Hold) company's operating loss was $40.4 million against operating profit of $8.5 million reported in the year-ago quarter.

Furthermore, the company reported adjusted EBITDA loss of $8.9 million in the quarter under review against adjusted EBITDA of $30.1 million in the year-ago quarter. The decline reflects lower revenues, increased shipping costs, and investment in people and operations in the reported quarter.
Other Financial Aspects
Stitch Fix ended the quarter with no debt along with cash and cash equivalents of $140 million and shareholders' equity of $433.5 million.

Further, the company provided $5.7 million cash from operating activities during the six months of fiscal 2021. Also, it reported negative free cash flow of $8.2 million for the same period.
Outlook
We note that increased cycle times in the reported quarter continued in February, and might impact revenues in the second half of the fiscal year. Also, pandemic uncertainties cannot be ruled out. Management continues to anticipate investment in advertising, operations and styling. These investments are likely to benefit client growth ahead but might weigh on adjusted EBITDA in the near-term.

Nonetheless, management cited that it is witnessing robust new client acquisition trends, solid order ship retention levels and increased client engagement with direct buy. Also, it is encouraged about its direct buy offering. Management plans to roll out certain product features tied to the direct buy launch to first-time clients at the end of the fiscal fourth quarter. In fact, the company has been evolving its Fix offering to drive conversion and retention of new and existing clients.

For the third quarter, Stitch Fix expects net revenues in the range of $505-$515 million, which suggests year-over-year growth of 36-39%. We note that the Zacks Consensus Estimate for revenues is currently pegged at $521.3 million for the third quarter. Adjusted EBITDA is envisioned in the bracket of negative $9 million to $5 million or negative 1.8% to 1.0%.
Hot Stocks in Retail
Abercrombie & Fitch ANF has a long-term earnings-growth rate of 18% and currently sports a Zacks Rank #1 (Strong Buy). You can see the complete list of today's Zacks #1 Rank stocks here.

Boot Barn BOOT, also a Zacks Rank #1 stock, has a long-term earnings-growth rate of 20%.

Tapestry TPR boasts a long-term earnings growth rate of 10% and currently flaunts a Zacks Rank #2 (Buy).
These Stocks Are Poised to Soar Past the Pandemic
The COVID-19 outbreak has shifted consumer behavior dramatically, and a handful of high-tech companies have stepped up to keep America running. Right now, investors in these companies have a shot at serious profits. For example, Zoom jumped 108.5% in less than 4 months while most other stocks were sinking.

Our research shows that 5 cutting-edge stocks could skyrocket from the exponential increase in demand for "stay at home" technologies. This could be one of the biggest buying opportunities of this decade, especially for those who get in early.

See the 5 high-tech stocks now>>
Want the latest recommendations from Zacks Investment Research? Today, you can download 7 Best Stocks for the Next 30 Days.
Click to get this free report
Abercrombie & Fitch Company (ANF): Free Stock Analysis Report
Boot Barn Holdings, Inc. (BOOT): Free Stock Analysis Report
Tapestry, Inc. (TPR): Free Stock Analysis Report
Stitch Fix, Inc. (SFIX): Free Stock Analysis Report
To read this article on Zacks.com click here.
Zacks Investment Research