Altair Engineering (ALTR) Buys Univa, Fortifies HPC Offerings
Altair Engineering Inc. ALTR has acquired Univa, a maker of workload management, scheduling and optimization solutions for high-performance computing (HPC), on-premise and in the cloud. This buyout strengthened its position in workload management and cloud enablement for high-performance computing. Shares of the company gained 3.7% on Sep 14, following the news.
Benefits of Altair
Altair Engineering holds a leadership position in facilitating HPC workload and workflow management technology for manufacturing, weather, research, as well as government verticals. The company is also an innovator in the electronic design automation space.

Headquartered in Chicago, Univa has two leading products — Univa Grid Engine and Univa Navops Launch. The first one is a distributed resource management system that optimizes workloads and resources in data centers, improving return-on-investment and delivering better results, faster. The second one helps migrate enterprise HPC workloads to the cloud by providing real-time insights into workloads and spending, with complete visibility to HPC cloud resources. Overall, the Univa acquisition will help Altair to further extend into life sciences and financial services.

Altair Engineering highlighted that it will continue to invest in Univa's technology to support the existing customers, while integrating with its HPC and data analytics solutions. These initiatives will further boost capability and performance requirements of all the customers of Altair Engineering. It will also strengthen the company's leadership in workload management and cloud enablement for HPC.
Altair's Inorganic Moves: A Boon
Acquisitions have been Altair Engineering's preferred mode of solidifying its product portfolio and leveraging new business opportunities. The company acquired 30 companies or strategic technologies from 1996 till 2019, including 22 in the last five years. These acquisitions brought strategic IP assets and more than 300 developers with expertise in disciplines ranging from electronics, material science, crash, and safety to industrial design as well as rendering.

Owing to these buyouts, the company has a wide array of commercially available products that include Click2Extrude, Altair PBS Professional, Radioss, Evolve, Acusolve, SimLab, Embed, Click2Cast, Multi-scale Designer, FEKO, FLUX, WinProp, Thea Render, Modeliis, SmartWorks, ESAComp, SimSolid, Monarch, Knowledge Studio, Panopticon, EDEM and PollEx.

Altair Engineering's shares have gained 55.6%, outperforming the industry's 29% rally over the past six months. The company's focus on developing great software and helping customers succeed despite the hardships due to the COVID-19 outbreak have been driving growth.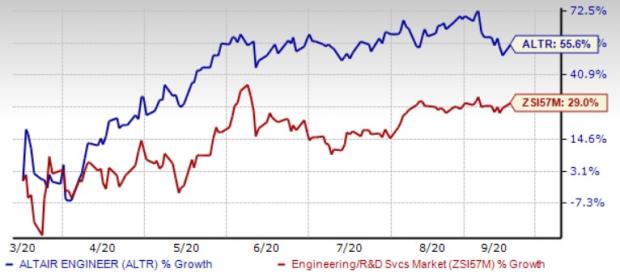 Currently, Altair Engineering carries a Zacks Rank #4 (Sell). Nonetheless, the recent moves will probably help the company — which shares space with Gates Industrial Corporation PLC. GTES, AECOM ACM and KBR, Inc. KBR in the same industry — to spur growth. You can see the complete list of today's Zacks #1 Rank (Strong Buy) stocks here.
Biggest Tech Breakthrough in a Generation
Be among the early investors in the new type of device that experts say could impact society as much as the discovery of electricity. Current technology will soon be outdated and replaced by these new devices. In the process, it's expected to create 22 million jobs and generate $12.3 trillion in activity.

A select few stocks could skyrocket the most as rollout accelerates for this new tech. Early investors could see gains similar to buying Microsoft in the 1990s. Zacks' just-released special report reveals 8 stocks to watch. The report is only available for a limited time.

See 8 breakthrough stocks now>>
Want the latest recommendations from Zacks Investment Research? Today, you can download 7 Best Stocks for the Next 30 Days.
Click to get this free report
AECOM (ACM): Free Stock Analysis Report
KBR, Inc. (KBR): Free Stock Analysis Report
Altair Engineering Inc. (ALTR): Free Stock Analysis Report
Gates Industrial Corporation PLC (GTES): Free Stock Analysis Report
To read this article on Zacks.com click here.
Zacks Investment Research