Extended Stay America Rides on Expansion Amid Competition
Extended Stay America, Inc. STAY continues to gain from various revenue driving initiatives and numerous brand expansion strategies. Also, relentless unit growth bodes well for the company. However, intense competition and elevated expenses are potential concerns.
Further, starting from the first quarter of 2019, the company suspended its share repurchase. Its buyback program is expected to remain off the hook due to other potential opportunities. This has not been accepted by investors well. Subsequently, the company's shares have declined over the past three months. In the said time, shares of Extended Stay America have declined 9.7% against the industry's 5.6% rally.
However, the company's distinguished offering of prolonged lodging services to self-sufficient guests lends it a competitive advantage. It derives industry-leading margins by this unique business model.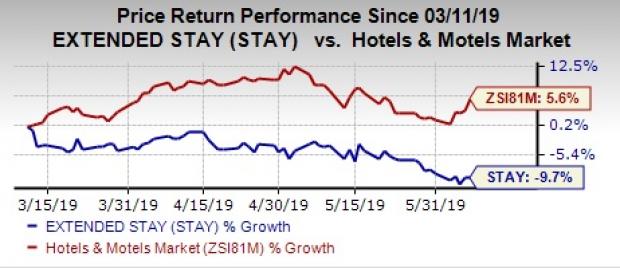 Let us delve deeper into reasons that suggest that investors should hold the stock for the time being.
Efforts to Drive Growth
In a bid to drive growth in the long run, Extended Stay America is refocusing on core customers in lieu of focusing on fleeting customers. Additionally, its initiatives toward controlling costs and decreasing capital requirement for fresh hotel builds are commendable.
Under its ESA 2.0 strategy, the company aims to franchise its brands and drive growth through various expansion strategies. It also plans to enhance digital capabilities that would eventually boost revenues and earnings. Meanwhile, Extended Stay America has also been focusing on the disposition of assets. In 2018, the company sold 72 properties for $322.0 million, of which 71 are expected to remain in its system. Management hopes to sell 30-50 hotels in 2019.
This is helping the company to convert nearly 25% of revenues into pro forma free cash flow. With the strong free cash flow, it builds on the policy of returning capital to shareholders. It also affords the execution of an array of capital investment options, renovations of the owned portfolio, construction of ESA 2.0 hotels and hotel-level technology investments.
Meanwhile, Extended Stay America's efforts to drive revenue per available room (ReVPAR) by providing suitable services to value-conscious business travelers are encouraging. In 2017, its ReVPAR increased 1.7% from the prior-year quarter on 1.1% growth in Average Daily Rate (ADR) and 40 basis points (bps) expansion in occupancy. The trend continued in 2018, with RevPAR witnessing comparable system-wide growth of 2%. For 2019, Extended Stay America anticipates comparable system-wide RevPAR growth of flat-2%.
In order to drive RevPAR, the company is banking on increasing unit growth as well. By 2021, its portfolio will likely have 700 Extended Stay America branded properties, out of which nearly 70% will be owned or operated and 30% franchised.
Concerns
The company has been facing increased expenses from franchise operations. Extended Stay America's hotel operating margin in the first quarter of 2019 was 50.1%, reflecting a 210-bps decline from the prior-year quarter. Net income totaled $28.4 million compared with $31.1 million in first-quarter 2018, mirroring a decline of 8.7%.
Moreover, intense competition from the likes of Marriott MAR, Hilton HLT and Hyatt H, coupled with limited exposure in international markets, makes Extended Stay America vulnerable. As it is, a low corporate demand continues to hurt this Zacks Rank #3 (Hold) company's performance.You can see the complete list of today's Zacks #1 Rank (Strong Buy) stocks here.
Breakout Biotech Stocks with Triple-Digit Profit Potential
The biotech sector is projected to surge beyond $775 billion by 2024 as scientists develop treatments for thousands of diseases. They're also finding ways to edit the human genome to literally erase our vulnerability to these diseases.
Zacks has just released Century of Biology: 7 Biotech Stocks to Buy Right Now to help investors profit from 7 stocks poised for outperformance. Our recent biotech recommendations have produced gains of +98%, +119% and +164% in as little as 1 month. The stocks in this report could perform even better.
See these 7 breakthrough stocks now>>
Want the latest recommendations from Zacks Investment Research? Today, you can download 7 Best Stocks for the Next 30 Days.
Click to get this free report
Hyatt Hotels Corporation (H): Free Stock Analysis Report
Marriott International (MAR): Free Stock Analysis Report
Hilton Worldwide Holdings Inc. (HLT): Free Stock Analysis Report
Extended Stay America, Inc. (STAY): Free Stock Analysis Report
To read this article on Zacks.com click here.
Zacks Investment Research