J&J (JNJ) Gets Usage Guidance for COVID-19 Vaccine in Europe
Johnson & Johnson JNJ announced that the European Medicines Agency's (EMA) Pharmacovigilance Risk Assessment Committee (PRAC) confirmed that the overall benefit-risk profile of its COVID-19 vaccine remains positive. The PRAC provided updated guidance for use of the vaccine
Following the PRAC's recommendation, J&J stated that it will start supplying its COVID-19 vaccine in the European Union (EU), Norway and Iceland. J&J delayed European shipments of its vaccine following FDA's recommendation of a temporary pause in the use of the vaccine as it reviewed reports of "rare and severe" blood clots in a few individuals. J&J stated that it will fulfill its commitment of supplying 100 million doses to the United States and 200 million doses to Europe.
J&J's single-shot COVID-19 vaccine was approved for emergency use in the United States in February and was granted Conditional Marketing Authorization (CMA) by the European Commission last month.
The PRAC confirmed that the overall benefit-risk profile for the vaccine remains positive as there were very small number of adverse events involving blood clots in combination with low platelet count. The committee concluded that these rare blood clots may occur within approximately one to three weeks following the administration of the single-shot J&J vaccine.
J&J will update the Summary of Product Characteristics and Package Leaflet for its COVID-19 vaccine to include important information on the diagnosis and management of this very rare adverse event.
J&J's COVID-19 vaccine received two setbacks within a month — a temporary pause in the United States on its use and pause in manufacturing of the vaccine for FDA probe at its manufacturing partner, Emergent BioSolutions' EBS Bayview facility. However, the positive PRAC recommendations boosted investor sentiments and shares of J&J closed 2.3% higher on Apr 20.
This year so far, J&J's shares have risen 5.7% compared with an increase of 3.2% for the industry.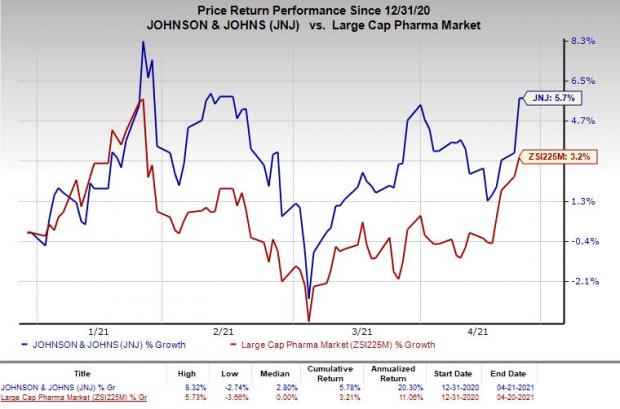 We note that J&J is working with the FDA to complete the inspection of the Bayview facility and get clearance for production at the earliest. Moreover, the U.S. Centers for Disease Control and Prevention (CDC) plan to reconvene on Apr 23 to discuss the blood clot issue related to J&J's vaccine. Hopefully, the CDC/FDA will follow EMA's path and allow the use of J&J's vaccine due to positive overall benefit-risk profile.
Meanwhile, we note that the approval of J&J's vaccine was based on interim efficacy and safety data from the ENSEMBLE phase III study on the vaccine candidate. Interim data from the study showed that J&J's vaccine candidate was 66% effectiveoverall at preventing moderate-to-severe COVID-19. Importantly, the protection against severe disease was observed across geographies and against multiple rapidly emerging infectious virus variants including the South African variant.
Moreover, a single-shot vaccine implies that J&J's vaccine will be able to vaccinate double the people compared to other authorized vaccines from companies namely — Pfizer PFE, Moderna MRNA and AstraZeneca. The vaccine will be beneficial for countries with exponential rise in daily infections cases like India as well as for countries that are yet to receive a vaccine. J&J can supply to more countries and inoculate more people with lower quantities of vaccine. Moreover, J&J's vaccine does not have the extreme cold storage requirements that will reduce transportation complexities. The company has also collaborated with Merck for faster production of the vaccine.
J&J's vaccine generated sales of $100 million in the first quarter since its authorization in February. Resuming shipments to Europe and a potential removal of temporary pause in the United States will likely lead to higher revenues from the vaccine going forward.
Johnson & Johnson Price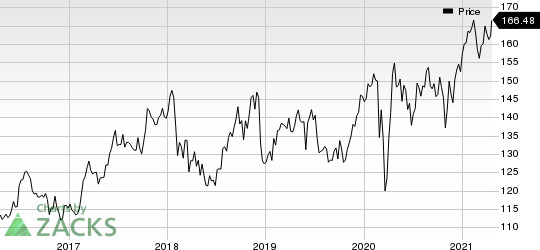 Zacks Rank
J&J currently has a Zacks Rank #3 (Hold). You can see the complete list of today's Zacks #1 Rank (Strong Buy) stocks here.
Zacks Top 10 Stocks for 2021
In addition to the stocks discussed above, would you like to know about our 10 best buy-and-hold tickers for the entirety of 2021?
Last year's 2020Zacks Top 10 Stocks portfolio returned gains as high as +386.8%. Now a brand-new portfolio has been handpicked from over 4,000 companies covered by the Zacks Rank. Don't miss your chance to get in on these long-term buys.
AccessZacks Top 10 Stocks for 2021 today >>
Want the latest recommendations from Zacks Investment Research? Today, you can download 7 Best Stocks for the Next 30 Days.
Click to get this free report
Johnson & Johnson (JNJ): Free Stock Analysis Report
Pfizer Inc. (PFE): Free Stock Analysis Report
Moderna, Inc. (MRNA): Free Stock Analysis Report
Emergent Biosolutions Inc. (EBS): Free Stock Analysis Report
To read this article on Zacks.com click here.
Zacks Investment Research