Paychex (PAYX) Q1 Earnings & Revenues Beat, Decline Y/Y
Paychex, Inc. PAYX reported better-than-expected first-quarter fiscal 2021 results.
Adjusted earnings of 63 cents per share beat the Zacks Consensus Estimate by 12.5% but decreased 11.3% on a year-over-year basis. Total revenues of $932.2 billion beat the consensus mark by 4.1% but decreased 6% year over year.
Quarterly results were affected as businesses continue to be impacted by the COVID-19 pandemic. However, the company enjoyed solid client retention and increasing sales performance. The company remains focused on investing in its business along with cost-cutting initiatives.
Over the past six months, shares of Paychex have gained 24.7% compared with 14.2% rise of the industry it belongs to, and 28.1% increase of the Zacks S&P 500 composite.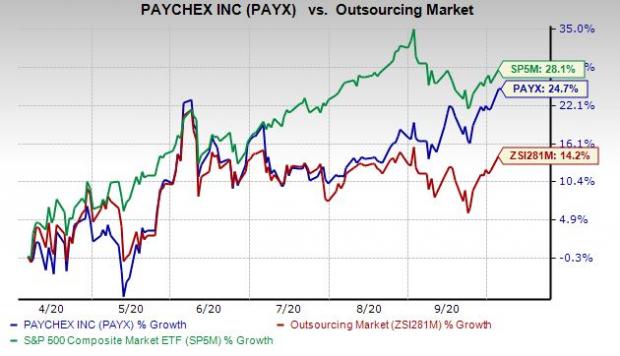 Revenues in Detail
Revenues from Management Solutions decreased 5% year over year to $687.4 million. The downfall was due to a decline in check volumes, partially offset by increased penetration of retirement services. The decrease in check volumes was owing to a reduction in the number of clients processing payrolls and the number of employees paid due to the shutdown.
Professional employer organization ("PEO") and Insurance Solutions revenues were $229.9 million, down 7% from the year-ago quarter. The downfall was due to a decline in the number of clients' worksite employees. Insurance Solutions revenues were impacted by lower workers' compensation premiums, driven by reduced wages and related premium rates.
Interest on funds held for clients decreased 28% year over year to $14.9 million on lower average investment balances, average interest rates, and realized gains. Funds held for clients' average investment balances were impacted by lower client fund collections and changes in client base mix, partially offset by wage inflation and timing of collections and remittances.
Operating Performance
Adjusted operating income decreased 10% year over year to $315.2 million. Adjusted operating margin fell to 33.8% from 35.2% in the year-ago quarter.
Adjusted EBITDA of $365.3 million decreased 9% year over year.
Paychex, Inc. Price and EPS Surprise

Balance Sheet & Cash Flow
Paychex exited first-quarter fiscal 2021 with cash and cash equivalents of $835.7 million compared with $905.2 million at the end of the prior quarter. Long-term debt was $796.9 million compared with $796.8 million in the prior quarter. Cash provided by operating activities was $215 million in the reported quarter.
During the reported quarter, the company paid out $223.2 million in dividends and repurchased 0.4 million shares for a total of $28.8 million.
Fiscal 2021 View
For fiscal 2021, total revenues are expected to decline 2-4% compared with the prior guidance of 2-5%. Adjusted earnings per share are anticipated to fall 6-8% compared with the prior guidance of 6-10%. Adjusted operating margin is expected around 35% compared with the prior-guided range of 34-35%. Adjusted EBITDA margin is expected to be around 40% compared with the prior-guided range of 39-40%.
Paychex expects PEO and insurance services revenues to decline 2-5% compared with the prior guidance of 2-7%. Management solutions revenues are anticipated to decline 1-3% compared with the prior guidance of 1-4%. Interest on funds held for clients is expected to be between $55 and $65 million.
Currently, Paychex carries a Zacks Rank #2 (Buy). You can see the complete list of today's Zacks #1 Rank (Strong Buy) stocks here.
Upcoming Releases
Investors interested in the broader Zacks Business Services sector are keenly awaiting third-quarter 2020 earnings reports of key players like Waste Connections WCN, Waste Management WM and Republic Services RSG. While Waste Connections will release earnings on Oct 28, Waste Management and Republic Services will report the same on Nov 2 and Nov 5, respectively.
Breakout Biotech Stocks with Triple-Digit Profit Potential
The biotech sector is projected to surge beyond $775 billion by 2024 as scientists develop treatments for thousands of diseases. They're also finding ways to edit the human genome to literally erase our vulnerability to these diseases.
Zacks has just released Century of Biology: 7 Biotech Stocks to Buy Right Now to help investors profit from 7 stocks poised for outperformance. Our recent biotech recommendations have produced gains of +50%, +83% and +164% in as little as 2 months. The stocks in this report could perform even better.
See these 7 breakthrough stocks now>>
Want the latest recommendations from Zacks Investment Research? Today, you can download 7 Best Stocks for the Next 30 Days.
Click to get this free report
Paychex, Inc. (PAYX): Free Stock Analysis Report
Waste Management, Inc. (WM): Free Stock Analysis Report
Republic Services, Inc. (RSG): Free Stock Analysis Report
Waste Connections, Inc. (WCN): Free Stock Analysis Report
To read this article on Zacks.com click here.
Zacks Investment Research