Duke Energy's (DUK) Arm Opens Duette Solar Plant in Florida
Shares of Duke Energy Corp's DUK appreciated 0.6% on Nov 10, after the company announced the commencement of operations at its Duette solar plant in Florida. The facility is in sync with Duke Energy's strategy to expand its solar energy portfolio and help it achieve its objective of completing 10 new solar projects by 2022.
Details of the Solar Plant
Duke Energy's subsidiary, Duke Energy Florida, is handling operations at the 74.5 megawatt (MW) Duette solar power plant. The facility comprises approximately 227,000 solar panels, which will utilize the single-axis tracking system that has the capability of producing energy to power approximately 23,000 homes at peak production annually.
Duke Energy's Growth Prospects in Florida
The state of Florida is referred to as the Sunshine state, and regarded as the region most suitable for penetration of solar energy.
It is important to mention here that Duke Energy has successfully started operations at eight solar power plants out of its target of 10 by 2022. Currently, Duke Energy Florida has Charlie Creek Solar Power Plant and Sandy Creek Solar Power Plant under construction. Both the projects come with a generating capacity of 74.9 MW. We believe, once completed, the projects will further boost Duke Energy's presence in the expanding solar energy market of the state.
In a bid to expand further in Florida's solar market, Duke Energy intends to make an investment of more than $2 billion in the state by utilizing 5 million solar panels that are capable of providing 1,500 MW of emission-free generation by 2024. This, in turn, will offer clean energy to all of the company's 1.9 million Florida customers.
Solar Energy Growth Outlook
Per the latest short-term energy outlook released by the U.S. Energy Information Administration in November 2021, 15.7 gigawatts (GW) of new solar capacity is projected to come online in 2021 and 18.2 GW in 2022 in the United States.
This highlights abundant growth opportunities for the Utility companies in the solar energy space, which has persuaded other utilities, apart from Duke Energy, to invest aggressively in the solar generation projects.
For instance, NextEra Energy partners NEE added 515 MW worth of solar projects in the third quarter in a bid to expand in the solar market. Additionally, NextEra's subsidiary Gulf Power aims to bring 150 MW of cost-effective, zero-emission solar capacity online within the next six months, while the North Florida Resiliency Connection is expected to be in service in mid-2022.
Meanwhile, Florida Power & Light Company (FPL), another subsidiary of NextEra Energy, surpassed 40% completion of its groundbreaking "30-by-30" plan to install 30 million solar panels by 2030. FPL is on track to have 42 solar energy centers in Florida including its Discovery Solar Energy Center at Kennedy Space Center, which just commenced operations. In the last one month, shares of NextEra have returned 6.6%.
In September, Dominion Energy D announced that it currently has plans to include 11 utility-scale solar projects, two small-scale distributed solar projects, one combined solar and storage project, and one stand-alone energy storage project, which will be owned and operated by Dominion Energy Virginia.
On completion, the projects will provide more than 1,000 MW of carbon-free electricity, which is enough to power more than 250,000 homes at peak output. This represents Dominion Energy's largest expansion of solar and energy storage facility in Virginia. In the last one month, Dominion Energy stock has returned 3.9%.
Similarly, in March, CMS Energy CMS announced plans to purchase 140 MW of clean, renewable energy from the Calhoun Solar Center, which will be enough to power about 70,000 residential customers in Michigan. Calhoun Solar Center that comes with a total capacity of 200 megawatts is expected to be completed by 2022.
As part of the agreement, CMS Energy would purchase 140 megawatts from the solar facility for 25 years. In a bid to achieve its target, CMS plans to add approximately 1,100 MW of solar through 2024. In the last one month, CMS Energy's shares have returned 0.8%.
Price Movement
In the past one year, Duke Energy's shares have gained 9.1% compared with the industry's growth of 2.6%.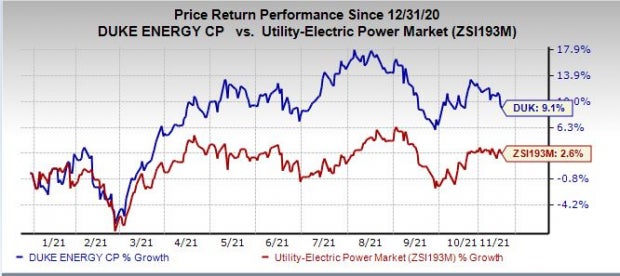 Image Source: Zacks Investment Research
Zacks Rank
Duke Energy currently carries a Zacks Rank #3 (Hold). You can see the complete list of today's Zacks #1 Rank (Strong Buy) stocks here.
5 Stocks Set to Double
Each was handpicked by a Zacks expert as the #1 favorite stock to gain +100% or more in 2021. Previous recommendations have soared +143.0%, +175.9%, +498.3% and +673.0%.
Most of the stocks in this report are flying under Wall Street radar, which provides a great opportunity to get in on the ground floor.
Today, See These 5 Potential Home Runs >>
Want the latest recommendations from Zacks Investment Research? Today, you can download 7 Best Stocks for the Next 30 Days.
Click to get this free report
NextEra Energy, Inc. (NEE): Free Stock Analysis Report
Duke Energy Corporation (DUK): Free Stock Analysis Report
CMS Energy Corporation (CMS): Free Stock Analysis Report
Dominion Energy Inc. (D): Free Stock Analysis Report
To read this article on Zacks.com click here.
Zacks Investment Research