Buy Salesforce (CRM) Stock at New Highs Ahead of Q4 Earnings?
Salesforce CRM stock has climbed over 19% in 2020 to crush its industry and fellow high-flyers such as Apple AAPL. The question investors need to ask themselves is should they consider buying Salesforce stock at new highs before it reports its Q4 fiscal 2020 financial results on Tuesday, February 25?
The Simple Pitch
Salesforce is one of the world's largest enterprise-application-software companies by revenue. The firm's cloud-based customer relationship management services offer customers a wide range of tools and applications to help run everything from sales and e-commerce to marketing and analytics.
The San Francisco-based tech giant boasts over 150,000 customers and it has expanded its partnership with Amazon Web Services AMZN. CRM has also bolstered its offerings through artificial intelligence and voice-controls. And Salesforce last summer completed its largest ever deal to buy Tableau.
The $15 billion acquisition will help CRM expand its data analytics software business and help it become more attractive to its enterprise clients in a highly competitive space. Overall, Salesforce's business is expected to grow as companies big and small transform their operations for the digital age.
Salesforce also topped our Q3 estimates in early December, with its sales up 33%. "We're now on track to double our revenue in five years," co-CEO Marc Benioff said in prepared Q3 remarks.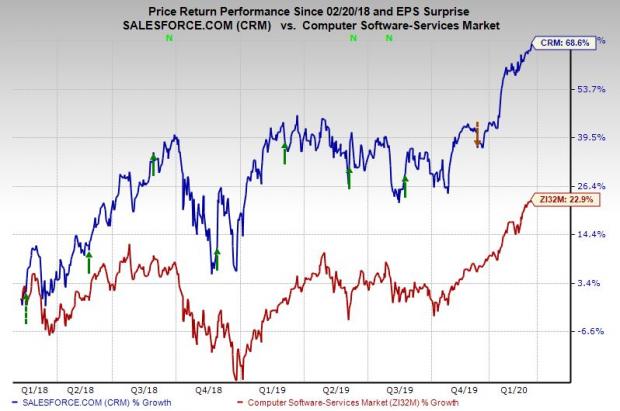 Other Fundamentals
On Wednesday, stocks climbed to put a stop to three straight days of coronavirus-based declines. All three major U.S. indexes have continued to hit new highs in 2020, on stronger-than-expected quarterly results. Total Q4 earnings for the tech firms in the S&P 500 that have reported so far are up 6.3% on 5.8% stronger sales. Looking ahead, overall fiscal 2020 S&P earnings are projected to climb 7.4% on 4.9% higher revenues (also read: Q1 Estimates Holding Up Despite Virus Impact).
This backdrop could benefit Salesforce. And CRM shares have already climbed 33% in the last six months to outpace its industry's 21% jump and they popped over 1% Thursday morning to touch a new all-time high.
Peeking back, CRM stock up 140% in the last three years to crush its industry's 60% average climb, which includes Adobe ADBE, Oracle ORCL, VMware VMW, Intuit INTU, and others.
Salesforce has been around for a while at this point, but it is still firmly in its growth phase. This is reflected in its valuation, which remains stretched as Apple, Microsoft MSFT, and others become seemingly more bloated by the day.

Q4 Outlook & Beyond
Our Zacks estimates call for CRM's fourth quarter sales to pop 32% to $4.75 billion, which would roughly match Q3's top-line growth. Salesforce is projected to see its full-year fiscal 2020 revenue jump nearly 28% to reach $17.0 billion.
Looking ahead to 2021, the company's revenue is projected to climb 23% higher to $20.90 billion. Both of these figures would compare relatively well against recent growth. And Salesforce executives have said it sales would climb as high as $35 billion in the fiscal year ended on January 31, 2024.
At the bottom end of the income statement, CRM's adjusted Q4 earnings are projected to sink 21.4% to $0.55 per share. The downturn comes as its Tableau acquisition weighs on earnings.
The tech company's full-year fiscal 2020 EPS figure is still expected to climb 5.1%, with 2021 projected to come in 8.3% higher.
Bottom Line
The firm has easily topped our quarterly earnings estimates in the trailing four periods by an average of 33%. Salesforce is a Zacks Rank #3 (Hold) right now and the stock rests at new highs. This could mean that investors are expecting big things from CRM.
With that said, buying a stock around earnings is never easy since no one knows how Wall Street will react. Yet, Salesforce stock clearly appears to be a solid long term investment as more companies digitalize their businesses.
Looking for Stocks with Skyrocketing Upside?

Zacks has just released a Special Report on the booming investment opportunities of legal marijuana.

Ignited by new referendums and legislation, this industry is expected to blast from an already robust $6.7 billion to $20.2 billion in 2021. Early investors stand to make a killing, but you have to be ready to act and know just where to look.

See the pot trades we're targeting>>
Want the latest recommendations from Zacks Investment Research? Today, you can download 7 Best Stocks for the Next 30 Days.
Click to get this free report
Microsoft Corporation (MSFT): Free Stock Analysis Report
VMware, Inc. (VMW): Free Stock Analysis Report
Amazon.com, Inc. (AMZN): Free Stock Analysis Report
Apple Inc. (AAPL): Free Stock Analysis Report
Oracle Corporation (ORCL): Free Stock Analysis Report
Intuit Inc. (INTU): Free Stock Analysis Report
Adobe Systems Incorporated (ADBE): Free Stock Analysis Report
salesforce.com, inc. (CRM): Free Stock Analysis Report
To read this article on Zacks.com click here.
Zacks Investment Research