Enphase Energy, Sunnova Ink Deal to Supply Encharge Systems
Enphase Energy, Inc. ENPH recently entered into a new agreement with its long-time partner, Sunnova Energy International NOVA for supplying its Encharge storage systems. This deal will enable Sunnova's network of solar dealers to quickly deploy Enphase Encharge storage systems at new customers along with existing ones.
Notably these two solar players' partnerships date back to several years. In 2014, Sunnova became the first solar service provider in the U.S. Virgin Islands by deploying Enphase's microinverters. Similarly, in 2017, Enphase Energy got selected by Sunnova for becoming the latter's preferred supplier of solar inverters.
Significance of Encharge
Enphase's Encharge storage systems feature Lithium Iron Phosphate (LFP) battery chemistry, which provides a long cycle life, safe operation through excellent thermal stability, and a UL9540A fire safety certification. The storage systems feature Enphase embedded grid-forming microinverters that enable the Always-On capability that keeps homes powered when the grid goes down, and the ability to save money.
Encharge storage systems offer the confidence and convenience of a maintenance-free battery system, over-the-air software upgrades, and a limited 10-year warranty.
Battery Storage Market Prospects
Storage technologies strengthen and stabilize the electrical grid by providing backup power, leveling loads and offering a range of other energy management services. One of the most important benefits of combining energy storage with renewable technologies is the ability to store energy after it is generated and distributing it when needed rather than right after it is produced. This reduces the need to curtail renewable generation and allows energy to be deployed during periods of high electricity demand.
Therefore, large battery storage systems are increasingly paired with renewable energy power plants to increase grid reliability and resilience. According to the U.S. Energy Information Administration's (EIA) data, the United States added 152 MW of battery storage capacity in 2019 and added an additional 301 MW through July 2020.
Based on planned capacity additions data reported to EIA by developers and power plant owners as of July 2020, EIA expects battery storage to increase by more than 6,900 MW in the next few years. Of this, about 2,300 MW was reported to EIA between April and June 2020.
Our View
Considering the aforementioned growth prospects, companies involved in energy storage are set to reap the benefits of the growing battery storage systems, including Enphase Energy.
For instance, NextEra Energy NEE is an utility provider that has more energy storage capacity than any other company in the United States, with more than 140 MW of battery energy storage systems in operation. It continues to lead the industry with storage innovations such as the Babcock Ranch Solar Energy Center – the largest combined solar-plus-storage facility in the country.
General Electric's GE renewable energy division offers customized storage products that include advanced lead-acid batteries as well as Energy Management Systems to integrate the battery management system into a fully functional storage digital controller. The company currently has more than 207 MWh of energy storage in operation or in construction globally.
Zacks Rank & Price Performance
Enphase Energy currently has a Zacks Rank #3 (Hold). You can see the complete list of today's Zacks #1 Rank (Strong Buy) stocks here.
In the past year, shares of the company have surged 555% compared with the industry's rally of 250.5%.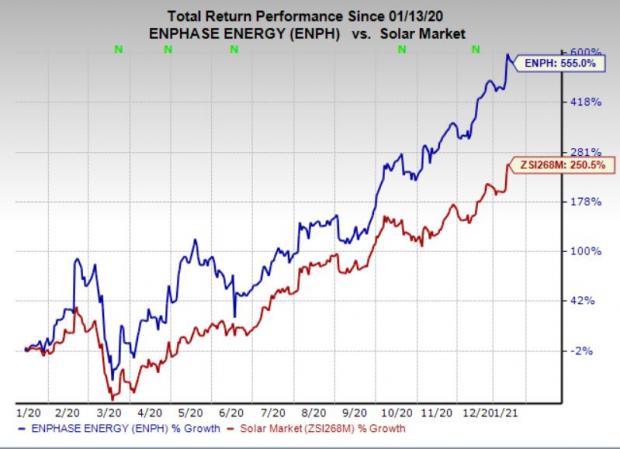 Looking for Stocks with Skyrocketing Upside?
Zacks has just released a Special Report on the booming investment opportunities of legal marijuana.

Ignited by referendums and legislation, this industry is expected to blast from an already robust $17.7 billion in 2019 to a staggering $73.6 billion by 2027. Early investors stand to make a killing, but you have to be ready to act and know just where to look.

See the pot stocks we're targeting >>


Want the latest recommendations from Zacks Investment Research? Today, you can download 7 Best Stocks for the Next 30 Days.
Click to get this free report
General Electric Company (GE): Free Stock Analysis Report
NextEra Energy, Inc. (NEE): Free Stock Analysis Report
Enphase Energy, Inc. (ENPH): Free Stock Analysis Report
Sunnova Energy International Inc. (NOVA): Free Stock Analysis Report
To read this article on Zacks.com click here.
Zacks Investment Research