California Water's (CWT) Arm Buys Driftwood Valley Water Assets
California Water Service Group CWT recently announced that its subsidiary, Washington Water Service (Washington Water), has acquired Driftwood Valley Association's water system assets. This acquisition will add 62 customers to the existing customer base of Washington Water. Washington Water also expects to provide service to new customers in the association as its 21 empty lots are developed.

The company will continue to make investments in the local water infrastructure to increase resilience of the entire operation and provide high-quality services to current and future customers.
Fragmented Industry Needs Consolidation
According to the Environmental Protection Agency, at present, more than 51,000 community water systems and 16,000 community wastewater systems in the United States are providing water solutions to customers. Due to a large number of small operators in the industry and lack of adequate funds, at times, essential upgrades and repairs of infrastructure get delayed.

Per the findings of the American Society of Civil Engineers, water main breaks occur every two minutes in the United States due to the aging of the existing water infrastructure. The breaks in the pipeline result in the wastage of 6 billion gallons of potable water each day and add to the losses of water utility operators. Aging and lack of timely maintenance are major contributors to pipeline breaks.

The acquisition of small units by larger utilities ensures necessary investments for infrastructural upgrade and the continuation of high-quality services for customers.
Utilities Continue to Consolidate
California Water Service is expanding operations through strategic acquisitions. In October, 2022, CWT received approval to acquire the wastewater system assets of Keauhou Community Services, Inc. The buyout is scheduled to close in the first quarter of 2023 and add 1,500 customers. In the same month, Washington Water received approval to acquire the assets of Stroh's Water Company, which will add another 900 customers on closing by the first quarter of 2023.

Other water utilities like American Water Works AWK, SJW Group SJW and Essential Utilities WTRG are expanding operations through systematic acquisitions.

American Water Works continues to focus on the acquisition of utilities that provide services to 5,000-50,000 customers. Through nine closed acquisitions in four states, it added 79,300 customers to its base. AWK's pending acquisitions (as of Sep 30, 2022), when completed, will add another 21,600 customers to its base.

The Zacks Consensus Estimate for American Water Works' 2022 earnings suggests year-over-year growth of 4.9%. The current dividend yield of the company is 1.77%. The company currently has a Zacks Rank #3 (Hold).

SJW Group completed more than 25 acquisitions in the 2010-2021 time frame and expanded operations. In January 2022, it closed the acquisition of Texas Country Water in Comal, TX. The deal added more than 1,900 water and wastewater customers to the existing customer base. This has been the fourth Texas acquisition by SJW Group in the past 12 months. In the next five years, the company plans to invest $1.5 billion to further strengthen its infrastructure.

The Zacks Consensus Estimate for SJW Group's 2022 and 2023 earnings implies year-over-year growth of 15.7% and 6.8%, respectively. It currently has a Zacks Rank #3.

In the six years ended Dec 31, 2021, Essential Utilities expanded utility operations by completing many water and wastewater acquisitions, which, in turn, added 94,000 customers. In the first quarter of 2022, the company completed one buyout, which added 11,000 customers. Essential Utilities plans to invest $3 billion from 2022 through 2024 to fortify operations and efficiently serve the expanding customer base.

Essential Utilities' long-term (three to five years) earnings growth is currently pegged at 6.2%. The Zacks Consensus Estimate for WTRG's 2022 and 2023 earnings implies year-over-year growth of 6.6% and 6.5%, respectively. It currently has a Zacks Rank #3.
Price Performance
Shares of CWT have gained 20.4% in the past six months compared with the industry's 7.2% rally.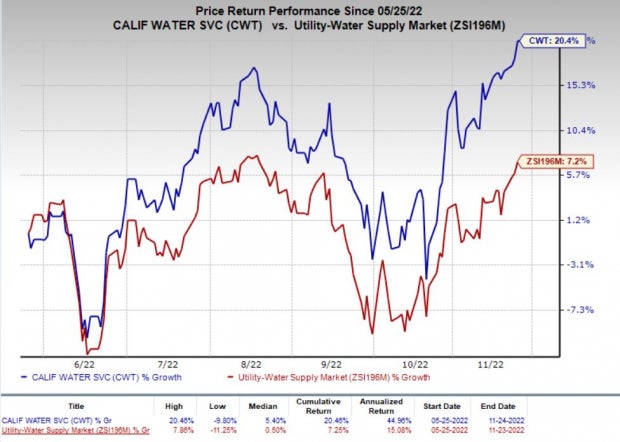 Image Source: Zacks Investment Research
Zacks Rank
California Water Service currently has a Zacks Rank #3. You can see the complete list of today's Zacks #1 Rank (Strong Buy) stocks here.
Free Report Reveals How You Could Profit from the Growing Electric Vehicle Industry
Globally, electric car sales continue their remarkable growth even after breaking records in 2021. High gas prices have fueled his demand, but so has evolving EV comfort, features and technology. So, the fervor for EVs will be around long after gas prices normalize. Not only are manufacturers seeing record-high profits, but producers of EV-related technology are raking in the dough as well. Do you know how to cash in? If not, we have the perfect report for you – and it's FREE! Today, don't miss your chance to download Zacks' top 5 stocks for the electric vehicle revolution at no cost and with no obligation.
>>Send me my free report on the top 5 EV stocks
Want the latest recommendations from Zacks Investment Research? Today, you can download 7 Best Stocks for the Next 30 Days. Click to get this free report
American Water Works Company, Inc. (AWK): Free Stock Analysis Report
California Water Service Group (CWT): Free Stock Analysis Report
SJW Group (SJW): Free Stock Analysis Report
Essential Utilities Inc. (WTRG): Free Stock Analysis Report
To read this article on Zacks.com click here.