Amazon's (AMZN) AWS Adds Amazon MWAA to Services Portfolio
Amazon's AMZN cloud division Amazon Web Services ("AWS") made Amazon Managed Workflows for Apache Airflow ("MWAA") generally available.

Notably, Apache Airflow, which is an open-source tool for scheduling and monitoring workflows, is a highly adopted one.

Amazon MWAA, which is a managed service, offers availability, security and improved scalability to customers, while managing their workflows using Apache Airflow.

This, in turn, helps in the seamless execution of data processing workflows in the cloud.

Moreover, customers are not required to build, scale and manage the underlying infrastructure separately as the new service helps manage Apache Airflow's provisioning and ongoing maintenance.

Additionally, Amazon MWAA allowsusers to leverage any Apache Airflow's integrations such as Apache Hadoop, Presto, Hive and AWS services for combining data.

We believe the latest move is likely to help AWS to gain strong traction among data engineers as they will get not only get the extensibility of Apache Airflow but also scalability, availability and security by using Amazon MWAA.
Customer Base to Expand
We note that customers using the new service will only have to pay for what they will use, without any upfront payment.

This along with the above-mentioned benefits is likely to bolster the adoption rate of Amazon MWAA.

Notably, customers like The Pokemon Company International, Rocket Mortgage and GoDaddy already benefited from using the latest service.

We believe that growing customer momentum will continue to drive AWS' top line. Moreover, strengthening clientele will continue to aid its competitive edge against its peers like Microsoft MSFT, Alphabet's GOOGL Google and Alibaba BABA.

Per the latest Canalys data, Microsoft Azure, Google Cloud and Alibaba Cloud acquired worldwide cloud market share of 19%, 7% and 6% in third-quarter 2020, respectively, while Amazon led with 32% share.
Amazon.com, Inc. Price and Consensus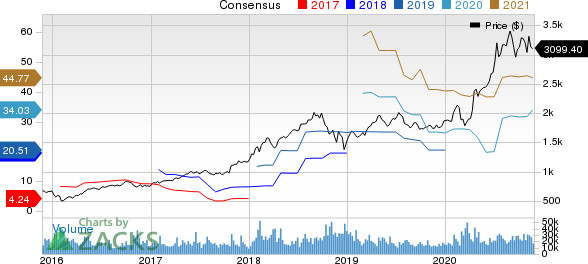 Amazon.com, Inc. price-consensus-chart | Amazon.com, Inc. Quote
Portfolio Strength: Key Catalyst
The latest move bolsters the portfolio of AWS services and products.

Apart from Amazon MWAA, the company announced the general availability of AWS Network Firewall, which is a new service, well-equipped to protect against common network threats such as intrusion prevention and detection, dynamic packet filtering, and web filtering.

Further, AWS recently made its new visual data preparation tool called AWS Glue DataBrew generally available. The tool provides more than 250 pre-built transformations to automate data preparation tasks.

Further, the company made its new Amazon EC2 capability namely AWS Nitro Enclaves generally available. AWS Nitro Enclaves offer a trusted, highly isolated and hardened environment for processinghighly sensitive data.

Also, AWS made Amazon EC2 P4d instances and a new time series database called Amazon Timestream generally available.

We believe that the expanding AWS portfolio will continue to aid the company's dominance in the booming cloud market.

Currently, Amazon carries a Zacks Rank #3 (Hold). You can see the complete list of today's Zacks #1 Rank (Strong Buy) stocks here.
More Stock News: This Is Bigger than the iPhone!
It could become the mother of all technological revolutions. Apple sold a mere 1 billion iPhones in 10 years but a new breakthrough is expected to generate more than 27 billion devices in just 3 years, creating a $1.7 trillion market.

Zacks has just released a Special Report that spotlights this fast-emerging phenomenon and 6 tickers for taking advantage of it. If you don't buy now, you may kick yourself in 2021.

Click here for the 6 trades >>
Want the latest recommendations from Zacks Investment Research? Today, you can download 7 Best Stocks for the Next 30 Days.
Click to get this free report
Microsoft Corporation (MSFT): Free Stock Analysis Report
Amazon.com, Inc. (AMZN): Free Stock Analysis Report
Alphabet Inc. (GOOGL): Free Stock Analysis Report
Alibaba Group Holding Limited (BABA): Free Stock Analysis Report
To read this article on Zacks.com click here.
Zacks Investment Research