Shell (RDS.A) Gears Up for Q4 Earnings: What's in Store?
Royal Dutch Shell PLC RDS.A is set to report fourth-quarter 2020 results on Thursday Feb 4, before the opening bell.
The current Zacks Consensus Estimate is pegged at earnings of 17 cents for the to-be-reported quarter.
Against this backdrop, let's delve into the factors that might have impacted the company's December-quarter performance.
Key Q4 Predictions
Upstream
The upstream production is projected between 2,275 and 2,350 thousand barrels of oil equivalent per day (boe/d) after adjusting the impact of hurricanes on the Gulf of Mexico and the effect of mild weather in Northern Europe during the first half of the final quarter of 2020. The year-ago production was 2,813 thousand boe/d. However, management had earlier predicted fourth-quarter 2020 upstream volumes to be 2,300-2,500 thousand boe/d. Taking into account the current realized liquid prices, Shell expects to incur an adjusted loss in this segment.
Oil Products
Shell estimates fourth-quarter oil product sales in the band of 4,000-5,000 thousand barrels per day. Although this indicates a 22.3% decrease from the year-earlier reported number, the upper end of the estimate is assumed to be in line. This Netherlands-based company anticipates its refinery availability between 72% and 76%.
Chemicals
The company's chemical sales volumes are predicted between 3,600 and 3,900 thousand tons with the plant utilization of 77-81% of the producing volumes. Further, Shell expects chemicals base and intermediate margins to improve from the sequential quarter's levels.
Integrated Gas
The company expects fourth-quarter LNG liquefaction volumes to contract to 8-8.6 million tonnes from its previous year's reported quarterly output of 9.21 million tonnes. Moreover, its segmental production is forecast in the 900-940 thousand boe/d range. In the year-earlier period, Shell produced 950 thousand boe/d.
What Does Our Model Say?
The proven Zacks model does not conclusively predict an earnings beat for Shell this time around. The combination of a positive Earnings ESP and a Zacks Rank #1 (Strong Buy), 2 (Buy) or 3 (Hold) increases the chances of beating estimates. But that's not the case here as elaborated below.
You can uncover the best stocks to buy or sell before they're reported with our Earnings ESP Filter.
Earnings ESP: Shell has an Earnings ESP of 0.00%. This is because the Most Accurate Estimate and the Zacks Consensus Estimate are pegged at a loss of 6 cents per share each.
Zacks Rank: Shell currently carries a Zacks Rank #3, which increases the predictive power of ESP. However, the company's 0.00% ESP in the combination makes surprise prediction difficult for the stock this earnings season. You can see the complete list of today's Zacks #1 Rank stocks here.
Highlights of Q3 Earnings & Surprise History
Europe's largest oil company Shell reportedthird-quarter earnings per ADS (on a current cost of supplies basis excluding items, signifying the market's preferred measure) of 24 cents. The Zacks Consensus Estimate was of a loss of 6 cents per ADS. This outperformance reflects strong retail gains.
However, the bottom line compared unfavorably with the year-ago profit of $1.18 per share. This underperformance mainly stemmed from the coronavirus-induced commodity price collapse and lower production.
The Hague-based Shell reported revenues of $44 billion, down 49% from third-quarter 2019 sales of $86.6 billion.
As far as its earnings surprises are concerned, the company's bottom line trumped the Zacks Consensus Estimate in three of the trailing four quarters and missed the same in the remaining period, the average surprise being 172.30%. This is depicted in the graph below:
Royal Dutch Shell PLC Price and EPS Surprise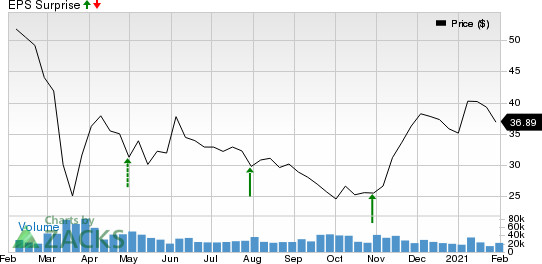 Royal Dutch Shell PLC price-eps-surprise | Royal Dutch Shell PLC Quote
Stocks to Consider
While earnings outperformance looks uncertain for Shell, here are some firms worth considering from the energy space on the basis of our model, which shows that these have the perfect combination of ingredients to deliver a positive surprise this reporting cycle:
NuStar Energy L.P. NS has an Earnings ESP of +21.21% and a Zacks Rank #2, currently. The company is scheduled to release earnings on Feb 4.
PattersonUTI Energy, Inc. PTEN has an Earnings ESP of +4.99% and is Zacks #3 Ranked, currently. The company is scheduled to release earnings on Feb 4.
Plains All American Pipeline, L.P. PAA has an Earnings ESP of +17.00% and is a #3 Ranked stock, currently. The firm is scheduled to release earnings on Feb 9.
Legal Marijuana: An Investor's Dream
Imagine getting in early on a young industry primed to skyrocket from $17.7 billion in 2019 to an expected $73.6 billion by 2027.
Although marijuana stocks did better as the pandemic took hold than the market as a whole, they've been pushed down. This is exactly the right time to get in on selected strong companies at a fraction of their value before COVID struck. Zacks' Special Report, Marijuana Moneymakers, reveals 10 exciting tickers for urgent consideration.
Download Marijuana Moneymakers FREE >>
Want the latest recommendations from Zacks Investment Research? Today, you can download 7 Best Stocks for the Next 30 Days.
Click to get this free report
Plains All American Pipeline, L.P. (PAA): Get Free Report
NuStar Energy L.P. (NS): Get Free Report
PattersonUTI Energy, Inc. (PTEN): Free Stock Analysis Report
Royal Dutch Shell PLC (RDS.A): Free Stock Analysis Report
To read this article on Zacks.com click here.
Zacks Investment Research